Pune – Thousands  participated in the Protest March against mob lynching
MT News network
*Pune*(Maharashtra)
:
Condemning inhuman acts of criminal mob and supporting minorities, large number of peace lovers from different religions come on road to send a strong message to the government that we the Indians are secular people and we will not tolerate such crimes.
Press release  posted to media persons says, Lokayat, Socialist Party (India) & Swaraj Abhiyan had organised a protest rally on 28 june named "Not In My Name" in Pune against the spate of Mob Lynching in the name of religion and cow protection.
  Thousands from pune   participated in the protest rally. Some peace lovers  from outside also came to Pune specially to extend support to Muslims and  participated in the rally.
The rally started from Dr. Ambedkar Statue near collector office, thereon  the people started the silent march towards Mahatma Gandhi Status near railway  Station.
The march was started with the songs performed by Lokayat activists . Then the  march proceeded.
Actor Amol Palekar, Theatre Activist Atul Pethe, Worker's leader Baba Adhav, Former Home minister of State Bhai Vaidya, feminist thinker Razia Patel, women rights activist Manisha Gupte, Union leader Mukta Manohar, convener of Lokayat Alka Joshi, Shreekrishna  Kulkarni of Socialist Party (India), Rajya Sabha MP Anu Aaga, Social Activist Anjum Inamdar ,Azhar Tamboli were also present in the protest.
It further says,The religious minorities of the country are being projected as the enemies and being attacked in the name of cow protection and love jihad. Their property is being destroyed, they are forced to live as second class citizens in their own country. The atmosphere of fear is being created among the minorities.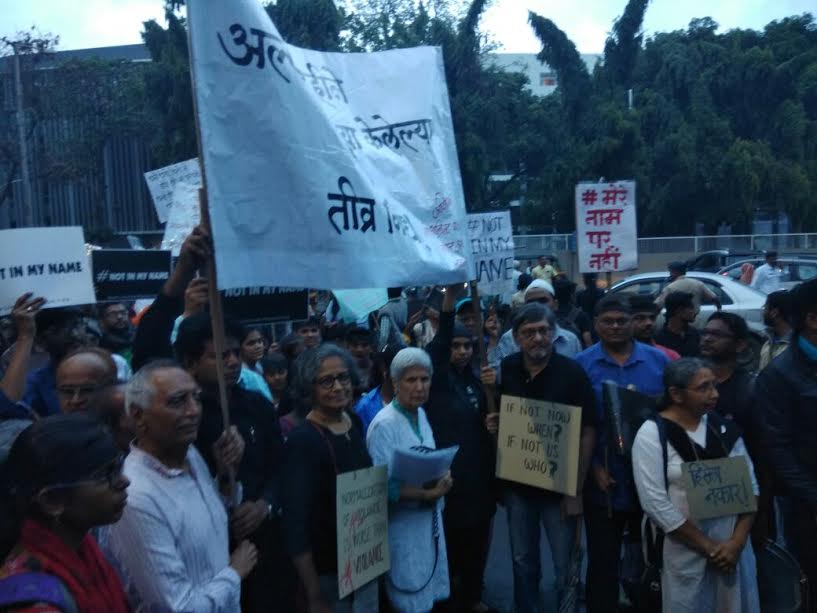 The majority should protect the rights of minority and create the atmosphere where minority should live without fear, this is what the democracy is about. But this atmosphere of intimidation is destroying the very spirit of democracy and secularism. This is the idea behind the organisation of this protest said the organizers.
Convenor of Lokyat Neeraj Jain told Millattimes.com that Lokayat is Pune based group of social activists which is founded by Justice Sachar  and Bhai Vaidya .It is affiliated to Socialist Party of India.We are working since last 12 years,he added.
He further said ,wherever injustice is done we extend our support without considering caste or religion.We strongly believe in democracy ,each and every citizen of  India has right to live without fear,added Neeraj.
While speaking with this news Portal Social activist from Pune, Azhar Tamboli thanked Lokayat and  all the participants for supporting Muslims and secular fabric of our country. Azhar says,India is famous for tolerance and multi religion culture but these culprits are tarnishing the image of our nation by killing innocents in the name cow protection. Being part of  secular country ,It is responsibility of all the citizens to condemn this lynching,Azhar added further.