Goa-Board of Innovative studies to conduct State level book fair
By Imran Inamdar 
Goa:- With the aim to  increase  reading habit among students and infuse moral values and develop their personality , Board of Innovative studies  is going to conduct 3 day book fair named "TAARE ZAMEEN PAR" from 
24  to 26 December 2017
 at A.Strela -Santa Cruz,Near Niyaz Hotel ,Merces
Preparation  of the fair is in full swing  Members of the board are visiting Muslim institutions and areas located across the Goa state.
 Besides exhibition and Sale of Books,organizing committee is conducting various competitions for students including Spelling bee,Mental Mathematics,Memory Test Etc.
Chief coordinator of the TZP Asif Husain informed Millattimes.com that Books on Islam ,Mathematics, space,General Knowledge, Personality Development  etc will be made available for sale during the fair.He said , we are expecting huge participation of teachers, parents and students, in this event.
He further says,Goa based House Of Wisdom and broad way book  store are parts of the organising team they have invited publishers from other states too.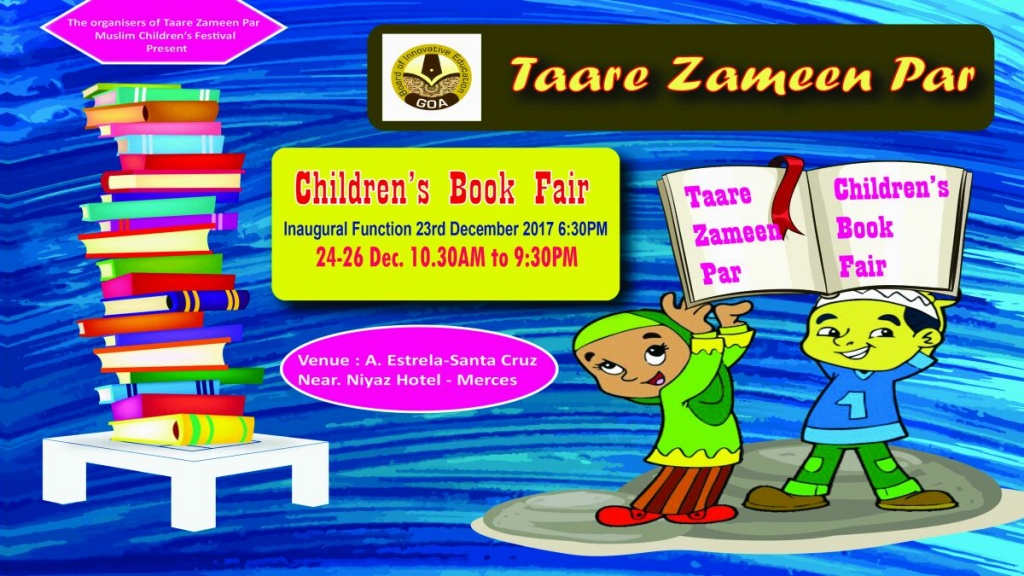 Valpoi based parent Swaleha Kausar welcomed TZP and commented that
Children are going away from books in this high tech era and addicted to electronic gadgets like mobiles Lap tops etc.She said that books are always considered as rich and safe source of gaining knowledge and imbibing good qualities . Events like TZP helps parents teachers to develop reading habbit among children,Swaleha added further.
It is notable the said NGO has organised five day "Muslim Children festival "last year which received overwhelming response.Thousands of parents and children from every cope and corner of Goa paid the vist and enjoyed the events.