Maaz Sagri excels at State level "SeeratunNabi" Ellocution competition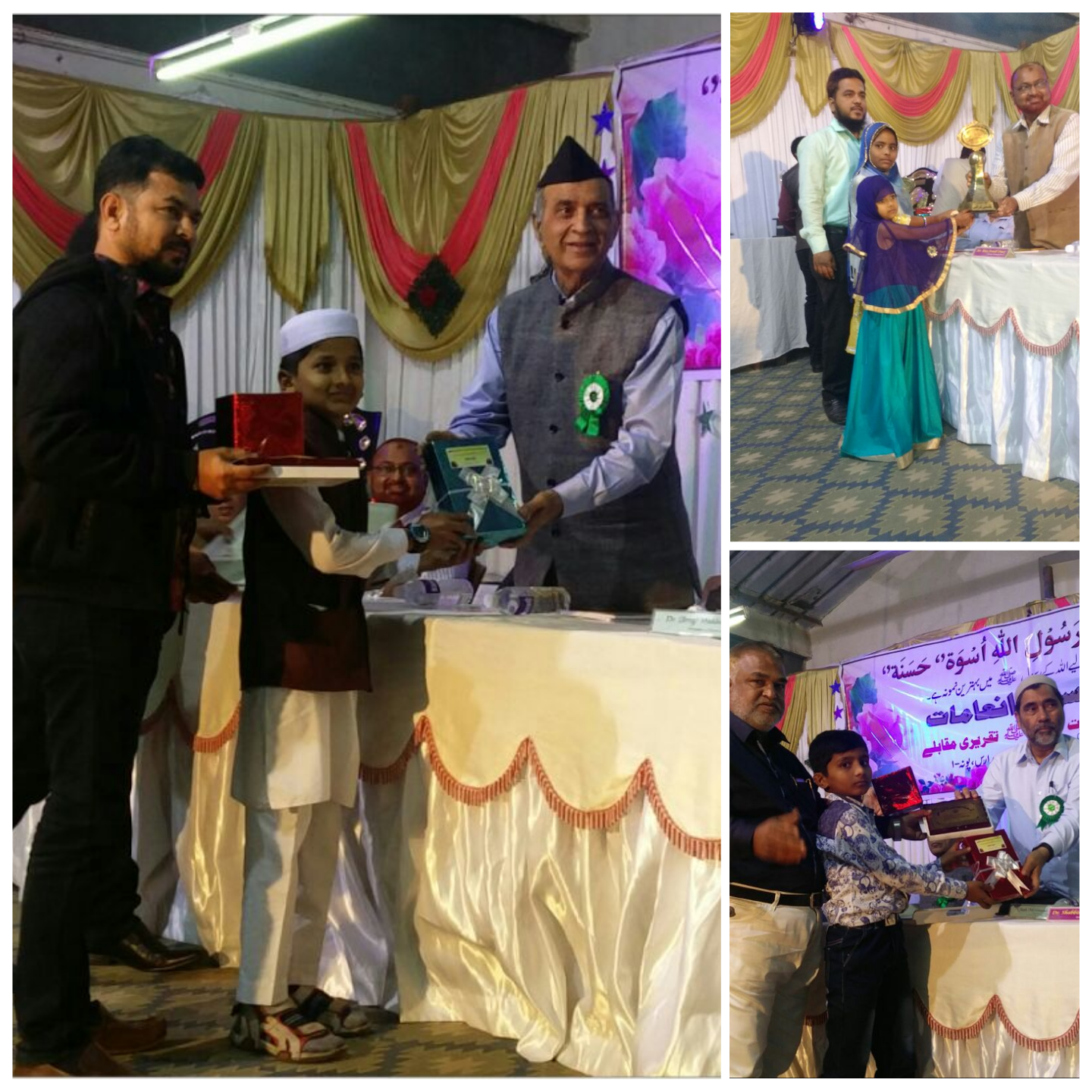 By Imran Inamdar
Pune:- Student of SSA Urdu high School Solapur, Maaz A.Gafur Sagri excelled at SeerattunNabi State level Ellocution competition by winning second place in Under 13 boys category.
Prize distribution was held on the same day in  distinguished presence of Brigd.  Mukhtal Alam ,Riyaz Umer and Moinuddin Falahi.
 Pune based Ab.Wahid molledina school is organising the same event in "Seeratunnabi " since past 49 years consecutively.Students of all the neighbouring Distritcs including Bhiwandi,Satara,AhmedNagar,Raigad ,Ratnagiri ,Mumbai etc take part in this competition.
Teacher and guide of Maaz ,Wajahat A.sattar informed that he is a bright student .Alhamdullilah he has  good mental  capacity to memorise. Wajahat said that total 138 students from various schools took part in the same.Our student Maaz delivered  his speech brilliantly and expressed his love and affection towards Peophet Mohammad (PBH) impressively ,He added.
Head Master of SSA School Shaikh A.Jabbar and Asstt.H.M Nizam Sagri congratulated the winning student and his guide.
Mean while student of Ayesha Sarwar primary School Solapur ,Sariya khursheed Nagure has also won the Third place in Junior girls category Under guidance of her teacher Fahim Husain Batghar.
One more student from Solapur city based Urdu School Limyewadi Garibi Hatao No.2 Abubabakar Mahboob Shaikh won third place in the Jr.boys category  under guidance of Sr.teacher Ashfaq Satkhed.