Violence in the Name of Religion Unacceptable, Religious leaders announces joint struggle against extremism in the three-day conference of IOS
New Delhi: February 17 (Millat Times)
In the three-day international conference organized by Institute of Objective Studies (IOS), leaders from various faiths unanimously determined to struggle against violence and bloodshed in the name of religion. They all vowed to fight against the world efforts to defame all the religions which indeed guarantee peace and security. "Religion teaches peace. There is no room for violence and extremism in any religion. But there is a conspiracy to defame the religion" they said. The three-day international conference of IOS being held in the Constitution Club of Delhi was attended by the leaders of Islam, Hinduism, Buddhism, Sikhism, Christianity and other faiths. All of them raised their hands and declared that no way of extremism in the name of religion is acceptable. They all determined to fight against such elements.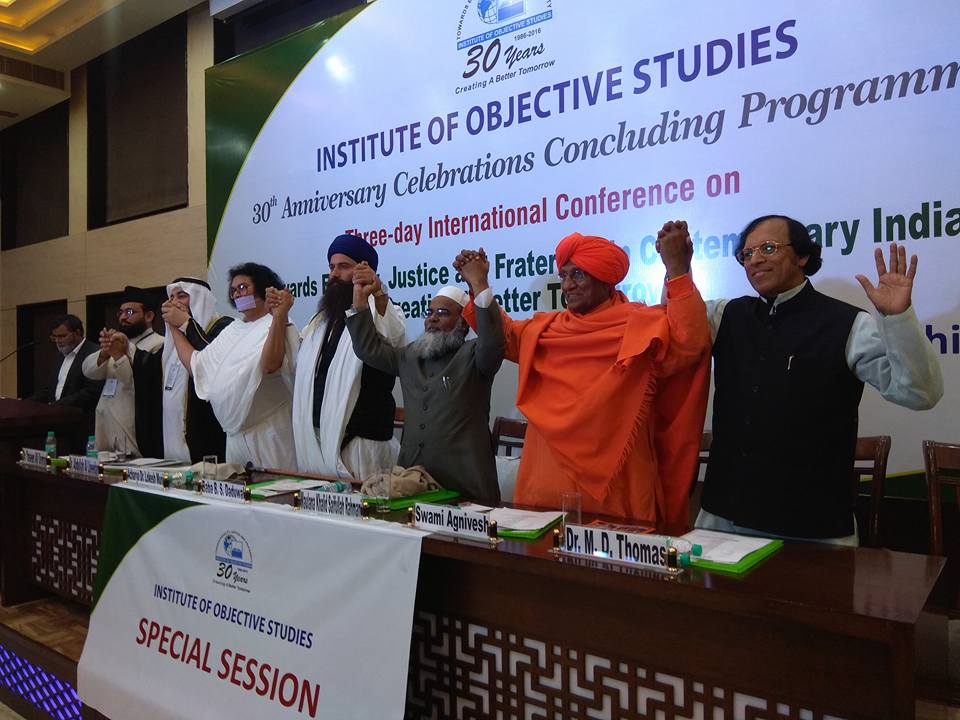 This special session of the conference on the role of religion in the present scenario of India was presided over by Maulana Khalid Saifullah Rahman, secretary Muslim Personal Law Board. In his presidential address, he spoke about the all encompassing merits of Islam and said: Islam does not differentiate between Muslims and non-Muslims in terms of social, economic, trade and other affairs. Islam gives equal right to all just on the basis of humanity. To bring about unity with the disbelievers of Makkah, a surah was revealed in the Qur'an which furnished the formula of co-existence, according to which Muslims and non-Muslims could live together on the condition that none was permitted to interfere in the religious affairs of others. Swami Agni Wesh, renowned Arya Samaj leader said: all the children are born as human beings. But their parents make them Hindu, Muslims, Sikh and Christians. He also criticized the sectarian and personal discords among Muslims. He also said that all the Muslims get united in the mosque just for fifteen minutes. But as soon as they get out of it, they get involved in sectarian and racial discords. All the religions including Islam and Christianity give the lesson of peace. Then why do their adherents make recourse to violence? We need to think as to why such incidents of violence take place. Renowned Christian leader Dr. M. D. Thomas said that religion is the base for peace. For over all development of the nation, India needs to bring about religious integrity. Speaking about the merits of all religions, Buddhist scholar Dr. Rahul Das said: some politicians are defaming the religions for their personal interest. So, we need to take pledge that we will not let any political leader wrongly use the religion. In his speech, Dr. Lokesh Muni also focused on inter-religion harmony.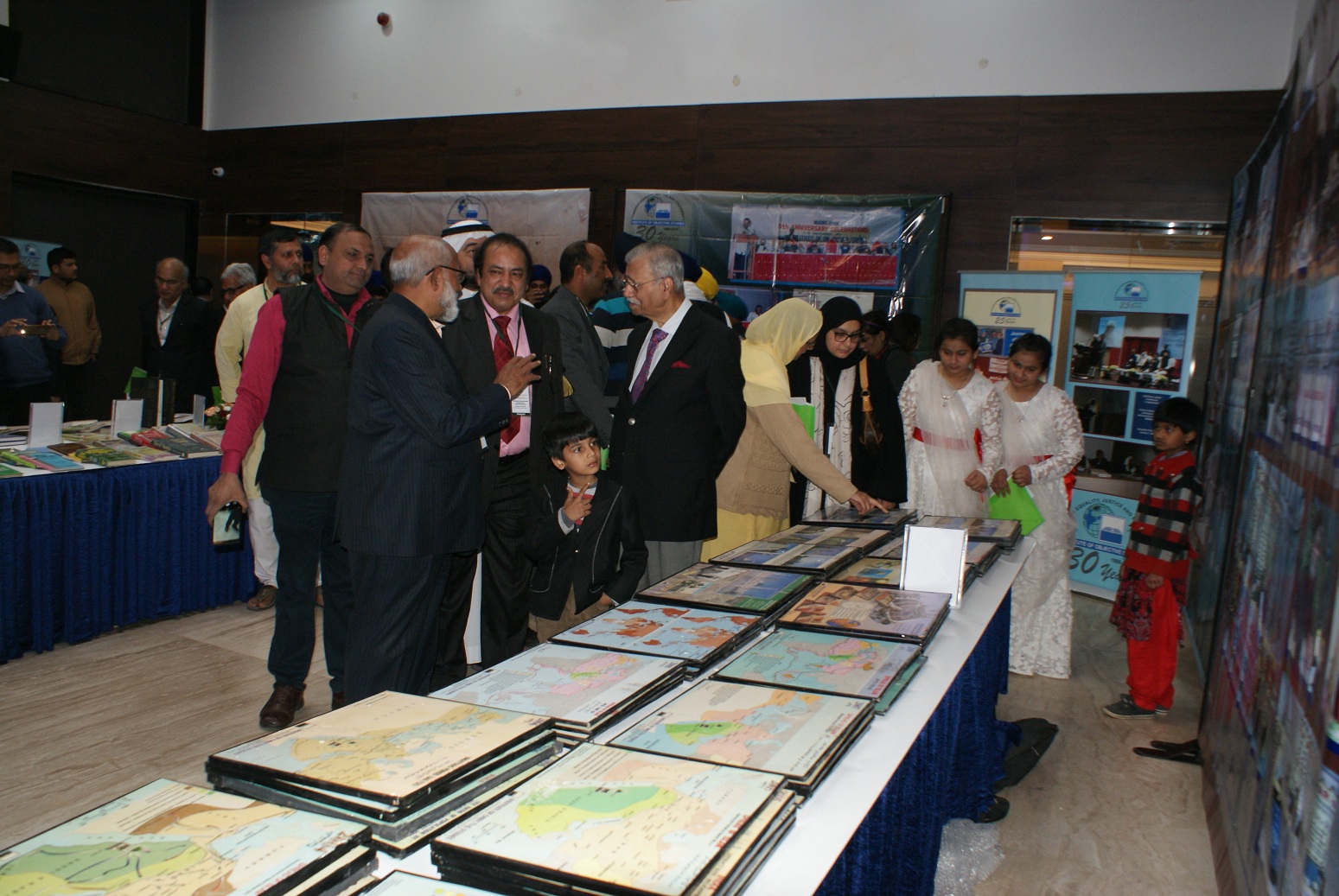 Apart from them, renowned Saudi scholar Dr. Abdullah Al-Hidan, Sikh leader Baba Baljit Singh and Dr. Yasin Aali Uthmani of All India Milli Council also considered religious harmony as pressing need of time. They said that various religions have some common components. So, we should create unity on the basis of these common points. This way, we can make successful efforts to do away with violence, strife and extremism.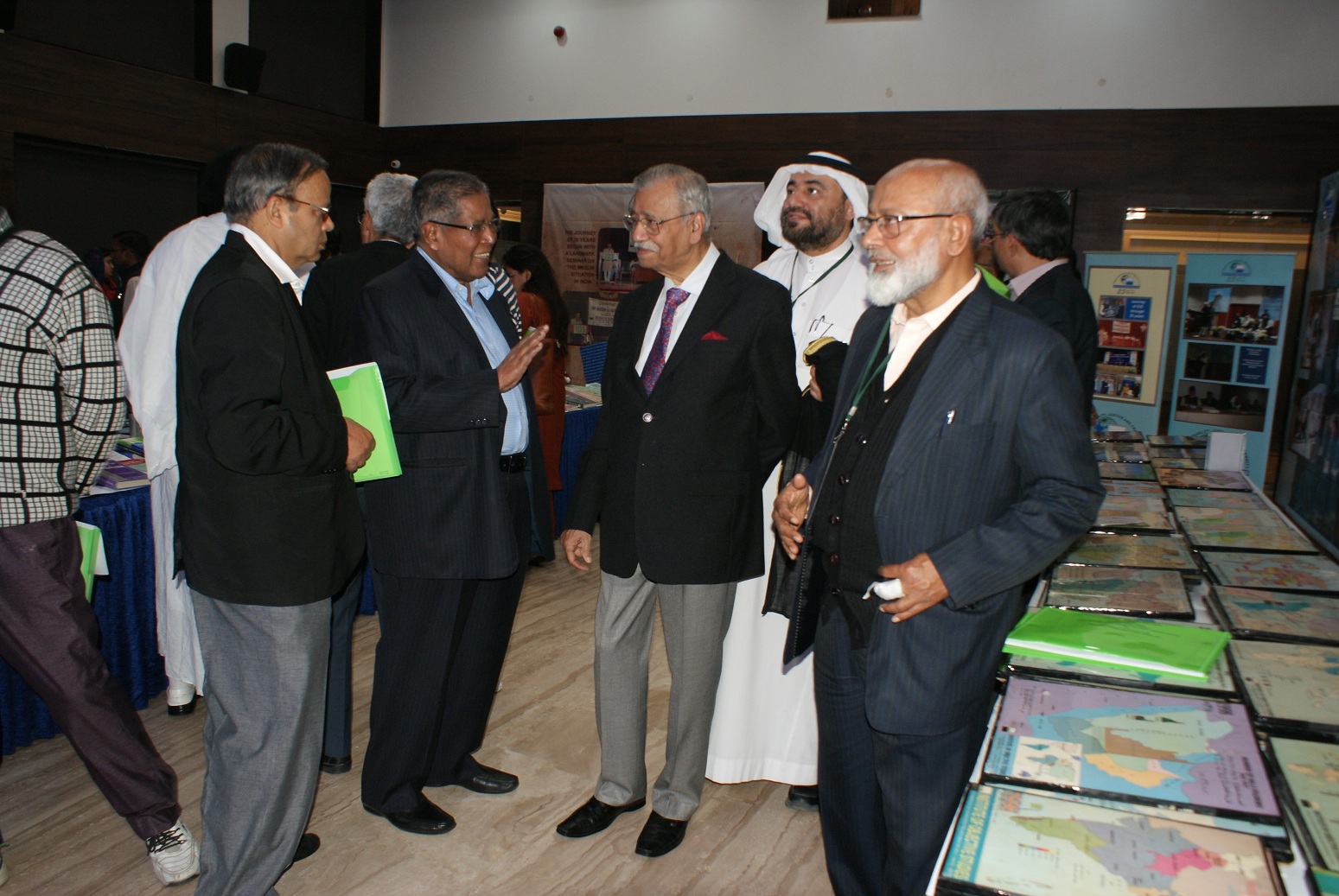 It should be noted that a series of seminars on "Towards Equality, Justice and Fraternity in Contemporary India: Creating a Better Tomorrow" is being held by Institute of Objective Studies, a Delhi based noted think-tank organization to mark its 30th anniversary. To celebrate the successful completion of 30 years, the IOS has held four seminars in different cities, and the fifth and last seminar of the series is going on in Delhi. The conference proposes to create a better tomorrow through education, law, history and Islamiyat. In this seminar, scholars from Turkey, Saudi Arabia, Lebanon, Qatar, Kuwait, Bangladesh, South Africa and many other countries are presenting their papers.
This was the second day of seminar which was consisted of total ten sessions. Seven sessions were held in the speaker hall of the constitution club, the remaining sessions were held in the deputy chairman hall. Dr. Faiz Mustafa renowned lawyer of Sri Lanka, Dr. Nazeer M. Ghazal from Lebanon, Bala Das Ghoshal, Dr. A. K. Faizi controller of examination Jamia Millia Islamia, professor Venkat Narayana, professor Furqan, former vice chancellor of Hemachal Pradesh University, Dr. Umar Hasan Kasole, general secretary of International Islamic Thought America, Dr. Arun Mehr of Delhi University, professor Khwaja Abdul Muntaqim of Aligarh, Dr. Najma Sehr of Bangladesh and many other scholars presented their papers in today's seminar.
Important themes discussed in this program were equality, justice and fraternity for minorities, health, education, international relation, world constitutions, globalization and others.
It should be noted the Sunday, February 18 will be the last day of seminar. After six business sessions, the valedictory session will be held in the evening. This session will be attended by Professor Faizan Mustafa, vice chancellor Nalsar University Hyderabad, Shaikh Abdur Rahman Abdullah Al-Mahmumd, member board of directors I. I. C. O. Qatar, Professor Akhtarul Wasey, vice chancellor Maulana Azad University Jodhpur, professor Z. M. Khan, and Professor Afzal Wani. The program will be presided over by renowned scholar Dr. Muhammad Manzur Alam, chairman IOS.