Yes,Urdu Medium Student too can crack UPSC exam -IRS Shakil Ansari
By Imran Inamdar 
Solapur (Maharashtra)
During 80s and 90s it was a common misconception that Urdu Medium students  are not capable enough to be a govt officer ,Doctor or engineer. As the year passed some of the competent Urdu student have proved that it was nothing but a misconception and a inferiority complex by becoming master Doctors IT engineers and high status govt officers as well.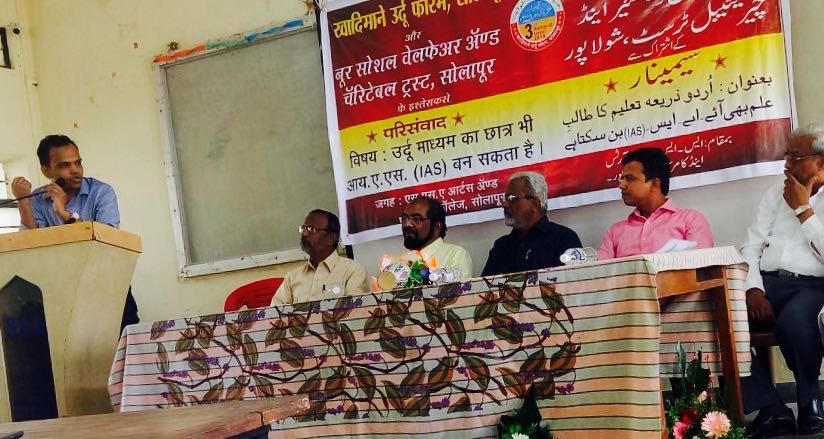 Shakeel Ansari (IRS),Dr.Amjad Sayed(Cardiologist )Dr.Fahim Goliwale(Cancer surgen),Dr.Abrar Sayed(MDS),Tanweer Maniyar ,A.Sami Lunje,Mohsin Hakeem (holding top posts in IT sector) etc.are the names of some iconic youths who have completed their Primary and High School education in purely Urdu medium schools.They are proving themselves very much in their respective fields.
 Medium of Instruction is not at all a hurdle, one only needs positive approach, hard work and  consistency .
On Sunday
 Khadimane Urdu Forum in association with Noor welfare and charitable foundation  had organised a seminar on "Urdu Medium too can become an IAS officer "
IRS Shakil Ansari was invited to address youngsters.
 IRS Shakil has been a  Urdu Medium Student. In his Key note address he said  that Urdu students are  bright and capable enough to  crack this Union Public service commission exam.They only need hard work in the right direction ,he added.
He emphasized that Student should learn from Renowned Poet Allama Iqbal's poetry. There is no partiality or biasnes  happens  in this type of high status exams ,we should come out from that mentality and keep pursuing  our dream career.
Ansari further expressed unhappiness over boys performance in education sector ,he lauded girl students for their commendable progress and excellence in  higher education.
Asif Yatnal a professional exam guide commented that  Urdu medium students are more fast in capturing English language compared to other vernacular medium students .They have the potential , just need to participate in the race to win the race,Asif added further.
29 years old Shakil Ansari IRS (Indian Revenue Service)officer of 2014  Batch.He is originally from Shahada (Nandurbar),Maharashtra and currently discharging his duties as an Asstt.Director Of Income tax Department (Thane Region).
The lecture was really fruitful .I am quite sure that Shakeel sir's achievment and guidance will help all the of us  including me to be a top brass officer, journalist etc,expressed 19 year old student Rukhsana Shiledar.
She says,I am thankful to all the members of organizing committee for conducting such a creative and knowledgeable seminar and inviting and iconinc personality to inspire us.
Nearly 50 aspirants  participated  this guidance lecture.President of the Khadimane Urdu Viqar Shaikh,President of Noor foundation Nazeer Munshi ,Rafiq Khan,A.M Aleem,Asif Yatnal and Dr. Shafi Chobdar ,Shafi captain,Mahmood Nawaz were also present during the event.