Dismantling India – A 4 Years Report -A Review of 4 years of Modi-fied India
Four years of NDA's governance with Narendra Modi as Prime Minister has been reviewed and compiled in a Report called 'Dismantling India', this report was launched today at Constitution Club, New Delhi
New Delhi
Press Release 
Four years of NDA's governance with Narendra Modi as Prime Minister has been reviewed and compiled in a Report called 'Dismantling India', this report was launched today at Constitution Club, New Delhi. There were 24 articles by eminent writers critiquing whoquestioned this government's actions, policies, and directives. Some of the writers came together with the editors of the book to discuss and speak on these issues, which has and will change the picture of the nation if this government continues to remain in power.  The Report is supported by a series of tables which has recorded four years of mis-rule by the Modi government, including the list of hate speeches he and his party members delivered in these four years.
The first session Rising hate and Irrationalismhad four speakers Gauhar Raza, Souradeep Roy, Subhash Gatade and V.B. Rawat. Gauhar Raza, said that this government is attacking the scientific institutions in such a way which will be irreversible and the country will be taken back many years. This government not only propagates unscientific and irrational views but in these 4 years has slowly reduced the publication of scientific journals.Souradeep Roy speaking on Unmaking Indian Culture said that the attacks on culture is not only on artists and writers but on the common man of India, every single person living in this country is attacked. Talking about the rise of Hindutva in these years, Subhash Ghatade said, that the right-wing which used to work covertly has now started working openly and defiantly. The trishuls have changed into Swords. The hatred seeded deep inside the common man is at its height. In Ranchi, RSS was meeting to devise various mechanisms to win 2019 election via social media. They have failed in getting their promises fulfilled so they will polarize communities, he said. Vidya Bhushan Rawat talked about cow-politics, which has created a huge problem for the small and medium farmers; this fear of cows and its protectors has disturbed the village economy.
The second Session Dispossessed India & Fading Rights had four speakersKaren Gabriel, Kavita Krishnan, Usha Ramanathan and Vijoo Krishnan. Prof Karen Gabriel showed how this government has silently introduced many things in Higher education. For instance, in Higher education, they introduced four modern Indian languages and Sanskrit. But there are no teachers for four languages while they have teachers for Sanskrit. So students are made to opt for Sanskrit and no choice is given. The Sanskrit department has been asked to teach history through Vedas, distorting the history, introducing their re-writings of history covertly.  Usha Ramanthan speaking on ADHAAR said that this ruling party when in opposition strongly advocated against Adhaar but when they came into power they not only took U-turn but implemented ADHAAR in such a way that created havoc in the country. Vijoo Krishnan said that the farmers land will be protected but within 6 months they brought Land Ordinance.  Massive protests were organized and they had to pull back the ordinance. Now they have implemented these land acquisition bills through the BJP ruled States. In Odisha,92% of acquired land is lying un-utilized. This party made many promises during elections for the farmers, when they came into power they said that these were only Chunavi Jumla.Kavita Krishnan said the worst kind of attacks on Women Autonomy and rights happened in the present government. This government has diluted many laws related to women. The fight by women rights group on triple talaq where Supreme Court gave the order. But this government is now bringing a law, which will again give powers to police and state to criminalizeMuslim men.
The third session which gives an Overview of 4 years, the speakers Prof Arun Kumar, Ashok Vajpayei, Harsh Mander, Mani Shankar Aiyar and Dr. Syeda Hameed. Prof Arun Kumar said that the two attacks on economy by this present government, one was demonetization and GST the way it was implemented. The GST has impacted the employment, Jan Dhan Yojna aggregates small savings of small people and invested in large sector.Harsh Mander gave first hand information on the horror account of Mob Lynching across India which he visited during Caravan-e-Mohabbat. He also talked about the great examples of communal harmony shown by father of two boys one in Delhi and another in Asansol. In both the cases they appealed to the political leaders and the masses to shed communal hatred and preserve harmony. Mani Shankar Aiyar spoke on the issues of the neighbourhood policies with the present government, and how the situations with the neighbours got adverse during this regime.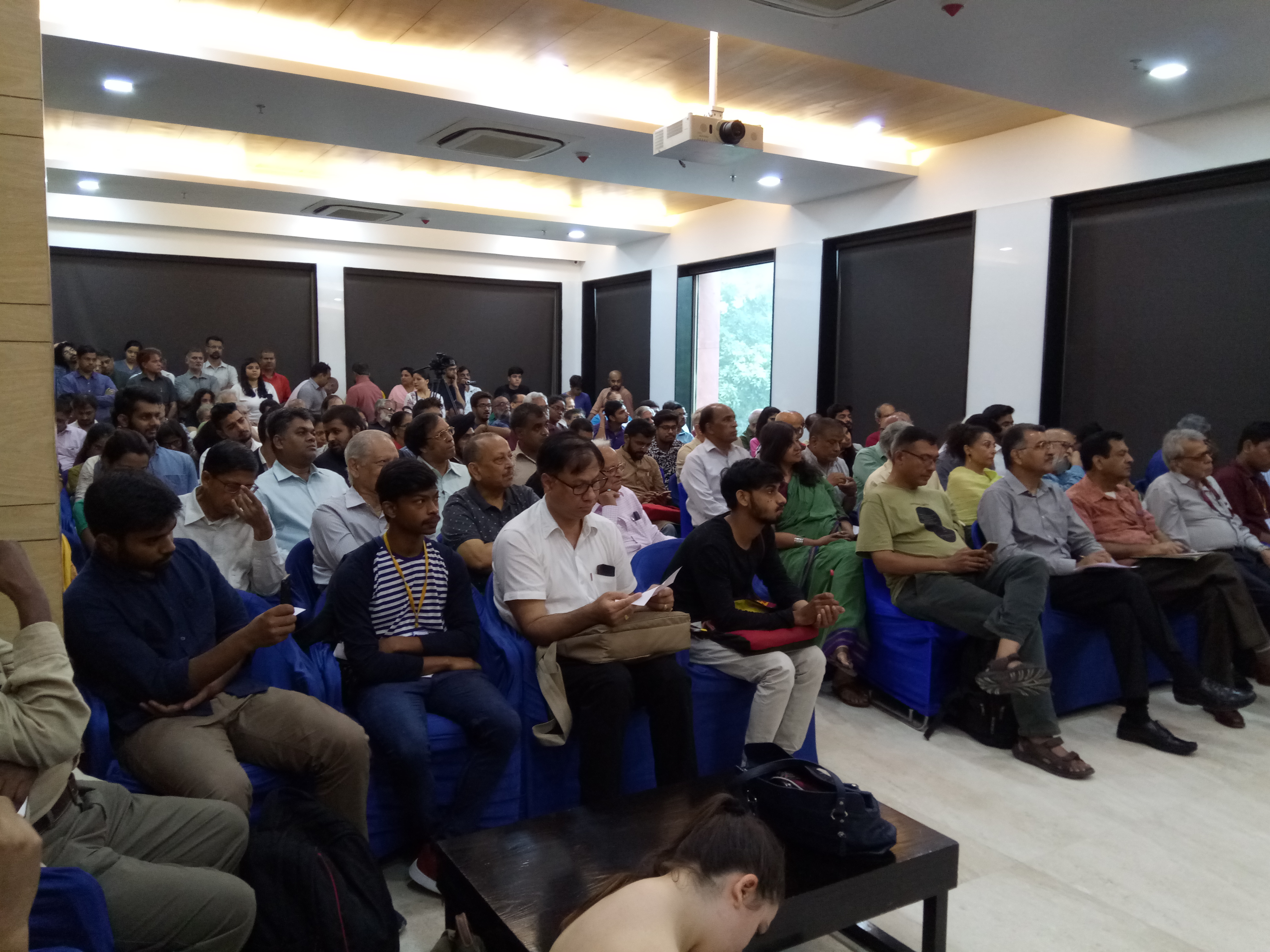 Dr Sayeeda Hamid highlighted the issue of being a Muslim at this present political and social scenario. She said that she was not made to release that she is a Muslim women now more than any Governments in the past. Ashok Vajpeyi spoke on the onslaught on the cultural institutes by making such people as the heads of such institutes who don't have any experience on Culture. Ashokji said that Hindutva is nothing but a big threat to Hinduism and if the leaders of Hindus have to protect their religion then they have to fight the Hindutva forces.
All the writers and editors released the report in the afternoon, which was followed by talk on the book by the editors. Dr. John Dayal thanked all the writers and publication house for getting this book printed and published. He said it was a mammoth task to clear the name of the book. When one prominent lawyer advised us to keep the title properly otherwise, there will be criminal action. But it was fortunate that Media House came forward to publish the book. Leena Dabiru spoke on the tables and how the web links were removed from the Internet. She also said that it is important that this book reaches to places from where the information is been collected. She also thanked the Interns who helped in collecting all the data. Shabnam Hashmi spoke on the need to have such a document. The difference between earlier governments and the present government is that they have reached the 50 % mark of the 14 points which qualifies Fascism, if they come to power than Fascism will be at its peak. She said at the time where the spaces of dissent are receding, it is important that we keep doing such programs and we keep preserving the democratic spaces.