Sitamarhi Lynching:Muslims in Tamilnadu protest for the brutal killing of Zainul Ansari
Millat News Network: New Delhi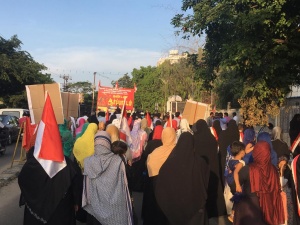 Soon after the news published in Millat Times about the atrocities against Muslims happened in Sitamarhi district of Bihar.
The news spread virally and had reached Muslims the South Indian state Tamilnadu.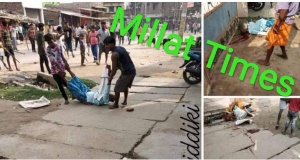 Zainul Ansari photo MT
Muslims in south india especially Tamilnadu are known for social awareness and are always against the Sangh parivar.
Muslim Jamath in Tamilnadu, Yegathuva Muslim Jamath(YMJ) immediately contacted Sitamarhi sandersh samithi and Millat Times news agency to authenticate the news and released the statement condemning the killing and violence against Muslims. It also announced protest in two major cities Coimbatore and Trichy.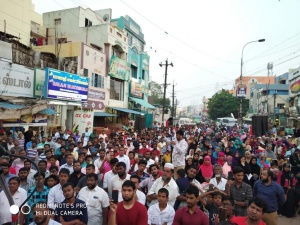 On November 9 Friday, The protest was held near Red Cross society, Coimbatore headed by the district president Abdul Nasar.
On November 10th Saturday ,Yegathuva Muslim Jamath(YMJ) Trichy unit organized a massive protest (10-11-2018) evening at Ramakrishna Bridge.The protest was headed by District president Br. Sheik.
Br. Althafi delivered a condemning speech at both cities and listed the crimes against Muslims and Dalits since 2014, the BJP led Central government took over.
In which he condemned the Bihar and Central government for not taking adequate action on the perpetrators.
Referring to recent mob lynchings and attacks on women police in Bihar, Bihar government and police had miserably failed to ensure the safety and security of the citizens.
Muslims and Dalits are facing tough time under BJP led Central Government. Such mob lynching and riots targeting the minorities and Dalit's are increasing day by day as the BJP government has not taken any stern action against the perpetrators he added.
He also said that the justice should not be delayed as delayed in Hashimpura killings, the justice to muslim shall be provided immediately.
BJP led government is keen it razing the muslim history, announcement about the changing the names of Allahabad, Faizabad stands evident to it.
Protestor condemned this barbaric killing of the old man and riots on muslims by the sangh parivar terrorists. If government fails to punish the culprits and curb such incidents with iron hand, the victims may not have options other than to retaliate by themselves losing hope in democracy and justice.
Yegathuva Muslim Jamaath hereby urges the government to take stern action against the perpetrators of this heinous crime and to provide appropriate compensation to the victims.
Thousands of protestors including women and children participated and raised slogans against the culprits and demanded to hang the culprits up to death for those involved in killing of Zainul Ansari.