Muslims at the Crossroad: Strategy for 2019 General election
2014 Lok Sabha recorded the lowest share of Muslim Member of Parliament (M.P) in the Indian Parliament. One of the major reasons for decline was the rise of Bharatiya Janta Party (BJP) which got a huge victory in the general election. BJP gave less than 2 percent tickets to Muslim candidates and none of them tasted victory. But in June 2014, when the government-led by Prime Minister Narendra Modi came to power promising "sab ka stah sab ka vikas" people had high hopes. However, facts on the ground remained uncomfortable. Policies like GST and demonetization created problems for masses. Incidents of mob lynching, violence and hate crimes increased many folds in the country. On the other hand, Muslims suffered a lot during the five year tenure. For example, mob lynching, killing of Muslims youths on the name of cow created a kind of fear among minorities. Similarly triple talaq, uniform civil code and labeling anti-national to those who dared to ask question to the government authorities challenged the very idea of Indian democracy. Consequently, a large section of people has to suffer as they have to struggle to protect their identity and get their rights enshrined in the constitution.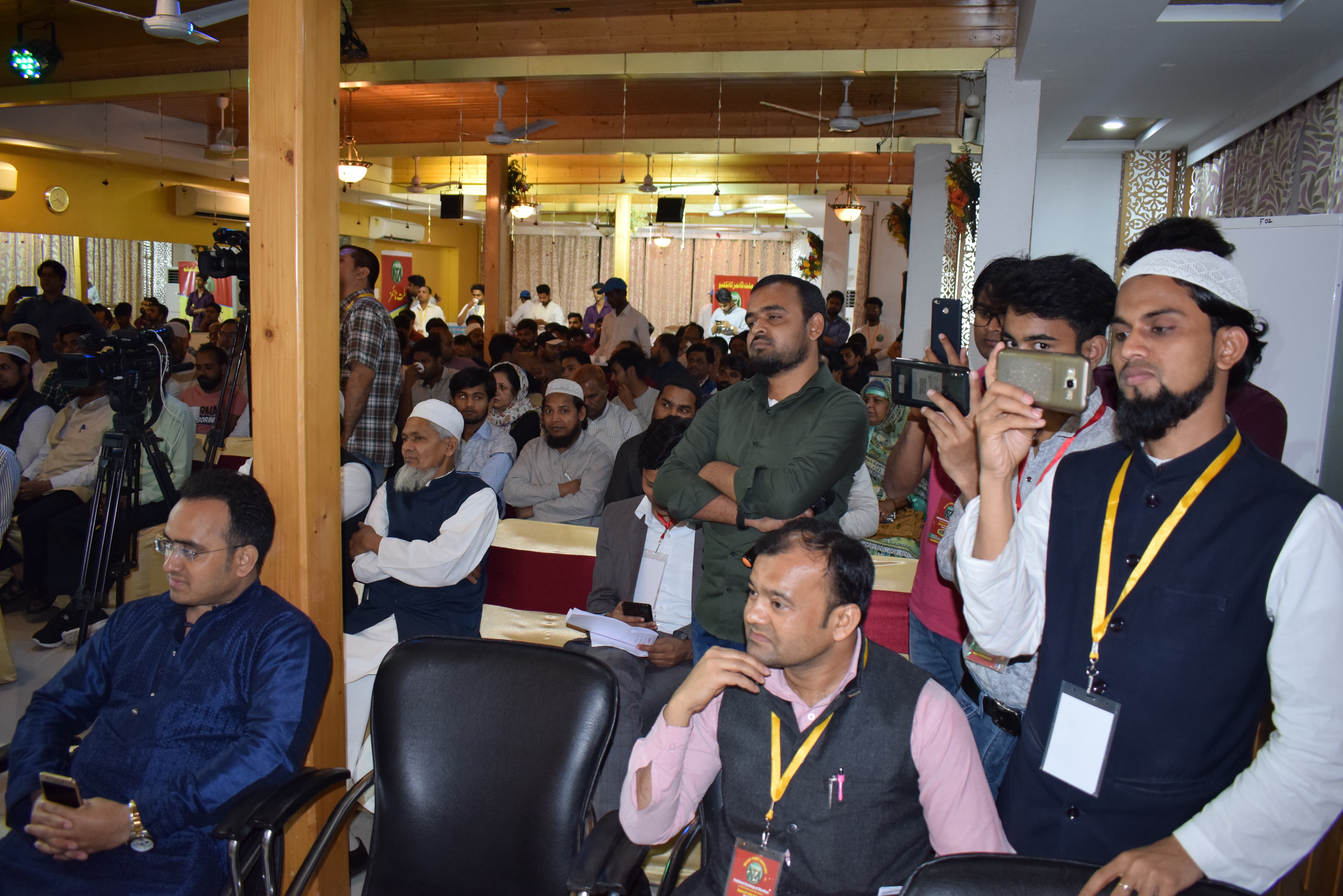 Therefore, Millat Times –a leading New Delhi based media house, organized a conclave on the very contentious issue "Political Strategy of Muslims in 2019 General Election" at Hotel River View, New Delhi to assess the ground reality of India's largest minority community –Muslim and prepare a road map for a possible solutions. The conclave covered the issue that why representation of Muslim Member of Parliament (MP) witness a sharp decline since 1947 despite increase in the population?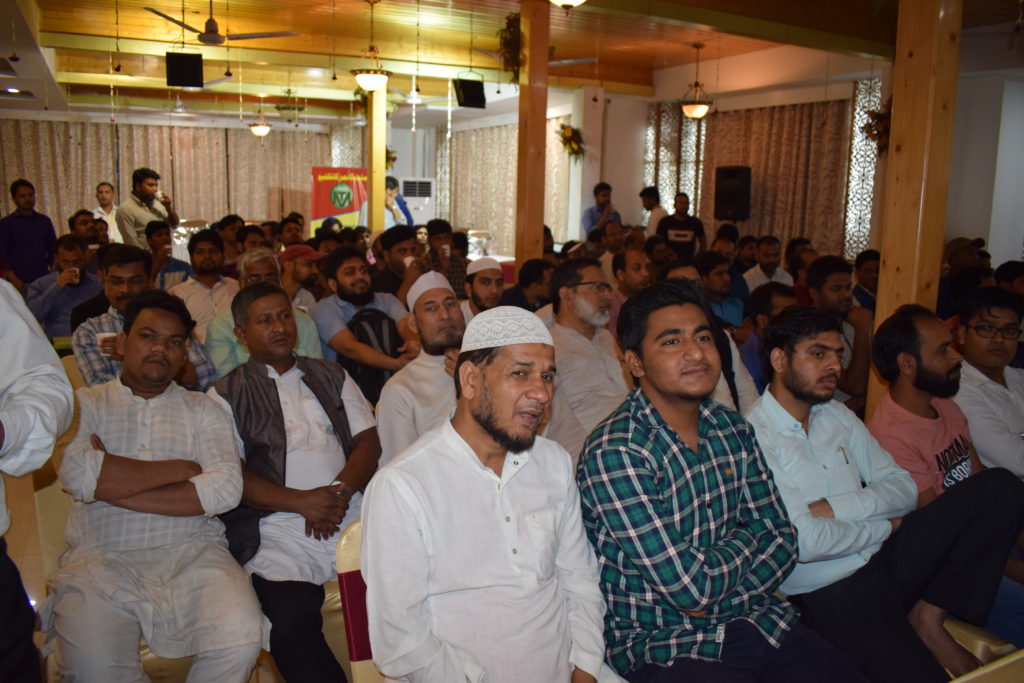 Describing possible political scenario of Indian Muslims, experts said that Indian Muslims, so far, have three options. First, they can join any secular party who has sympathy to Muslims. Second, they can work through a non-partisan pressure group that would ensure the election of sympathetic individuals regardless of party affiliation. Third, they can form their own political party by holding the balance of power in a coalition government.
The first scenario received a lot of criticism from the audience as many believe that most of the secular parties in India have neglected minority issues and just used Muslims for vote bank politics. That is why Muslims have been marginalized and their political and socio-economic conditions have been deteriorated. Currently Muslims are inferior compared to other minorities in the country. On the other hand, the second scenario has some possibilities but experts believe that lack of leadership among Muslims and deep-rooted sectarian division could a biggest hurdle. In the past Muslim community has faced the similar problem.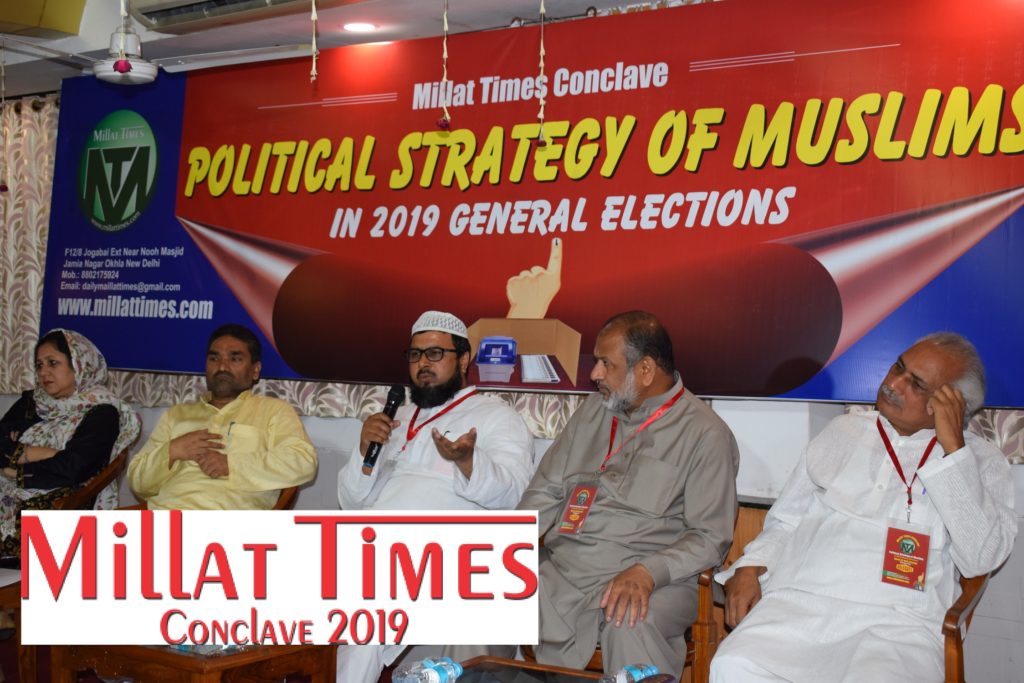 Third scenario was discussed broadly in every session of the conclave. Millat Time's Editor Shams Tabrez Qasmi, raised a number of question describing the geopolitical situation of voters in Indian political system. In his opening remarks he said that empirical data suggests that between 2001 to 2011 population of Muslims has increased from 13.4 percent to 14.2 percent while their representation has declined in the parliament. This is very sorry state of Muslims in terms of political representation. In his inaugural session analysis he emphasized that there are more than 25-30 seats in Assam, Bihar and Uttar Pradesh where Muslims can fight under the banner of well established regional political parties like Hyderabad based All India Majlis Ittehadul Mulimeen (AIMIM) led by parliamentarian and well know barrister Assad Uddin Owaisi. Similarly, other regional parties like All India United Democratic Front (AIUDF) led by perfume baron turned politician Maulana Badruddin Ajmal Qasmi in Assam which has potential to win 3-5 seats if Muslim voters exercise their votes wisely.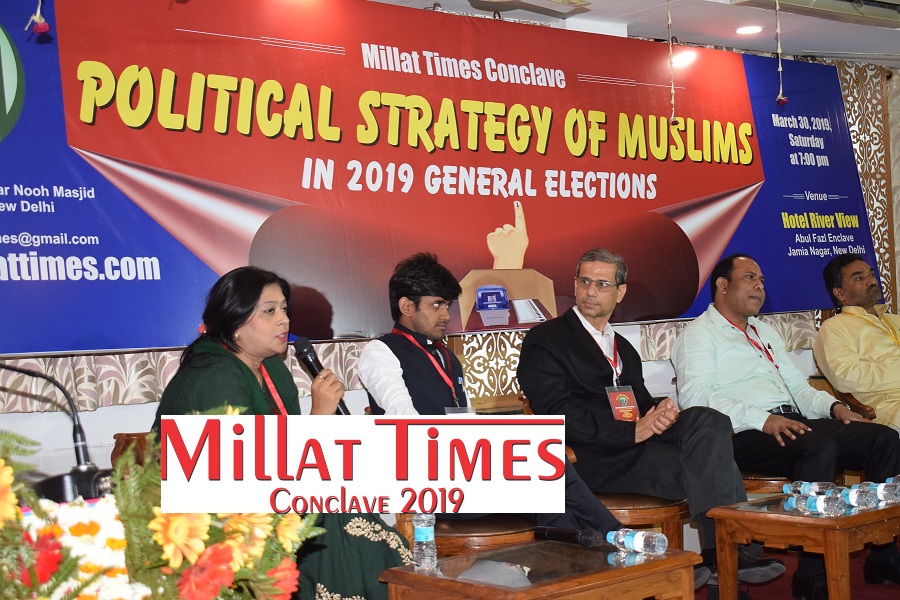 Likewise, there are other regional parties in Uttar Pradesh, Kerala, West Bengal and Maharashtra of other marginalized communities.  If they join hands with Muslims then definitely they will be able to send their representatives in the parliament who will not only represent their issues in the parliament freely and fearlessly beyond the boundary of party lines.
During the discussing, joining hands with secular parties, experts articulated that it has been witnessed that candidates, in most of the cases, feel uncomfortable to go against the party lines. Thus they fail to express and raise the voice of people in the parliament. For example during, Muzaffar Nagar riots, Dadri incidents, Triple Talaq Bill Muslim parliamentarian of secular parties failed to speak loud on the floor. Simply they were bound to speak not beyond the party lines.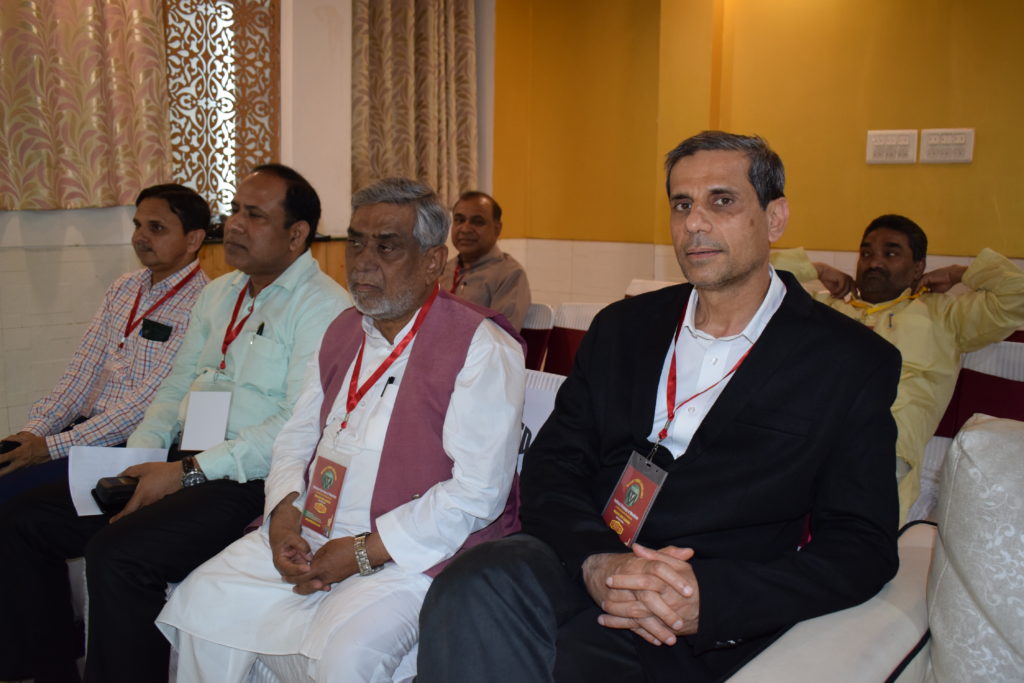 Meanwhile, take away from the conclave "political strategy of Muslims in the general election 2019" was that Muslims must be wise while casting their votes and try to support the right candidates in all circumstances. A right candidate will raise the prime issues of the people. Second, grass-root level advocacy and political awareness among Muslims are necessary. Third, in every constituency where Muslims are in decisive number they should join hands and avoid direct confrontation to avoid vote sharing. Finally, most of the experts articulated that in democracy rights are claimed if not granted. Therefore we should always try to use better alternatives and comprehensive strategies to achieve group goals. This is our collective responsibility as a citizen of this country.
---
The writer is Researcher and associated with Millat Times. He writes on National and International politics especially Middle East politics.