Aniqua Nargis: Painting deep thoughts on canvas
By Manzar Imam
New Delhi: In a sultry afternoon in Delhi, with added post-rain humidity, one hardly bothers to spare time for fine things. However, beauty has its own ways of capturing the imagination. I had one such moment on Sunday, 22 September 2019. The 'Artizen Art Gallery' housing the "7th art n art National Level Exhibition 2019" at Pearey Lal Bhawan, 2 Bahadur Shah Zafar Marg was bustling with art-lovers and artists who put a group show of painting, sculpture, photography, art & craft. It has been organized by Nav Shri Art & Culture Organisation.
I was greeted with a scarf-wearing young artist Aniqua Nargis whose painting depicted pain through tear drops. Nothing unusual, for tears more often than not, remind one of pain. However, a closer look revealed the deeper meaning. The liquid flow made a narrow tunnel swollen like a balloon at the lower end through which one could see a woman standing, ready to take steps to freedom and find her way to empowerment. When asked Nargis says, "The path to empowerment goes through pain."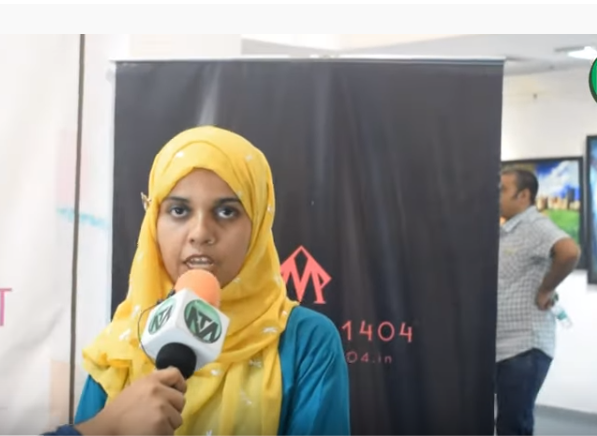 This was Nargis' third exhibition at the Pearey Lal Bhawan. She could not contain her happiness as people admired her work. The themes she has taken to the canvas mostly relate to human feelings, pain, family values and other big social issues that are so conveniently overlooked.
One of her paintings that was put on exhibition last year highlighted the role of parents. It was inspired by a famous Hindi film Baghban. In yet another early work exhibited in 2017 Nargis looks at the continuity of the pattern of life and its similarity from birth to death. Her weaving of everyday lived realities into deep social themes through beautiful colour combinations reflects both her persona and profession which her cousin Neha Tabish finds "appreciable". So does everyone else.
For Nargis women empowerment is not an idea to just talk about or sketch. It is about real life lessons. Nargis holds a Black Belt in Tae Kwando and teaches self-defence to girls. She has a diploma in painting from Jamia Millia Islamia. She is a rare combination of two contrasting art forms, martial art and fine arts. Like her real life thoughts, most of her paintings revolve around the idea of empowerment.
The week-long exhibition that began on Friday, 20 September will continue till Thursday, 26 September. This year it has also launched some new talents like Neha Bajaj who is aspiring to be "a great artist". Through her pencil shading Neha tries to show childhood innocence by hiding anywhere and everywhere. However, her painting titled "Slave of Thoughts" heralds the making of a great artist.
Age, beauty, deforestation, experience, farming, family life, global warming, God, spirituality are some of the major themes of the exhibition. Nav Shri Art's president Mohit Manocha deserves accolades for this exhibition in which the artists include from different states like Uttar Pradesh, Bihar, Jharkhand, Chhattisgarh, Kerala, Karnataka, Punjab, West Bengal and Delhi NCR. A visit-worthy exhibition for art-lovers!
(Manzar Imam is a senior journalist based in New Delhi)