Cop Ratan Lal and Civilian Mohammad Furqan killed in communal violence sweeping unchecked across northeast Delhi today
A man identified as Mohammad Furqan has been succumbed to injuries he received sword hit in Bhajanpura area of Jaffrabad, hours after a head constable named Ratan Lal (a native of Sikar, Rajasthanwas) was killed in the clashes that broke out between pro- and anti-CAA groups in the aftermath of the tension that escalated in the areas of North East District, particularly in the areas of Maujpur, Kardampuri, Chand Bagh and Dayalpur on Monday. A large number of people including cops are being treated at differents hospital for grave injuries. More injured people are being brought in.
There are videos of Pro-CAA protesters throwing stones across the road and one video which shows a man backed by a saffron flag holding crowd shooting a gun repeatedly at men fleeing on the other side. Reuters photojournalist Danish Siddiqui shared images of a Muslim man being brutally beaten up by people supporting the new citizenship law in Chandbagh locality of Bhajanpura today during a clash with those opposing the law. He was hit by a sharp object on his head.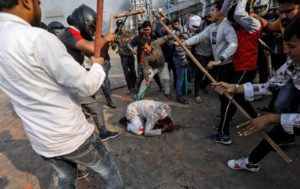 THIS IMAGE MAY OFFEND OR DISTURB
Today communal conflict that took place in Northeast Delhi between two communities was triggered by BJP leader Kapil Mishra, who Sunday gave a three-day ultimatum to the Delhi Police to get the Jaffrabad and Chand Bagh roads cleared of anti-CAA protesters, said that had he not made such a statement, "people would have turned violent". "Three days ultimatum to Delhi Police, Jaffrabad and Chand Bagh road(s) must be cleared, else don't make us understand, we would not even listen to you, just three days," he tweeted.
Joint Police Commissioner (Eastern Range), Alok Kumar on violence in North East Delhi: Police stationed at strategically located areas where there is potential of disturbance like Jafrabad, Seelampur, Maujpur, Gautampuri, Bhajanpura, Chand Bagh, Mustafabad, Wazirabad, Shiv Vihar.
Rahul Gandhi, ex-president of main opposition party Congress described the incidence of mayhem in Delhi as disturbing. In a tweet, he said that "The violence today in Delhi is disturbing & must be unequivocally condemned. Peaceful protests are a sign of a healthy democracy, but violence can never be justified. I urge the citizens of Delhi to show restraint, compassion & understanding no matter what the provocation".
Union Minister harsh Vardhan condemns violence in Delhii he tweets, "Violent protests in Delhi on the Citizenship Amendment Act are very unfortunate and tragic. Damaging public things, disrupting normal life has never been part of our values. I appeal to all to be careful with the distributors and maintain peace."
Disclaimer: Sensitive Photo, THIS IMAGE MAY OFFEND OR DISTURB