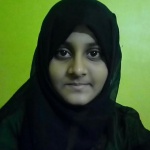 By Sobiya Imran Inamdar
On the last day of my school I finished my paper and was very happy because it was the last day of final examinations. Because From next day no school ,no study, no  uniforms, no wake upping early in the morning and no pressure of parents to study all the time.
I rushed to my  home as soon as I reached  father gave the exciting news of going home town . next day papa brought tickets of train and I along with my mummy Papa and younger brother was on my  way to home town on the same day only.
We enjoyed in the train watching the beautiful nature and eye catching scenes out side.We reached our destination ,met all our relatives .I used to play   with my small and cute cousins .
As a part of out door activities I  joined skating classes too with my cousin brothers.
During skating classes I made so many friends .I learned skating perfectly from my kind and wonderful teachers .It was really a joyful learning experience under the leader ship of  Gandhi sir,Shruti Mam,Roshan Mam and sonal Mam.
On 1st may my brother's birthday was there on that day we brought cake,cooked tasty dishes,went for outing to celebrate.  Like this only I enjoyed my holidays.
Now its all over because our new  academic year 2017_18 has commenced .We have joined the school with full zeal and enthusiasm . Its a  beginning Every body will take a while to get into the routine.
(Author is a VIII std. Student of Unity High School ,Valpoi-Goa)