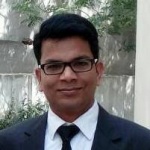 During candid coversation with Imran Inamdar UPSC exam cracker  Eijaz Ahmed urged Muslim youths to join Govt.administrative services in more and more number.
---
28 year old Mumbra ,Mumbai based Eijaz Ahmed 
has passed this 2016 high status exam in his sixth attempt and got 697th rank.He may get IPS ( Indian police service) Cadre.
Eijaz says, Muslims youth lack confidence and they are apathetic towards governance and administration. Nothing is impossible we just need to keep  working hard, he added.
I was preparing my self for competitive exam since 2011  when I was doing my Post graduation. He says, this was my sixth attempt . Now Allah has awarded me this huge success.
Role of my parents was really encouraging ,they supported me well through out this journey.
It is indeed notable that MA (Master of Arts)passed  Eijaz had not joined  any class for guidance ,he just has achieved this feat on his self study.
He belongs to defence family ,his father Mohammed Samiullah is a captain in Indian army.
A Mumbra based social activist and Eijaz's  friend Prof. Hasan Mulani lauded his vision and consistency .He said , he was very clear in his goal. 
Hasan further said,Although he is from middle class family and  lacking the technical resources and environmental support he has given his best and set up a fantastic example before youths.