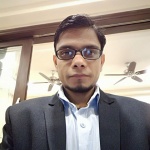 By: Hassan Anwar
Student Jamia Millia Islamia New Delhi
---
"Since Modi-led government has come into the power, secular people across the country are deeply concerned about whether the Constitution of India will maintain its superiority or lose it! In the past month of Ramadan, while staying in a mosque located at Nasir Pur, Mau of eastern UP, an innocent elderly-aged man was brutally shot dead." These views were expressed by veteran scholar Mufti Anwar Ali, the convener of the recently-established platform 'Mau Nagric Munch' on the occasion of a massive peaceful protest organized there after Juma prayer at New Eidgah of Maunath Bhanjan, eastern UP. While delivering his speech, the convener said, "Given spreading mob lynching of innocent people in name of so-called cow vigilance and the increasing sectarianism through all over the country, the Mau Nagric Munch was constituted. The main objective behind the formation of the Munch is to firmly maintain peaceful environment and communal harmony across the region." He also sternly condemned the Amarnath Yatra attack. He added that terrorism has no particular religion. Islam has nothing to do with it. Just as the campaign is being run nationwide for clean India, in the same way it must be run for the protection of the entire humanity regardless of cast, creed and region.
While presiding the peaceful protest, Ex-MLA comrade Imteyaz Ahmad said,"This massive protest is conducted to draw government's attention towards growing intolerance and mob lynchings carried out by some extremist outfits and individuals. Only within a week after Modi assumed the power, engineer Mohsin Sheikh from Pune was lynched by mob. Since then, it was unstoppable. Recently, 18 year-old Hafiz Juned was lynched while boarding in train.
Ex-Rajya Sabha MP Salim Ansari said,"The Nasir Pur murder was a well-planned conspiracy which was trapped to create communal disharmony in areas surrounded by Mau. People here, however, have managed to make the unclean intentions of anti-social element failed and pushed their efforts in vein." PM was visiting abroad again and again and paying no heed to what is going on inside the country, added the former parliamentarian.
The district chief of the Smajwadi party Dharm Prakash Yadav told his party would wholeheartedly support the Munch in this war against hate.
The district president of the Business Committee, Uma Shanker Umer said," Our PM leaves for Pakistan and attend the feast."
Sheikh Mazhar Ali Madani said,"Our war is against those who try to create disharmony in the society."
General Secretary of the Jamiat Ulema Mau, Maulana Iftekhar Ahmad Miftahi said," all communities of the nation have contributed for freedom struggle."
The Congress leader, Rashtra Kanwar Singh said,"We Congressmen completely support the Munch and we are willing to oppose sternly the mob lynchings by holding such peaceful protest nationwide."
Also, the protest was delivered by Maulana Ahmad ul Allah Qasmi Nadvi, Dr. Masood Ahmad al-Azmi, Maulana Khursheed Ahmad Miftahi, Maulana Abdul Aleem Nadvi, Mohammad Tayyab Palki, Lal Bahadur Singh, Owais Tarafdar, Shafqat Taqui, Maulana Abdul Hameed, Maulana Noman Anwar Qasmi, Maulana Salman Anwar Qasmi and others.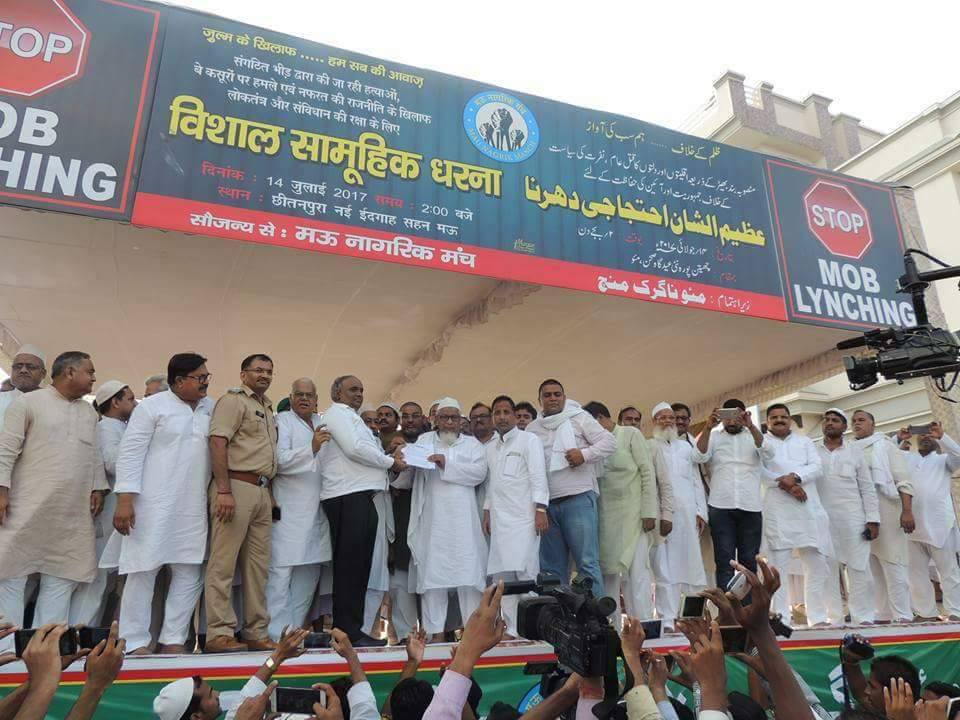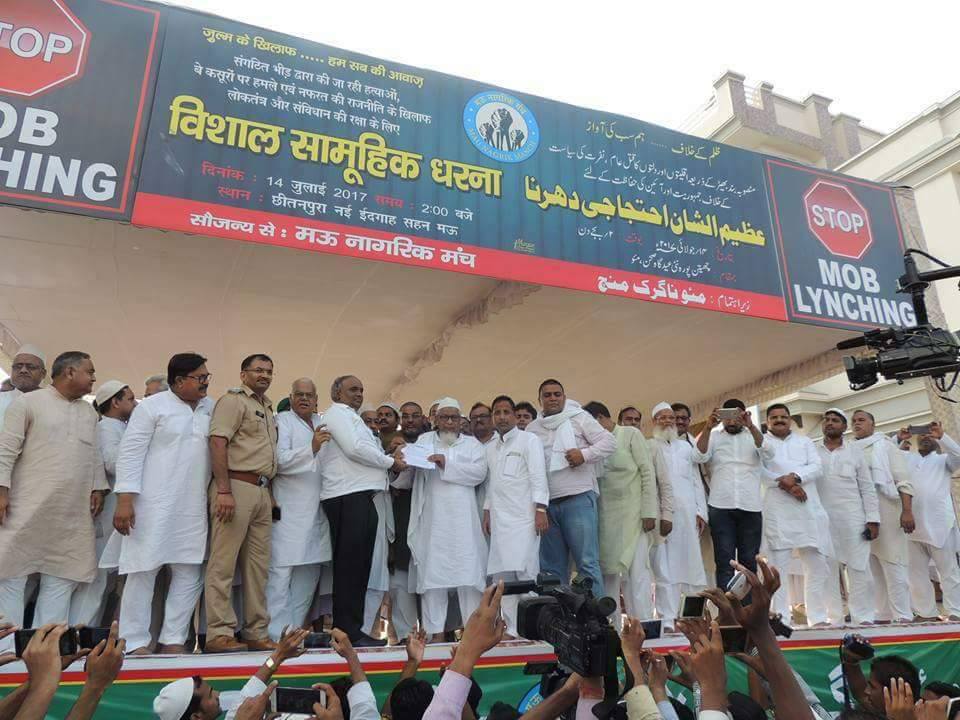 At last, the Munch spokesperson Arshad Jamal presented a 6-point memorandum that will be sent by Mau District Magistrate to the President of India.
1. Effective steps should be taken to protect the democracy and the Constitution of India.
2. All illegal activities made by extremist cow-vigilante outfits and individuals should be immediately banned.
3. Adequate compensation should be granted to house-holders of victims of mob lynchings as well as criminals should be punished.
4. It must be ensured by police administrations to protect all citizens indiscriminately.
5. The Nasir Pur murder case should be limpidly probed by CBI.
6. Crimes against Dalits, minorities, women, students, youths and others should instantly stopped.
Thousands of people supported the above-mentioned 6-point memorandum by raising their hands.
The massive peaceful protest was attended by a large number of people coming from the city and the areas surrounded by Mau including leading intellectuals, academicians, politicians, social activists, businessmen etc.