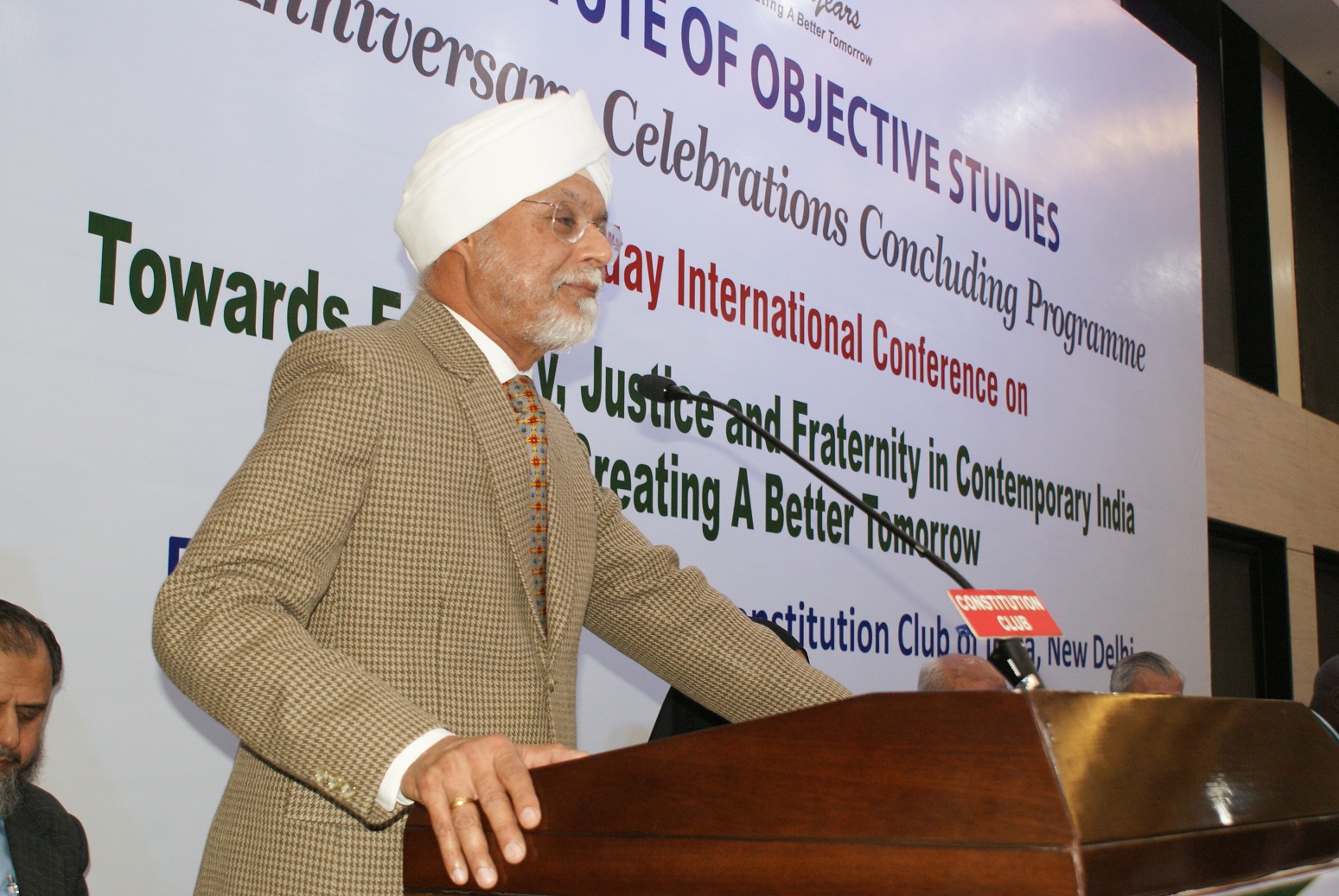 We need to ensure justice in true sense to make the concept of a welfare state
Former Chief Justice of India Mr. S. Kher Addresses the Inaugural Session of the Tree-Day International Conference of IOS
New Delhi: February 16 (Press Release)
"According to the nature, there exists no equality among human beings. Some people look better as compared to others; some are more intelligent than others. It is these people who, as intellectuals, talk about equality in the society," said former chief justice of india Mr. Jagdish Singh Kher in the inaugural session of the three-day international conference organized by Institute of Objective Studies (IOS). He further said, "The concept of equality too, like the concept of freedom, has become the ideal of politics in today's world. The French revolution of 1789 was also based on freedom, equality and fraternity. This was the base of the oppressed sections. Their lives reflected the social condition of inequality."  "The concept of equality and brotherhood is meaningless without freedom. Likewise, equality cannot be achieved without freedom and brotherhood. Brotherhood, freedom and equality are not complete until they are inter-connected" he added. Talking about the section 14/15/16 of IPC, Mr. Kher said that these sections are very important, as they are related to the concepts of equality, justice and brotherhood. He admitted that he has, as a judge, studied a lot on these concepts and reached the conclusion that humans are not by birth equal. But they have to struggle for equality. The makers of the Constitution have particularly focused on social justice. "Even after seventy years of independence, we have not been able to give the right of reservation to the backward classes. If we really want to complete the concept of a welfare state, we will have to ensure justice in true sense of meaning" he said. Speaking of inter-religious respect and harmony, he recounted a story of his own life. He said: My mother was sick and I developed soft corner for Muslims inspired by the way a Muslim doctor treated her. He also admitted that the meaning of equality has changed. Now it denotes the rights of equality, equality among common masses and just distribution of the government resources. We have all the forces in our country which are creating differences on the basis of region, community and language. We, therefore, need to focus on the security of the country and promote mutual brotherhood.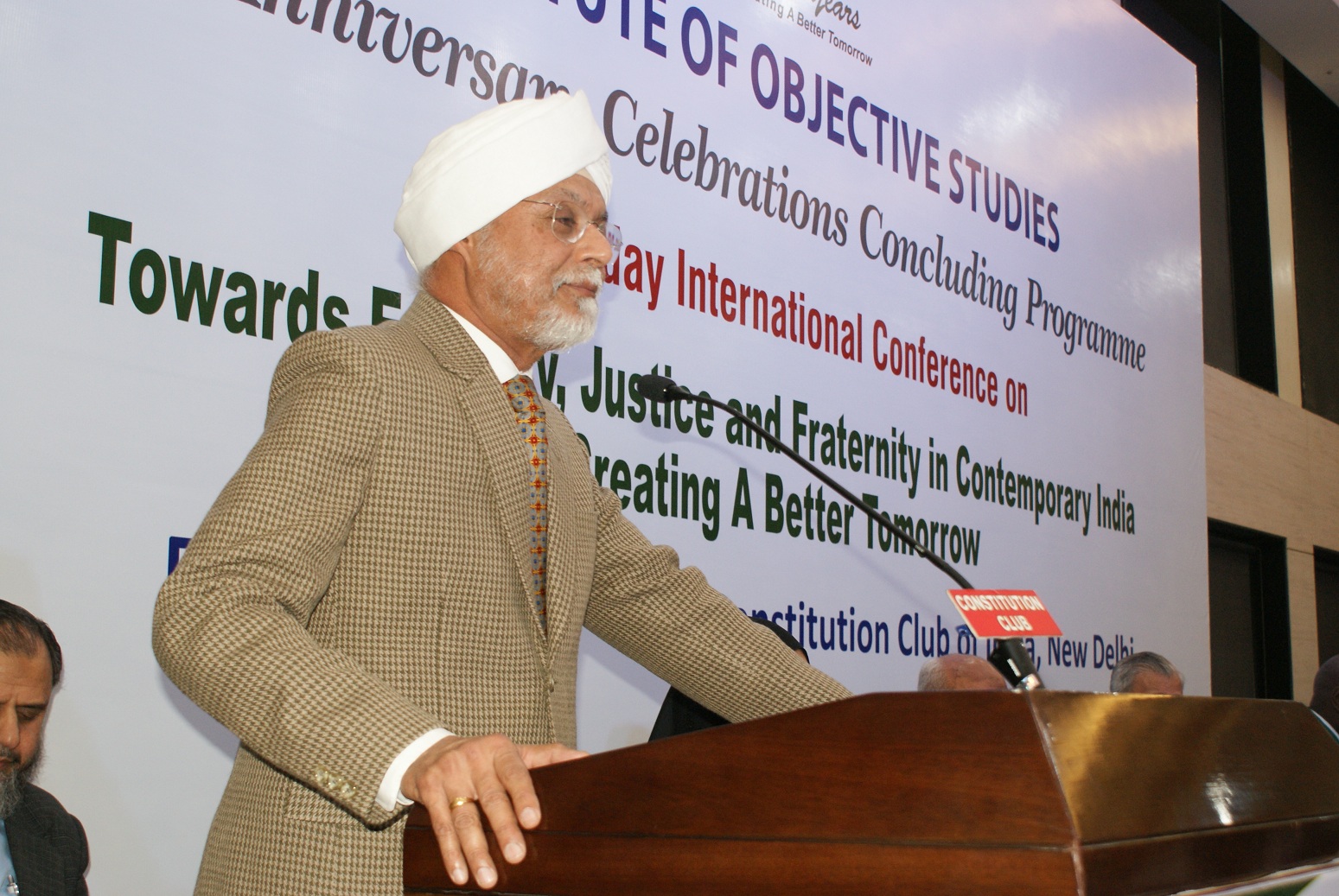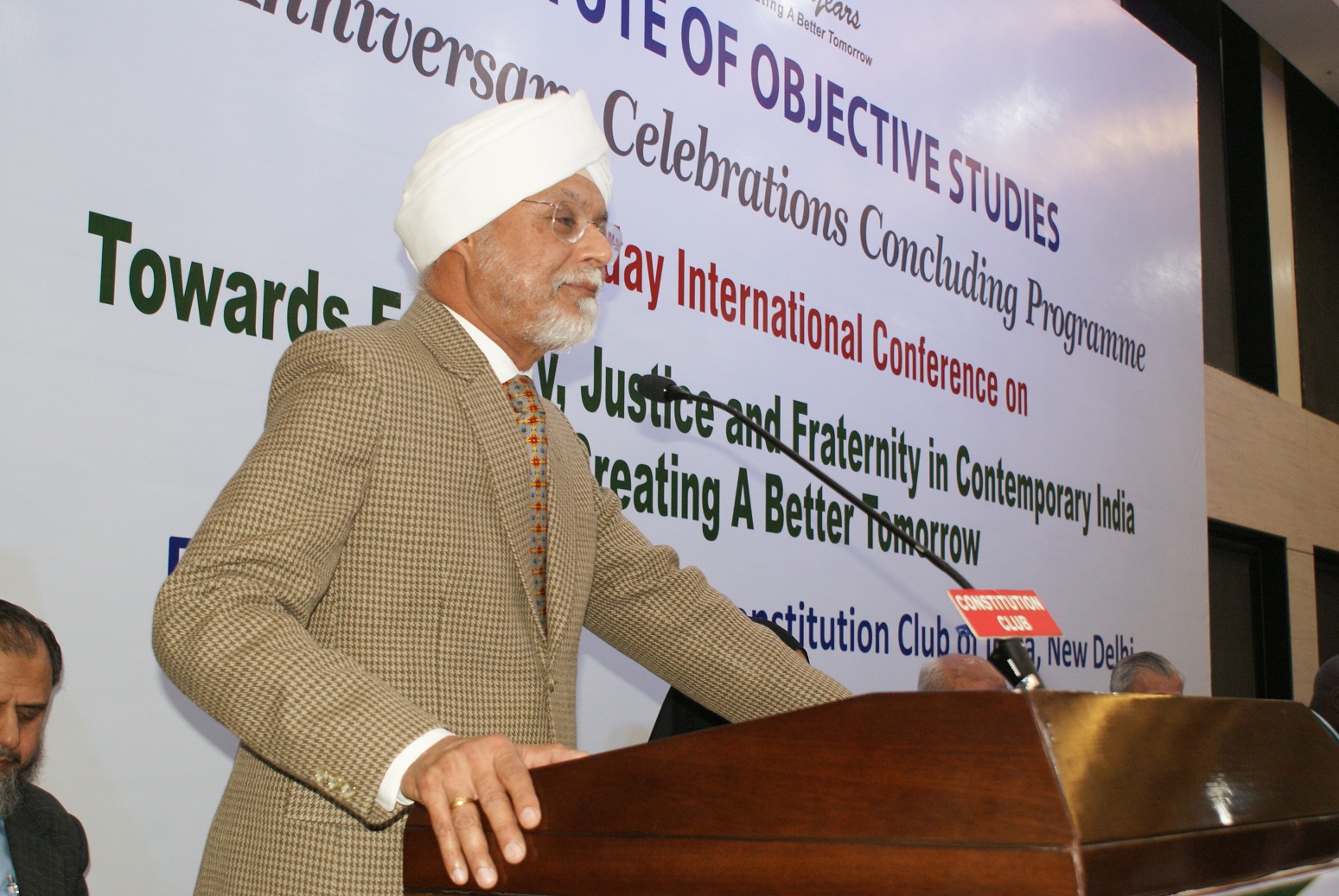 It should be noted that a series of seminars on "Towards Equality, Justice and Fraternity in Contemporary India: Creating a Better Tomorrow" is being held by Institute of Objective Studies, a Delhi based noted think-tank organization to mark its 30th anniversary. To celebrate the successful completion of 30 years, the IOS has held four seminars in different cities, and the fifth seminar began in New Delhi today. Introducing the services of the Institute, its chairman Dr. Muhammad Manzur Alam said: The basic theme of all the seminars held to celebrate the 30th anniversary of the Institute is "Towards Equality, Justice and Fraternity in Contemporary India: Creating a Better Tomorrow". But how can a better tomorrow be created? We have selected four subjects in this regard; education, law, history and Islamiyat. He further said: This fundamental point came to our mind, so that we can decide the present status of Indian Muslims, Christians, Dalits and other backward classes. If we look into the matter in the light of the Constitution of India, we do not find a good situation with them. The rights and opportunities of justice, equality and development ensured by the Constitution are not available to them.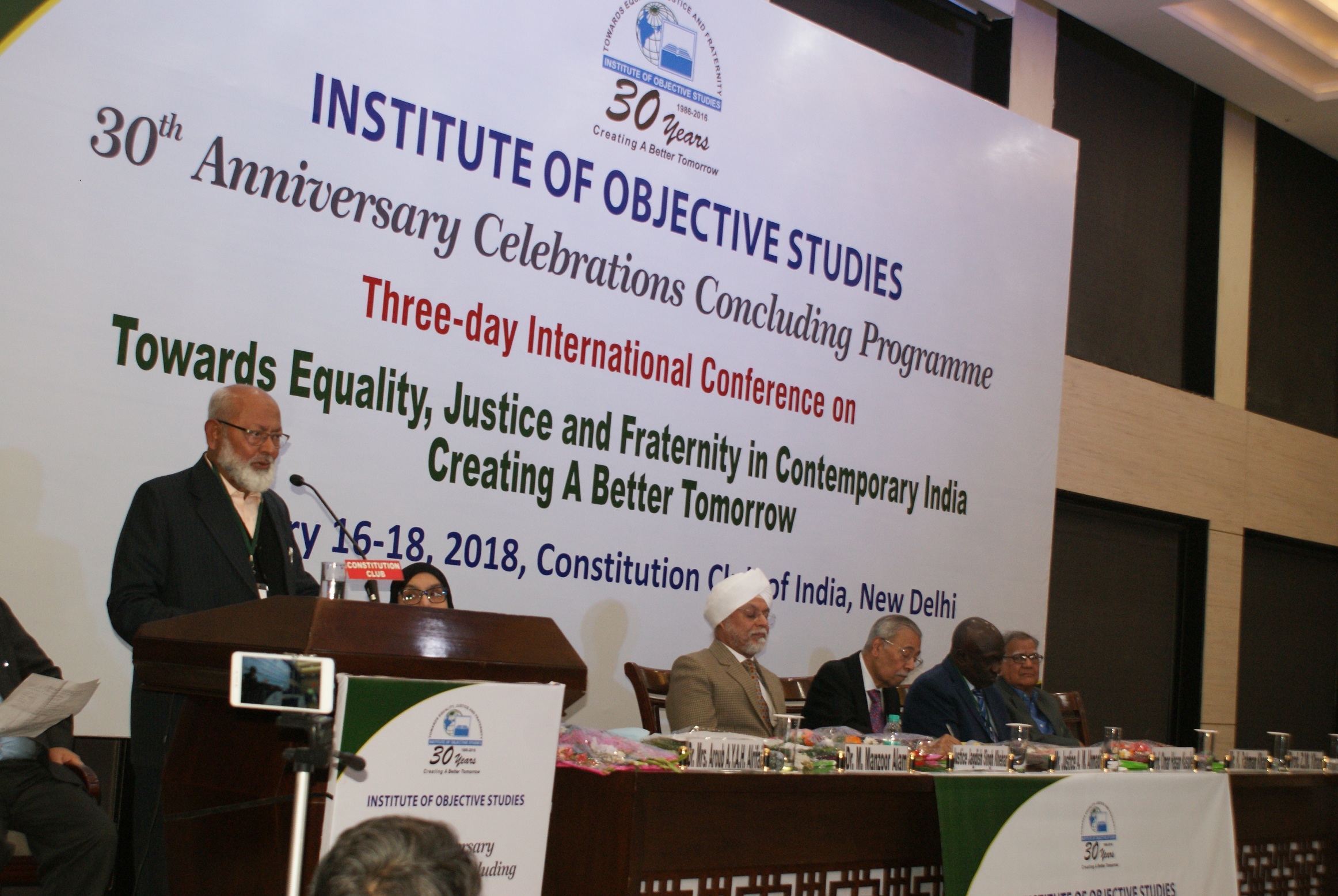 In his presidential address, Mr. E Ahmadi, former chief justice of India said: Constitution is the umbrella under which adherents of all faiths reside. This is the only country of the world where the followers of all religions live with love and affection. This country indeed enjoys the concept of unity with diversity. Our Constitution gives equal right to all the citizens. Specially mentioning section 14 of the IPC, he said: It gives us equal rights of economy. We can avail our rights by using section 32. Likewise, section 32 itself is a fundamental right of the citizen given by the Constitution.
Former union minister Mr. K. Rahman Khan said: Sections 14/15/16 are soul of our Constitution. It is difficult to bring about equality when the society rife with inequality. He also said that section 16 commands the government for affirmative action. We are proud that our country has given us an independent judiciary system, so that even common people can get justice.
Dr. Umar Kasole, general secretary of International Institute of Islamic Thought said: India is discussing equality, justice, freedom and fraternity today. But this is not only the issue of India. Instead, this is a world phenomenon. Entire world is discussing on these themes nowadays, as the citizens of India are live in all countries of the world. They are taking part in development of those countries through their services. Speaking about equality, he said: Man and woman have been divided into sects and tribes, so that they can recognize one another. He further said: As a society, it is our duty to uplift the underprivileged sections, so that they may take part in the betterment of the country. Mrs. A. Refahi, member of the general assembly of the International Islamic Charitable Organization, Kuwait said: Islam has given honor and respect to human beings and it has not differentiated between man and man in terms of humanness.
The seminar was anchored by Professor Afzal Wani, while it began with recitation of the Golorious Qur'an by Maulana Abdullah Tariq. Professor Ishtiyaq Danish, Finance Secretary of IOS presented vote of thanks to all the guests, audience and journalists. The program was also graced by renowned scholar Maulana Khalid Saifullah Rhamani, Arya Samaj leader Swami Agniwesh, Dr. Abdullah Al-Haidan from Saudi Arab, Maulana Abdul Hamid Nomani and many other scholars and intellectuals.
Many books were also released in the seminar. IOS Chairman Dr. Muhammad Manzur Alam's book Perspective Selective Writings was released by Justice Ahmadi. "IOS Journey of 30 Years: Region Inspired" was released by professor Hasan kasole. Professor Arshi Khan's book "Exclusion of Muslims in India: Perception, Tolerance and Legitiny of the State" was released by Justice Kher. Apart from them, some more books were released.
It should be noted that the three day conference of IOS which has begun today will end on Sunday. In this duration, total 14 sessions will be held. In these sessions, scholars and intellectuals from numerous countries including India, Saudi Arabia, Kuwait, Qatar, Turkey, Bangladesh, South Africa, and Sri Lanka will present their papers. IOS Exhibition was also inaugurated in the seminars in which the 30 year journey was demonstrated through projector.