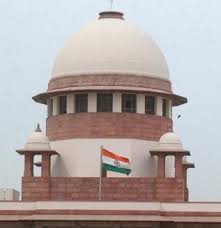 More than 1,700 sitting MPs and MLAs are facing trials in 3,045 criminal cases pending across the country, the Centre has told the Supreme Court.
Uttar Pradesh topped the list of states with highest number of legislators standing trials, followed by Tamil Nadu, Bihar and West Bengal.
While 248 MPs and MLAs face trials in Uttar Pradesh. Tamil Nadu, Bihar and West Bengal account for 178, 144 and 139 such lawmakers, respectively.
Andhra Pradesh, Kerala and Telangana are the other three states where more than 100 MPs and MLAs are being tried in various criminal cases.
Submitting its affidavit in response to a query by the Supreme Court, the central government has disclosed that between 2014 and 2017, as many as 1,765 legislators have been in the dock over criminal trials.
These 1,765 MPs and MLAs were involved in 3,816 criminal cases, stated the affidavit, citing statistics collated by various High Courts as on March 5 this year.
Out of 3,816 cases, only 125 cases were decided within one year. The deadline of deciding such cases within one year was set by the apex court through a judgment in 2014. But the statistics now reveal that this directive has been observed only in breach.
In the last three years, trials in a total of 771 cases were completed, leaving 3,045 cases still to be decided.
As many as 539 cases remain pending in Uttar Pradesh, followed by 373 cases in Kerala. Tamil Nadu, Bihar and West Bengal are the other states where more than 300 criminal cases against legislators are yet to be concluded.
The information has been supplied by the Law Ministry pursuant to a direction by a bench headed by Justice Ranjan Gogoi in December last year.
The bench was hearing a PIL by lawyer and activist Ashwini Upadhyay, who has sought a life-time ban of convicted legislators.
While issuing direction for setting up special courts, the top court had then asked the government to collect data about number of criminal cases pending against MPs and MLAs, and the status of the trials.
Subsequently, the ministry wrote to all high courts, based on which the latest affidavit has been filed.