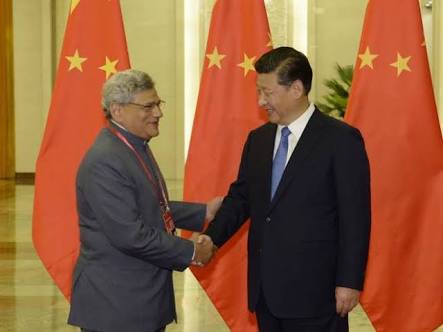 The relation between the Communist party of India (M) and the Chinese communist party is now strong. In 2015, #CPI(M) leader Sitaram #Yechury paid a visit to #China and met Chinese president Xi jinping. During the meeting Mr. Xi said that the CPI (M) was a strong votary for driving the relationship between China and India, including people-to-people ties. And China's Vice President Li Yuanchao pointed out that the CPC was developing ties with all Indian political parties including the CPI (M). On the other hand, Sitaram Yechury had advocated convergence between China's Maritime Silk Road (MSR) concept and India's Maritime Spice Route. He stressed that China's "one belt one road" concept, of which the MSR is a part, cannot "comprehensively realise the inherent potential of the region unless the Maritime Spice Route is simultaneously revived".
As the geopolitical tension is increasing between China, and India in the Indian ocean region, CPI(M) may be used to play a vital role to curb down Modi's influence in the domestic political arena in order to give China a strategic comfort.
All India Kisan Sabha (farmer wing of CPI (M)) has launched a political campaign to demand waiver of all farm loans and implementation of #Swaminathan Commission report (The National Commission on Farmers or NCF is an Indian commission constituted on November 18, 2004 under the chairmanship of Professor M.S. Swaminathan to address the nationwide calamity of farmers suicides in India). It is reported that, nearly 35,000 farmers from across Maharashtra entered Mumbai, on Sunday 11 March afternoon, and they are all set to protest outside the state Assembly in Mumbai on Monday 12 March morning.It is also reported by some Indian media that they have already gained support from Uddhav Thackeray-led Shiv Sena and Raj Thackeray-led Maharashtra Navnirman Sena as well.
#BJP and its allies had no other option except to recognize the farmers demand since the political merit of this particular movement is very high. And the Mao style long march is symbolic enough to remind the BJP government about the #Maoist revolution in China which was also farmers oriented.
If CPI(M) can continue to exert its political potential as it is showing in Maharashtra with the hidden support of the mighty Chinese communist party, Modi-led communal BJP will be in big domestic political trouble and that will subsequently strengthen Chinese position in and around India. But will the west sit idle when it's tactics to limit Chinese assertion in Indian ocean region face such fundamental hurdle?
Written By : Ahmed Rajeev, Bangladesh based Geopolitical Analyst and Freelance Journalist