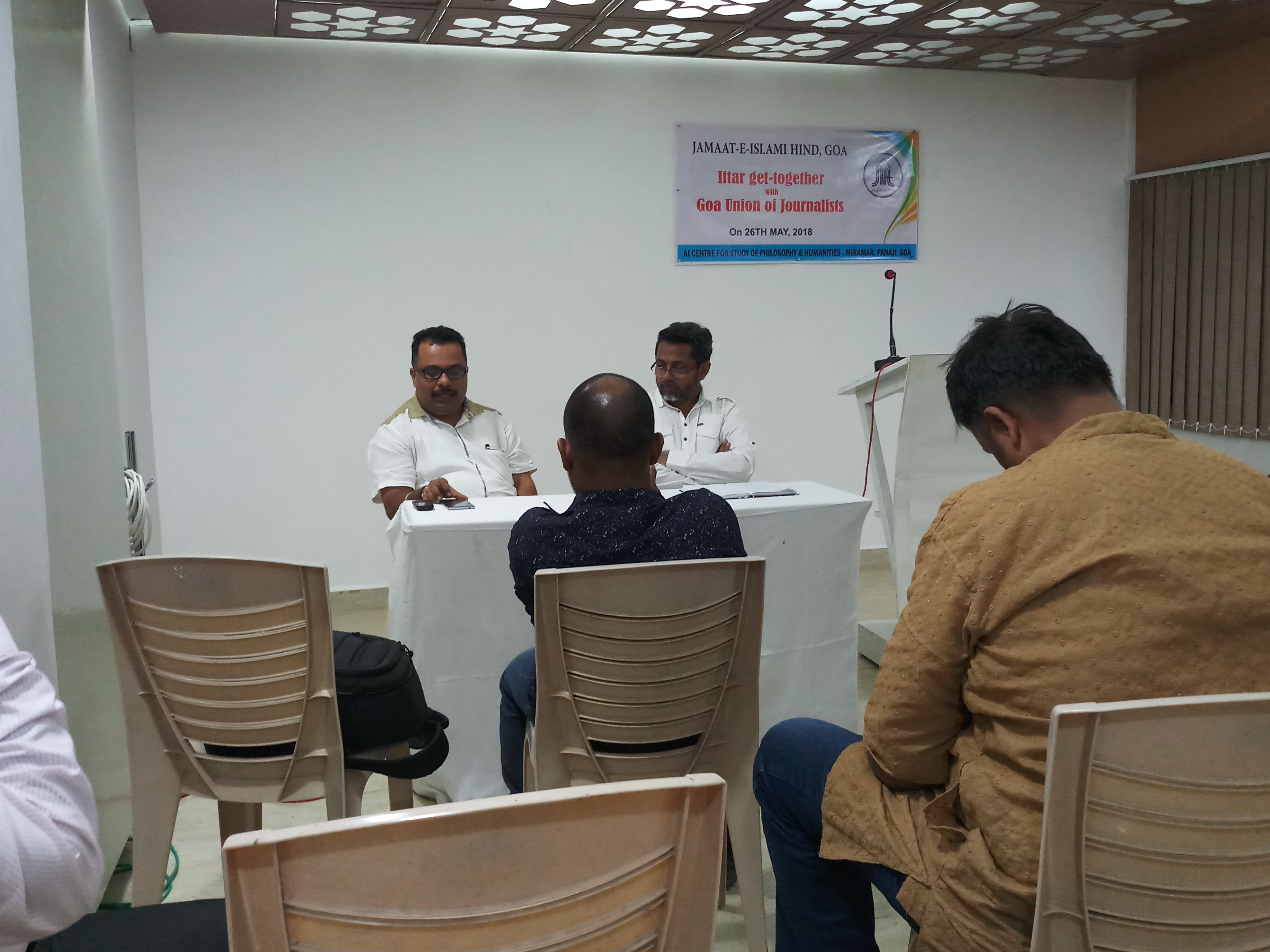 Millat Times 
Panji (Goa)
An iftar get together was organized by , Jamaat-e-islami hind, Goa, for union of journalist on 26th May at 6.15 p.m, at Centre for Studies of Philosophy and Humanity, Miramar,Panjim.
Speaking on the occasion Asif Hussain  ( secretary of Jamaat e Islami Hind, Goa) said that " God created mankind in the best of its form and had sent  them as his vicegerent on the earth to live  their lives  in accordance to the divine injunctions  given by him . But unfortunately mankind is deviating from the divine laws and devising his own path and taking for himself as owner of everything resulting in anarchy, exploitation, bloodshed, chaos, with no value for human life and humanity. He said that today survival has become difficult as food, clothing, shelter, education, health and other  basic needs are going beyond the reach of the common man  and the gap between the  have and the have not's  is becoming wore wider.
He further said that the holy month of Ramadan and fasting elevates the spirituality in an individual and reminds us that we are human beings  and are answerable for all our acts to the Almighty God on the day of resurrection and that fasting inculcates piety and God consciousness  and also compassion and empathy towards the poor. He said that Media has always played a significant role in highlighting the issues affecting the common man and by apprising the government about the ground realities and issues of the nation.
Speaking on the occasion, chief reporter of Goan varta, Mr. Kishore Naik Gaonkar said that such type of gatherings bridges the gap between communities and offers a platform to understand each other better and said that we need to have such gatherings more as it will help to understand the communities faith and their issues. He further said being the citizens of this country Muslims should also take active part in issues affecting the society and that they should come in the forefront.
The programme concluded with Dua and breaking of the fast, followed by dinner.