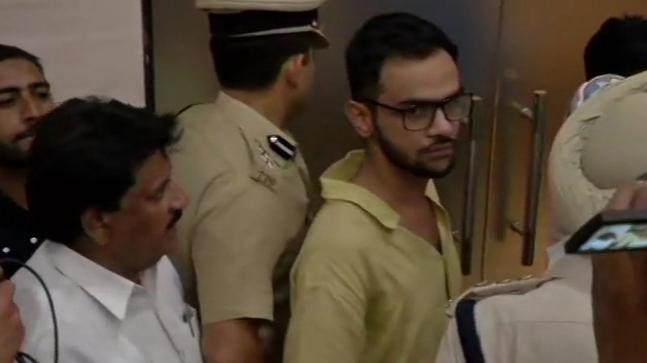 JNU student Umar Khalid was today allegedly attacked by an unidentified man. Police reached the spot and recovered a pistol from the spot. The incident took place at the Constitution Club of India in New Delhi.
Joint Commissioner of Delhi Police, Ajay Chaudhary said, "A man attacked from behind while Umar Khalid and his associates were having tea at a stall, Khalid fell down. He is safe. We are investigating further."
Earlier, news agency ANI reported that an unidentified man opened fire at Umar Khalid outside Constitution Club of India. Umar Khalid was not hurt in the incident.
"There was an event, Umar Khalid accompanied us. We were at a tea stall when a man in white shirt came, pushed and opened fire at him. Khalid lost his balance, fell down and bullet missed him. We tried to catch the man. He fired aerial shots, pistol slipped off his hands and he fled," ANI quoted an eyewitness as saying.
The Delhi Police, however, denied any firing. A police officer told India Today, There was no incident of firing at Constitution Club where activist Umar Khalid was. Two suspects with pistols were seen in the vicinity and have been apprehended."
Madhur Verma, DCP of Delhi Police, said, "It is being verified. He said that he was attacked. Somebody pounced on Umar Khalid and pushed, thereafter he tried to fire at Khalid.But the person immediately couldn't fire.People started chasing him thereafter according to Khalid the attacker fired in the air."
Reacting to the incident, Shehla Rashid, JNU student leader, called the incident "shocking and highly condemnable".. She said, "A guy attacked Umar Khalid from behind and tried to shoot him in Delhi."
"I spoke to Umar. He's okay, but we should be very very worried about his safety," she further said.
Umar Khalid was in the storm of a controversy in connection with an event held at JNU campus in February 2016. Anti-India slogans were raised at the event participated by Umar Khalid and other JNU student leaders.
Here are some of the photographs from the spot where incident took place: