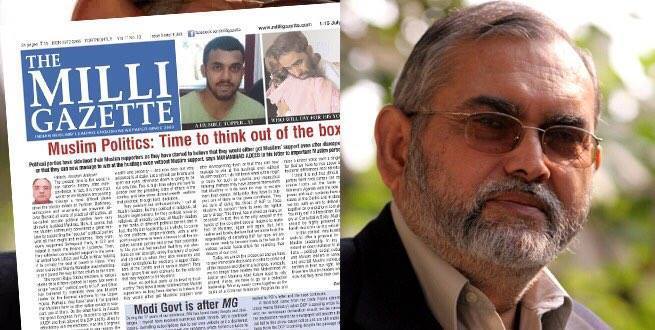 Soon The Milli Gazette secured the bail of the journalist and freed him from jail but the case still continues in Saket court
New Delhi
‏Millat Times
Two years ago The Milli Gazette newspaper found itself in trouble when it published an RTI-based report by the well-known journalist Pushp Sharma saying that Ayush Ministry does not employ Muslims as per policy. Enraged by the report, the Ministry asked Delhi Police to file a case against the reporter. Delhi Police instantly obliged the Ministry, arrested the journalist and put him in jail. Soon The Milli Gazette secured the bail of the journalist and freed him from jail but the case still continues in Saket court. The case is going against the Delhi Police and Ayush Ministry as the forensic lab has said in its report that there is no proof that the journalist's laptop, alleged by Delhi Police to have been used to forge a document, was used to forge a document.
Soon Press Council of India also took cognisance of the case on the basis of press reports and registered a case against The Milli Gazette. This case lingered for long and was dismissed later.
A third whammy came when the Licensing Department of Delhi Police sent a show-cause notice to the editor, printer and publisher of The Milli Gazette saying why his declaration (licence to publish) may not be cancelled. Delhi Police's first show cause notice mentioned a specific complaint on whose basis the action was taken. Dr Khan asked for a copy of this complaint and the notings thereon by the officers but it was denied to him. So he filed an RTI application asking for those papers. Police again refused and said in its reply that under RTI Act, papers cannot be provided to a "third party".  Dr Khan appealed against this reply saying that the matter concerns him directly; hence he is the first or the second party, not a third party. The appeal too was rejected.
Now Dr Khan appealed to the Central Information Commission. His appeal was heard recently by the Central Information Commissioner Yashwardhan Azad. Dr Khan told CIC that he cannot properly reply to the Delhi Police's notice until he sees the actual complaint. The Commissioner reprimanded the Police team then and there telling them how can they conceal the original complaint from a person who is directly concerned with the matter and yet you demand a reply from him and keep him on tenterhook for such a long time.
CIC said in his written order that it is totally illegal for the police to deny the information from the complainant. CIC further said in his order, "The refusal to provide a copy of the complaint based on which the Show Cause notice was sent to the appellant, treating him as third party, is a violation of the principles of natural justice. The denial of information by the Respondent is unconstitutional and unacceptable since it results in denial of right to a citizen to defend himself. Hence the reply of the Respondent is dismissed and set aside."
In his order, the CIC cited the "poor drafting" of the "garbled Notice" and added that "it is not fair to level charges and initiate action against a citizen without even allowing him knowledge about the complaint against him. Undeniably, the appellant in this case has every right to access material information based on which he has been issued show cause notice and called for his presence and statement. The due process of law and principles of natural justice demand disclosure of such documents which were unduly denied by the CPIO in this case. A person ought to be provided all the documents, correspondence/s, complaint/s etc. which are used against him as incriminating evidence, in order to provide him fair opportunity to defend himself and present his case."
Citing a number of Apex Court cases, the CIC added in his order, "the position of law about the right of self defence being a Constitutional right is undisputed. Based on the well settled law, the appellant in the instant case ought to have been provided complete information as sought by him."
At the end of the order, CIC directed Delhi Police to furnish copy of complaint(s) received against the newspaper and also to intimate to the appellant the current status of action taken on the above complaint(s). Delhi Police has been given two weeks from the date of receiving a copy of this order to comply with it. Compliance report has to be submitted to the Commission by 21.08.2018, "failing which the Commission shall be constrained to initiate appropriate legal proceedings for non compliance of specific directions."
It may be mentioned here that the sudden burden of the three cases was hard on The Milli Gazette,which was already facing financial problems, so much so that the print edition was stopped in December 2016 while the online edition continues