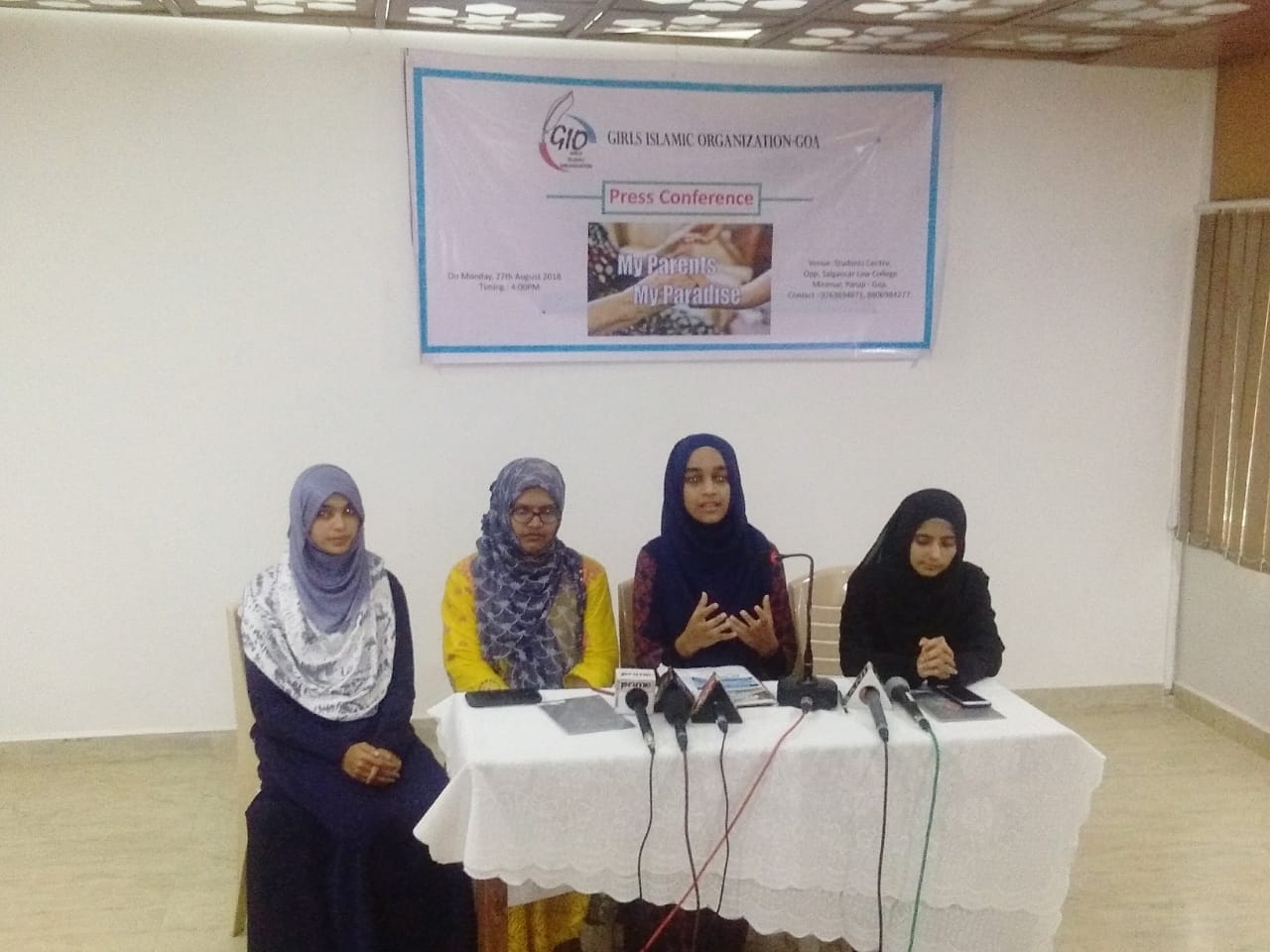 MT News Network 
Goa
Girls  wing of Jamat-E-Islami Hind
Girls Islamic Organisation (GIO) is organising a campaign, "My Parent My Paradise" from 1st to 10th September 2018 to educate the young parents, children and the students' community of the need, rights and duties of elderly parents,informed state President Sharmin Khan through press release at recently held press conference at Panjim.
It informed that ,The Girls Islamic Organization (GIO) is working with the aim of inculcating constructive values among young girls for the reconstruction of the society. It is a platform to explore, develop, refine and organize the hidden talents.
The philosophy of life and family environment, education and social environment, state policies and laws all determine the approach and attitude we develop towards life. This attitude in turn influences our character and behaviour.
In the different phases of life, childhood and old age exhibit many similarities. Just as a child is dependent on his parent for love and care similarly the elderly parents in turn become dependent on their children, press release added further.
It says,Many of us pass through all these different phases and those who reach the old age are blessed with vast experience of life. How good our youth and adulthood depend on the mentoring we receive during infancy and later childhood. Parents who fail to inculcate values will see their child grow up to be irresponsible and negligent. This negligence will manifest in the child's treatment towards his parent during old age.
Sharmin said that "My Parent My Paradise" is an effort to sensitize the new generation towards elder care and their role in providing emotional comfort to their parent and to build a strong family system. Through this awareness campaign GIO also intends to initiate the much-desired thrust for a state policy for senior citizens and bring desired change in the outlook of the family members towards elders.
She further said, During this campaign we plan to have lectures on the topic in various educational institutions throughout Goa, panel discussion with counsellors, NGOs, religious head, managements of old-age homes and other related stake holders.
We would also highlight the issues through articles and letters to media, T.V. interviews and panel discussion, corner meets and advertisement stalls. The campaign will begin on 1st Sept. 2018 with inaugural programme simultaneously in various towns across Goa and conclude on 10th Sept. 2018 with a function at Panjim ,Sharmin added .
During press conference Tamazar Belwadi (Zonal member),
Rukhsar Shaikh,
Ambrin Baig (former president) were also present.