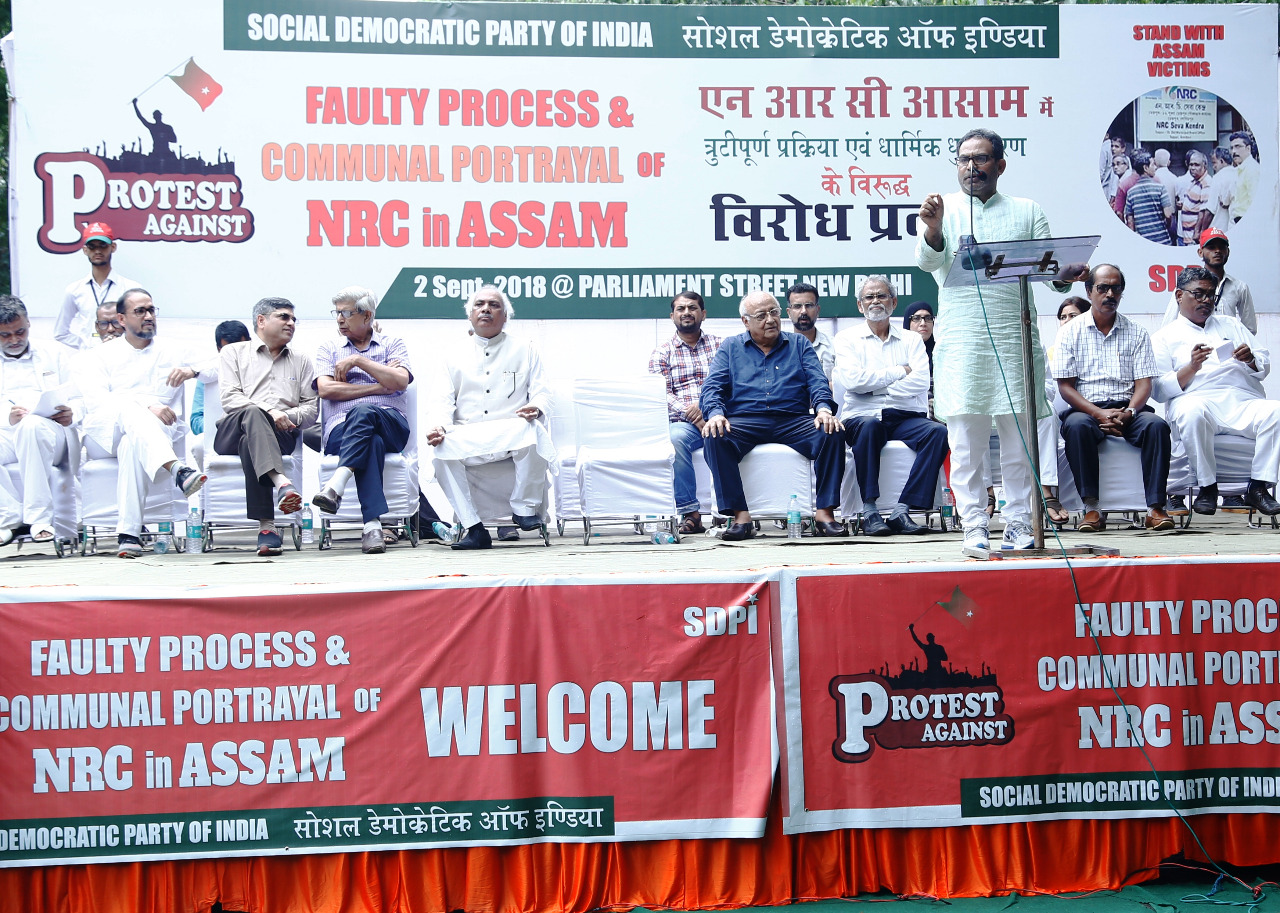 New Delhi -2 Sept/2018- Social Democratic of India (SDPI) launched a Country Wide Campaign on the National Citizenship Register (NRC) issue of Assam with a massive "one day Protest demonstration" at Parliament Street in New Delhi, National President of SDPI , M.K. Faizy attended as chief guest. While Addressing the protesters he said that The final draft of NRC published on 30 July 2018 in which 2.89 Crore peoples out of total population of 3.29crores appeared and left out 40,07,707 names, pushing the Bengali speaking people into deep trouble questioning their mere existence in the country. There are thousands of cases that though there are all documents and records submitted to NRC their names are missed. Surprisingly, the name of few family members are also invisible in the NRC for reasons not known, even though their other close family members' names are entered in the NRC. There is a threat from the government that the left out after reconsideration are possibly treated as foreigners and will be shunted out from the country or will be kept in detention centers. They will be denied all rights of citizenship and freedom enshrined in Indian constitution. SDPI assures to stand with the victims who were made refugees in their own land.
 National Vice President of SDPI Adv Sharfuddin Ahmed said that the RSS & BJP are the force behind in intensifying the NRC issue and continuously propagated that about 2 crores of 'infiltrated Bengali Muslims' are illegally residing in India as part of the conspiracy to make India a Muslim Majority state. Adv Sharfuddin Ahmed termed that BJP is Playing Evil Politics by communalizing and polarizing the concocted issue. He said that BJP National president Amit Shah Purposefully has already started uttering statement on NRC. He had said that NRC would weed out 'ghuspethiye' (infiltrators) in Assam,Similar voices from divisive forces are heard from other states like Nagaland, Tripura, Mizoram, Arunachal Pradesh and West Bengal that such NRC be implemented in those states. These communal outfits will harass the Muslims in Assam in the name of 'migrants' or 'infiltrators'. They even don't hesitate to kill or massacre the people as happened in the Myanmar There are many such incidents in the past in Assam. In 1983, around 5000 Bengali-speaking Muslims were killed in the Nellie massacre. During the 2012 Assam violence there was widespread attacks on Bengali Muslim populations.
Mohammed Shafi, National General Secretary of SDPI in his address said that recently a Party delegation has visited Assam to study the situation. He informed that the SDPI has decided to fight NRC issue in a democratic manner to get justice to all the victims. SDPI demanded that the government of Assam should come forward to provide legal help to the Illiterate and helpless Citizens of the State whose names have been missed in the NRC draft of 30 July, 2018. He said that the Party has decided to conduct protest demonstrations in all the State Capitals of the Country where party is established.
SDPI National Vice President Adv Sharfuddin Ahmed, National General Secretary Md. Shafi, National Secretary Abdul Waris, Dr. Taslim Rahmani, Senior journalist Ajit Shahi, Prem Shankar Jha, NEC member Popular Front of India E M Abdul Rahman and Dr. Abu Bashar addressed the protest where SDPI NWC Member Shahin Kausar, U.P President Md Kamil, PFI Zonal Secretary Anees Ansari, PFI Delhi State President Parvez Ahamd, PFI Assam State Vice President Abu Saba and thousands of SDPI Cadres to part in the Protest demonstration. SDPI Delhi State Convener Dr. Nizamuddin Khan moderated the program.