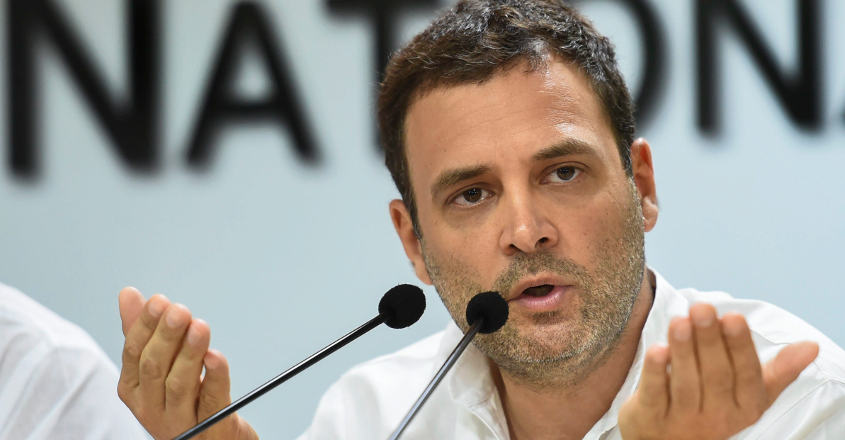 Stepping up his attack on the BJP-led central government over the Rafale issue, Congress president Rahul Gandhi on Saturday called Prime Minister Narendra Modi"corrupt" and asked him to clarify his stance on the controversy raging over the purchase of 36 French-manufactured aircraft.
"We are absolutely convinced that the Prime Minister of India is corrupt. This question is now clearly settled in the mind of the Indian people that 'desh ka chowkidaar' chor hai," Gandhi said while addressing a presser in New Delhi.
His renewed swipe at PM Modi comes a day after a French media report quoted former French president Francois Hollande as saying that the Indian government had "proposed" Anil Ambani's Reliance Defence as the partner for Dassault Aviation in the Rafale jet fighter deal and France did not have a choice.
"We didn't have a say in that. It was the Indian government that proposed this service group (Reliance), and Dassault who negotiated with Ambani. We didn't have a choice, we took the interlocutor who was given to us," Hollande was quoted by French news website Mediapart.fr on the offset contract.
The former French President's remarks contradict the Indian government's claim that the deal between Dassault and Reliance was a commercial pact between two private parties and the government had nothing to do with it.
Hollande was responding to The Indian Express news report referred by Mediapart that Ambani's Reliance entertainment had co-produced a French film Tout La-Haut with his partner Julie Gayet when India and France were negotiating the Rafale deal, "That's why, on the other hand, this group (Reliance) did not have to give me any thanks for anything. I couldn't even imagine that there was any connection to a film by Julie Gayet."
"It is very important for PM now to either accept Mr. Hollande's statement or state that Mr. Hollande is lying and tell what the truth is," the Congress president said. "For the first time, an ex-French President is calling our PM a thief. It is a question of the dignity of the office of Prime Minister. It is the question of the future of our jawans and the Air Force."
"Ex-President of France has made a statement about the PM of India. He says with regard to Rafale contract, 'we didn't have any say in this matter. It's the Indian govt that proposed'. Now, the Prime Minister should clarify on his statement," Gandhi added.
The Congress president also demanded a probe into the matter by a joint parliamentary committee. He said ex-French president Hollande can also be called for the investigation.
In a Twitter response Friday to Hollande's remarks, the Ministry of Defence had said: "The report referring to fmr French president Mr. Hollande's statement that GOI insisted upon a particular firm as offset partner for the Dassault Aviation in Rafale is being verified. It is reiterated that neither GoI nor French Govt had any say in the commercial decision."
The deal for 36 Rafale aircraft in a government-to-government agreement was announced by Prime Minister Modi on April 10, 2015 during his visit to Paris, which led to the cancellation of the 126 aircraft deal being negotiated by the previous government. The deal was eventually signed on September 23, 2016 in Delhi between then Defence Minister Manohar Parrikar and his French counterpart.
Opposition parties, including the Congress, have alleged that undue favours had been granted to Ambani's firm in this deal, a company without any defence manufacturing experience.