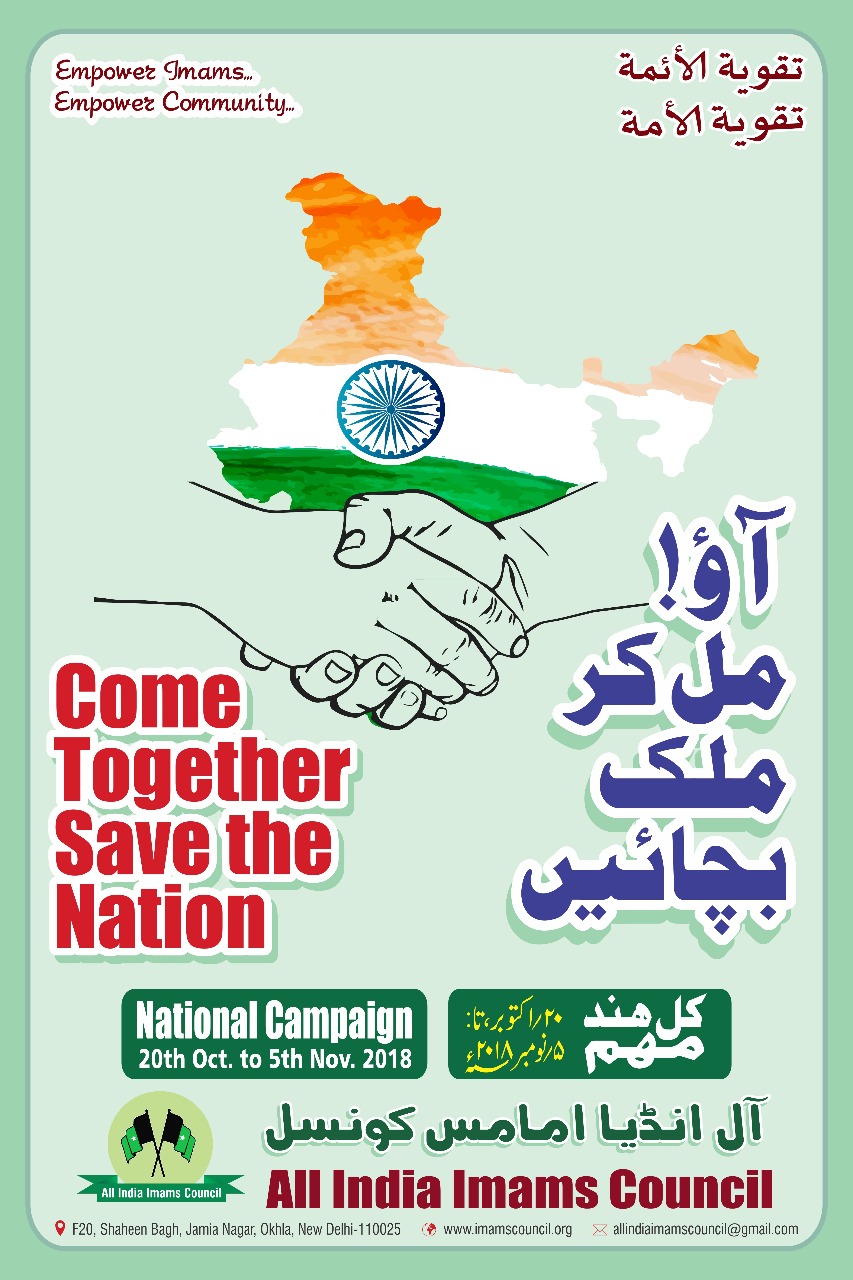 New Delhi- 19th October,2018
Fake encounters, interference in Muslim Personal Law, fascists' terrorism in the name of cow, NRC, EVM, agencies and their unwanted use of peoples' funds, assaults on dissent voices, demonetization, increasing inflation, anti-farmers violence and politicization of Babri Masjid title suit are the issues created by fascist forces against which AIIC has started a nationwide campaign- "Let us unitedly save the country".
India is a great constitutional country. Here all the natives of the country have constitutional fundamental rights of freedom of cultural, religious, social and citizenship of their choice. Here all the governments of any political party when came into power by free elections take in oath of the constitution of the country for providing above fundamental rights and security to all citizens without any discrimination of castes, creed and religion. The present government of BJP though came into power riding on the same democratic system and take in the same oath of constitution, but during its four and a half years rule has not fulfilled the oath they had taken in 2014. Instead of that fascist government has made false promises created lawlessness, used fake propaganda of 'Achhe Din Aane Wale Hen', which has compelled all the law abiding people of the country for registering their dissent against the decisions government has taken.
The continuous hate spreading by RSS and fascist forces, anarchy and misuse of public money are various issues against which raised voices of dissent were made target and tried to crush these voices, sometimes with misuse of agencies like NIA. Even eminent journalists were killed brutally or arrested on the fake charges of sedition. Even those organizations who raised the truthful voice against the false and unlawful decisions of this government were targeted to silence them. Demonetization alone had taken the lives of about 150 persons. Inflation regularly increases from auto rikshaw to air fares, gas cylinders and petrol. The decreasing value of Indian rupee has become the identity of this government.
Unlawful interference into Muslim Personal Law in the name of safety of women, Tripple Talaq ordinance in hasting, homo sexuality and allowing adultery in the society are several examples of ruining country's social and cultural fabric. In the name of cow's protection mob lynching of innocent Muslims in the country are supporting the same design in other cases too has become wrongful way of life to leave people quite unsafe and unsecure. Farmers have made suicides in the country for not solving their problems of livelihood.
In the name of NRC in Assam 40 lakhs people are being declared intruders to polarize the Hindu votes only. In all over the country, names of Muslims are being removed from the voters lists and even EVM machines use have been made totally doubtful.
Construction of Ram Mandir campaign and demand near the general elections the BJP government came into power with false propagation of "Sab ka sath Sab ka vikas", but have cheated people on this slogan.
In all these and other serious heinous circumstances we the people of the country have to pledge to ourselves to "Save the country unitedly" with this theme and moto AIIC is going to start a nationwide campaign to make people aware by exposing the misdeeds of the present government. This campaign from 20-10-2018 to 05-11-2018 is a serious call being given to countrymen to make the stand up in peaceful manner and democratic way, so that people who brought this government into power can throw away the anti-people, anti-national government of fascist forces.
Presents: Maulana Ahmad Baig Nadvi National President AIIC, Maulana AC Faisal Kerala, National General Secretary, Mufti Hanif Ahrar Supaulvi Qaumi Nazime Umoomi and Qaumi Tarjuman, Maulana Hanzala Shaikh Qasmi, Jharkhand.
M H Ahrar Supolvi
National spokesperson
All India Imams Council