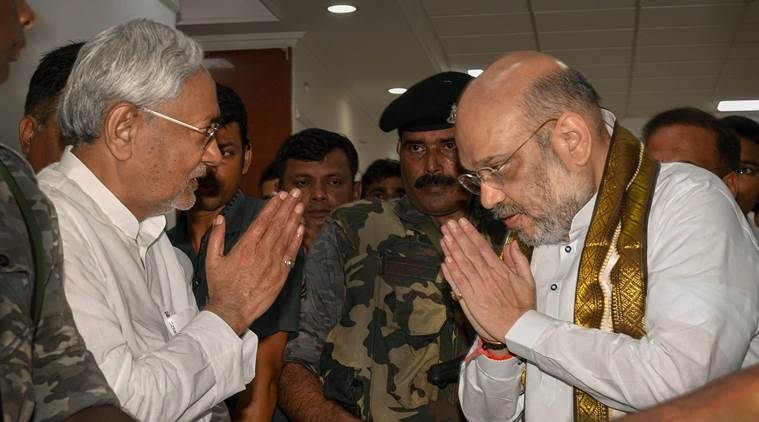 M T News Network, New Delhi :Amit Shah, Nitish Kumar meet, likely to discuss seat-sharing for 2019 Lok Sabha election
Ending months of uncertainty over seat-sharing for the 2019 Lok Sabha elections in Bihar, BJP chief Amit Shah on Friday said his party and JD(U) will contest on an equal number of seats. The announcement came after a meeting between Shah and Bihar Chief Minister Nitish Kumar.
Following the meeting, Shah was quoted as saying"It has been decided that BJP & JDU will fight on an equal number of seats for Lok Sabha Elections 2019 in Bihar. Other allies will also get a respectable seat share. Numbers will be announced in a few days."
Shah said that the party will adjust with new allies and that the Ram Vilas Paswan-led Lok Janshakti Party (LJP) and Upendra Kushwaha's Rashtriya Lok Samata Party (RLSP) will remain with the NDA in the parliamentary elections.
However, LJP had made it clear that it would not settle for anything less than seven seats in Bihar in the seat-sharing arrangement. The LJP had contested seven seats in the 2014 elections and won six. LJP Bihar president and state minister Pashupati Kumar Paras had earlier said, "There has been no official word on the seat-sharing either from BJP president, LJP president Ram Vilas Paswan and Bihar CM Nitish Kumar. Let heads of all NDA constituents get together and take a call."
Nitish Kumar had previously met with Amit Shah in September over the seat sharing arrangement in New Delhi and later said an "honourable pact with the BJP has almost been reached and an official announcement will be made soon."
Bihar has 40 parliamentary seats of which the BJP had won 22 in 2014 while JDU could barely manage two seats. The Bihar chief minister and the BJP president had earlier met in July during Shah's visit to Patna. The meeting had allayed speculation over the strains in the relationship between the two allies, which had parted ways, ending a 17-year-long alliance in 2013. The two parties came together again last year.