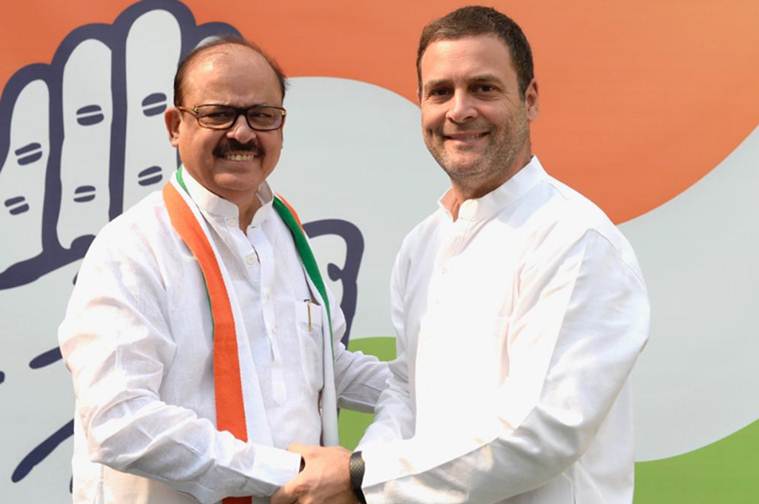 MT News Network|New Delhi|27,October,2018:Congress president Rahul Gandhi welcomes Tariq Anwar to Congress.
In a big boost to the Congress ahead of the 2019 Lok Sabha elections, former Nationalist Congress Party (NCP) leader Tariq Anwar joined the party in presence of president Rahul Gandhi Saturday.
Reacting to it, NCP's chief spokesperson Nawab Malik said, "For many days, he wanted to join Congress and has joined it today. But, we are sad for the reason given by him for quitting the party."
Anwar, one of the founders of the NCP, had quit the party on September 28 after party chief Sharad Pawar had defended Prime Minister Narendra Modi on the Rafale deal row. He had then hinted about him joining the Congress, which he had left in 1999 along with Pawar. Anwar, along with his supporters, met Gandhi at his Tughlaq Lane residence and was welcomed into the party fold.
Anwar, who wrested Katihar Lok Sabha seat from BJP in the 2014 election despite the Narendra Modi wave, had said he was "hurt" by Pawar's interview to a Marathi news channel where he said Prime Minister Narendra Modi's intentions on the Rafale fighter jet aircraft deal were not wrong. "From his statement, I felt he has some soft corner for the BJP and the Prime Minister," Anwar had told
Asked how a seasoned politician like him could leave the party on the basis of one statement, Anwar had said, "We have been waging an agitation against the BJP, particularly against the Prime Minister, and it will not be proper if that campaign is weakened in any way….Our party has always been anti-communal. It is not right if any softness appears in that stand."
In the interview, Pawar had said that he didn't think that people have doubts about Modi's intentions in the Rafale deal. He had also said that the Opposition's demand to share technical details relating to the fighter jets "made no sense". He, however, had said there was no harm for the government to disclose the prices of the aircraft. The NCP, meanwhile, had said that Pawar's statement was being read out of context.
Pawar, who faced accusations of defending PM Modi in the controversial Rafale deal, later rejected the charge saying he would "never" do that. "Some people have criticised me saying I supported him (Modi). I have not supported him. I did not (support Modi) and will never (do that)," Pawar said.
Anwar was the president of Bihar Congress in the 1980s, an AICC general secretary and member of the Congress Working Committee in the 1990s and represented Katihar as a Congress MP four times before he left the party with Pawar and the late P A Sangma to form the NCP over Sonia Gandhi's foreign-origin issue in 1999. The NCP later allied with the Congress and Anwar served as a Union minister in the UPA-II government.