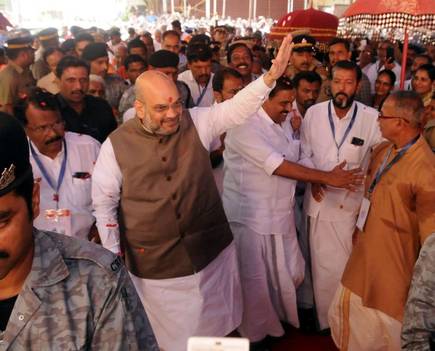 MT News Network:27 October 2018:BJP president warns CM Vijayan that BJP workers would not hesitate to pull down his government if it continues
BJP president Amit Shah has said that the Communist Party of India (Marxist)-led State government in Kerala is trying to suppress the struggle of the Ayyappa devotees in the name of implementing the Supreme Court verdict on the entry of women in the Sabarimala temple.
Addressing a public function after inaugurating the party district committee office here on Saturday, Mr. Shah said that the entire country will join the struggle if the State government uses its force to suppress the Ayyappa devotees.
Alleging that over 1500 Democratic Youth Federation of India workers were being deployed at Sabarimala in the name of deployment of police force, Mr. Shah said, "I would like to warn Chief Minister (Pinarayi) Vijayan that if his government did not stop suppressing the Ayyappa devotees, BJP workers would not hesitate to pull down his government."
He added that courts should only issue orders that can be implemented. He said that the government was hastily implementing the Supreme Court order on the Sabarimala issue, while there several verdicts of the apex court that are yet to be implemented.
Under the Hindu tradition women enjoy equal status, the BJP president said. He said that the government should have used its energy now being directed against Ayyappa devotees for rebuilding Kerala affected by the floods.
Mr. Shah also said that Kannur is a place of pilgrimage fro BJP workers across the country. As many as 120 party workers had been matyred in the district, he said