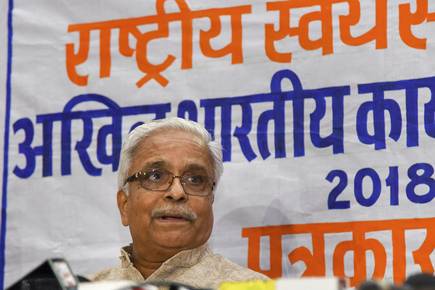 Hindus feel insulted' by Supreme Court
RSS general secretary Bhaiyyaji Joshi addresses a press conference in Utthan, Maharashtra on November 2, 2018.
Millat News Network|Utthan Maharashtra|
Ayodhya Verdict
Asks the court to reconsider decision to adjourn Ayodhya hearing till January.
Asking the Supreme Court to reconsider its decision to adjourn the hearing on the Ram Janmabhoomi-Babri Masjid dispute in Ayodhya till January, the Rashtriya Swayamsevak Sangh (RSS) on Friday said Hindus were feeling insulted as the court was not considering it a "priority". It appealed to the court to take note of their sentiments and arrive at a decision soon.
"The Ram temple issue is connected to the emotions of crores of Hindus and the court must resolve it at the earliest. They have been carrying on the agitation for the past 30 years and the wait does not seem to end," RSS general secretary Bhaiyyaji Joshi said at a press conference on the concluding day of the organisation's all-India working committee meeting at Keshav Srushti, near Mumbai. The RSS would not hesitate to launch an agitation for the Ram temple, if needed, Mr. Joshi said.
"Since the matter was listed on October 29, we felt Hindus would get good news before Deepavali. But the Supreme Court has deferred the hearing," he said.
He said the RSS was not putting pressure on the government, but added that those who had demanded the ordinance on this issue had their right to do so. "The government should consider this option if all others run out," Mr. Joshi said. He said that unless the Supreme Court took a decision on the title suit, it was difficult for the government to take any decision.
Mr. Joshi said the Ram temple issue was among the various matters discussed when BJP president Amit Shah met RSS chief Mohan Bhagwat earlier in the day.
On October 29, the SC fixed the land dispute case for the first week of January before an appropriate Bench, which will decide the schedule of hearing. A three-judge Bench, headed by Chief Justice Ranjan Gogoi, said the appropriate Bench would decide the course of hearing in January on the appeals filed against the Allahabad High Court verdict.