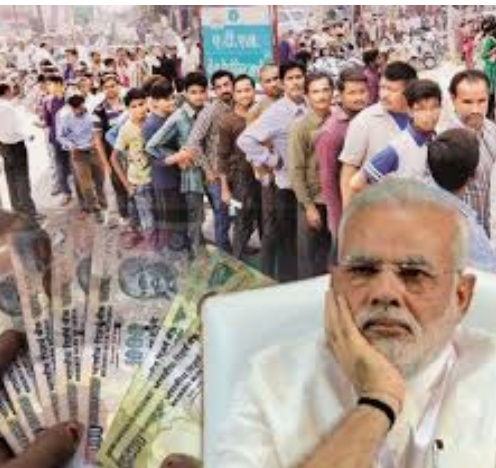 Millat News Network:New Delhi
Prime Minister Narendra Modi
Demonetisation
The Congress chief alleges that note ban was a planned "brutal conspiracy" and a "shrewd scheme" to convert black money of Prime Minister Narendra Modi's "suit-boot friends" to white.
Launching a scathing attack on Prime Minister Narendra Modi on the second anniversary of demonetisation, Congress president Rahul Gandhi on Thursday alleged that it was a "carefully planned criminal, financial scam" and described it as a "self-inflicted tragedy and a suicide attack that destroyed millions of lives"
"India will discover, no matter how the government tries to hide it, that demonetisation wasn't just an ill-conceived and poorly executed economic policy with 'innocent intent' but a carefully planned, criminal financial scam," he said in a statement. The people would not rest until they found the "full truth."
"On the second anniversary of the Prime Minister's monumental blunder, the government's spin-doctors, including our incompetent Finance Minister, have the unenviable task of defending an indefensible, criminal policy," he added.
On Twitter, he said it was a "brutal conspiracy and a shrewd scheme" that allowed Mr. Modi's "suit-boot friends to convert their black money into white".
Congress President @RahulGandhi issues a public statement on Demonetisation calling it an "ill conceived & poorly executed economic policy but a carefully planned criminal financial scam". #DestructionByDemonetisation pic.twitter.com/GWZBwDJ4e3

— Congress (@INCIndia) November 8, 2018
Mr. Gandhi said that the worst affected by demonetisation were the poorest of the poor, who were forced to queue for days to exchange their meagre savings. "[Prime Minister Narendra] Modi's demonetisation cost India over one-and-a-half million jobs and wiped out at least 1% from India's GDP," he said. More than 120 people lost their lives, small and medium businesses were smashed and the informal economy was devastated.
"Demonetisation was a tragedy. India has faced many tragedies in its past. Many a time have envious, external enemies tried to hurt us. But demonetisation is unique in the history of our tragedies because it was a self-inflicted, suicidal attack that destroyed millions of lives and ruined thousands of small business
"From a war against counterfeit currency and terrorism to permanently removing the scourge of black money and from increasing savings to forcing a shift to digital transactions, not a single stated objective of the government has been met. All that was accomplished was a disaster," he said.
"November 8th will forever go down in the history of India as a day of infamy. With that one declaration of demonetisation, Mr. Modi took 86% of India's currency out of circulation, bringing our economy to a grinding halt," Mr. Gandhi said.