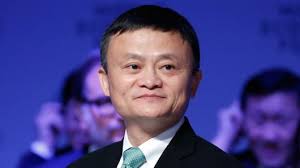 China's most famous capitalist is a Communist.
Jack Ma, the creator of e-commerce giant Alibaba Group Holding Ltd., was identified as a Communist Party member Monday by party-run People's Daily in an honor roll of people who contributed to modernizing China's economy.
"There has been speculation before, but never anything public," said business consultant Duncan Clark, author of "Alibaba: The House That Jack Ma Built."  "He had never discussed this before. There had been a sense that keeping this ambiguous was best in terms of his international profile and ambitions."
Indeed, Mr. Ma was often seen as keeping his distance from Beijing. In an interview at the World Economic Forum in 2015, Mr. Ma said he had this advice for his employees dealing with the government: "Love them, don't marry them."
Some analysts viewed the disclosure of Mr. Ma's membership as a public-relations move to burnish the party's credibility, especially since China has long been seen to favor its state-owned enterprises over private-sector companies such as Alibaba.
This is the party saying, "Hey we have so many good guys after the [economic] reform," said Steven Zhu, senior analyst at Pacific Epoch in Shanghai. "Luckily, Jack Ma is one of them."
Mark Natkin, managing director at Marbridge Consulting in Beijing, said the news coincides with other recent efforts by the party to extend its influence.
"We are seeing an increasingly strong effort by the party to extend its control and influence to various corners of the business world," Mr. Natkin said. "There will be increasing pressure…to wear a government-issued badge as a condition for being able to continue to operate smoothly in this market."
A recent survey found that one-third of China's private-sector entrepreneurs are party members, said Kellee Tsai, dean of humanities and social science at Hong Kong University of Science and Technology.
Mr. Ma's announcement in September that he would step down as Alibaba's executive chairman in one year prompted widespread speculation that he was being forced out by the party—leading to Mr. Ma's public denial that he was pushed.
Even so, under President Xi Jinping the Communist Party is seeking to re-establish its pre-eminent role, and Mr. Clark said the prominent disclosure in People's Daily of Mr. Ma's party membership was a "sign of the times."
"Under Xi, it's party first," he said. "Certainly Jack knows how to talk the talk when needed."
One of Mr. Ma's responsibilities as a party member is to pay dues. Those are set on a sliding scale, but the rate is 2% for people who earn more than 10,000 yuan ($1,441) a month. An Alibaba spokesperson declined to reveal Mr. Ma's salary, but Forbes estimates his net worth at $35.1 billion.
Party members are also required to put party interests above all—raising a question of what would happen if Mr. Ma were forced to choose between party mandates and Alibaba shareholder interests.
"The political affiliation of any executive does not influence the company's business decision-making process," an Alibaba spokeswoman said when asked that question. "We follow all laws and regulations in countries where we operate as we fulfill our mission of making it easier for people to do business anywhere in the digital era."
The spokeswoman couldn't say how long Mr. Ma had been a party member. His affiliation wasn't mentioned in Alibaba's 2014 prospectus for its initial public offering.
The Wall Street Journal reported last year that Alibaba and other technology companies, including Tencent Holdings Ltd. and Baidu Inc., are required when called upon to help China's authoritarian government hunt down criminal suspects, censor banned content and keep tabs on political dissidents.
Along with Mr. Ma, the honor roll of Chinese leaders who contributed to economic modernization included Pony Ma, chief executive of Tencent Holdings Ltd., and Robin Li, chief executive of Baidu Inc.
Neither were identified by the People's Daily as party members. Pony Ma belongs to the National People's Congress, China's national legislature, and Mr. Li is a member of the Chinese People's Political Consultative Conference, the country's top political advisory body.
Courtesy: Wall Street Journal