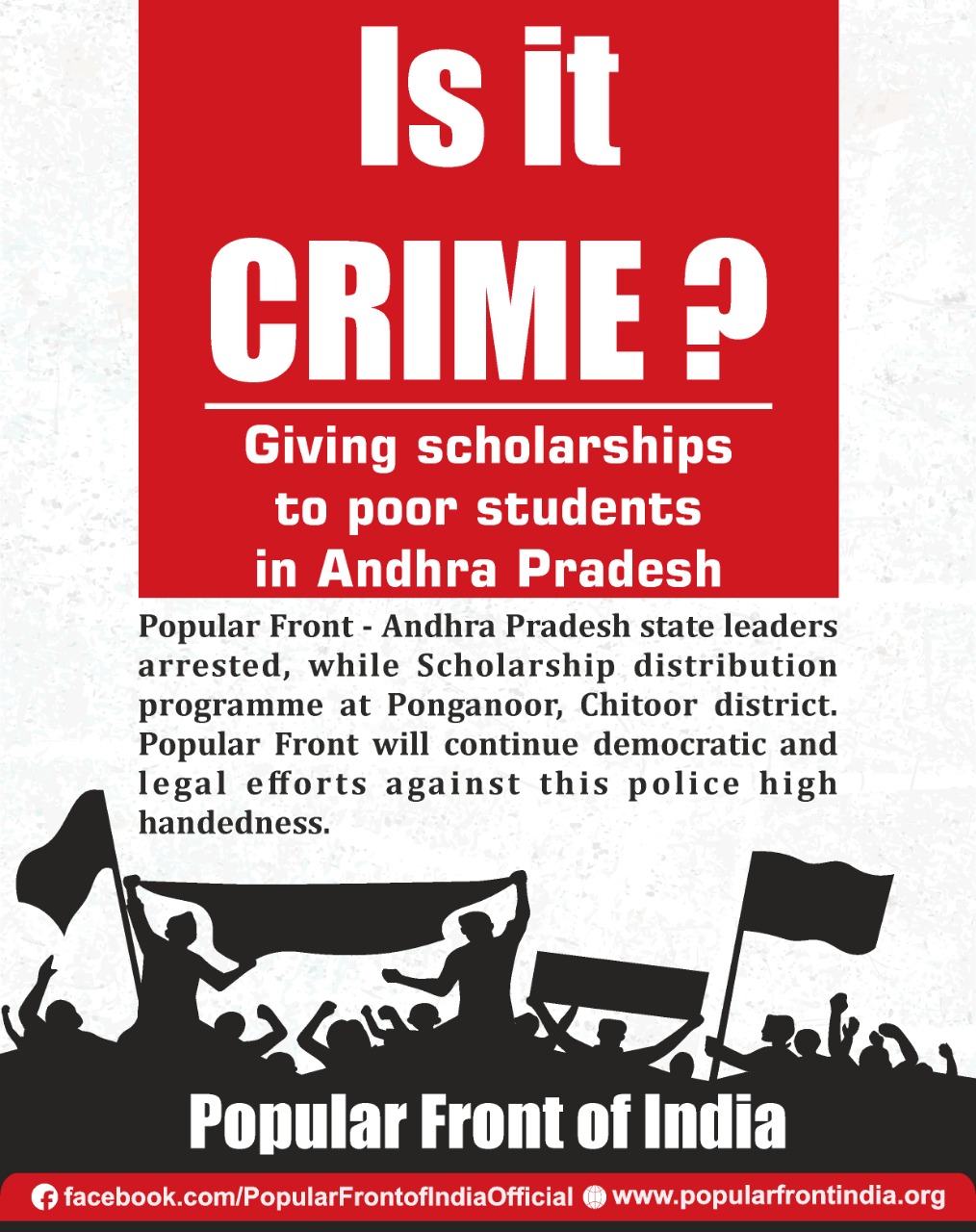 Press release,New Delhi: Popular Front of India General Secretary M Muhammed Ali Jinnah has strongly condemned the disturbances created by some police officers at a scholarship distribution programme in Andhra Pradesh organized by the Popular Front and the arbitrary unjust arrest and torture of its zonal secretary and district leaders on false charges. He demanded the Chief Minister of Andhra Pradesh Shri. Chandrababu Naidu to immediately intervene in this issue of minority rights violation in the state.
What happened today at Punganur, in Chittoor district of Andhra Pradesh was sheer abuse of police power on students and innocent people at an educational event. It was a scholarship distribution programme at Sumaiya Hall, a full day event with different motivational, counselling and skill development sessions for the beneficiary students. When the Sub-inspector and Head Constable from Punganur Police station tried to disturb the programme and intimidated the participants by taking their photographs, the organizers intervened and informed the police that it was a public event and that they were happy to give photographs taken by themselves,
which they did. While the matter should have ended there peacefully, the officers were not ready to let go. To the shock of the organizers and the students, officers came back after a little while and defiled the hall arrangements and arrested innocent people. The arrested include Popular Front Zonal Secretary MuhammedArif Ahmed and Popular Front Punganur district president Fayaz Ahmed among others. They are presently under judicial custody under false charges of obstructing police duty.
Popular Front Scholarship is unique scholarship scheme in the country and it is in existence since more than a decade. Thousands of poor meritorious students belonging to the Muslims and other deprived sections have benefited from it. This kind of police hooliganism on an education programme can only be viewed as attack on the efforts for educational empowerment of backward sections in the country.
It is shameful for a civilized society and for a government that claims to uphold secular democratic values. We call upon Chandrababu Naidu government to take action on the officers who are responsible for the abuse and take necessary steps for the unconditional release of the four innocent people arrested. Popular Front will continue the struggle against the police high handedness through democratic and legal efforts. We appeal to the civil society to come out against this police excess.