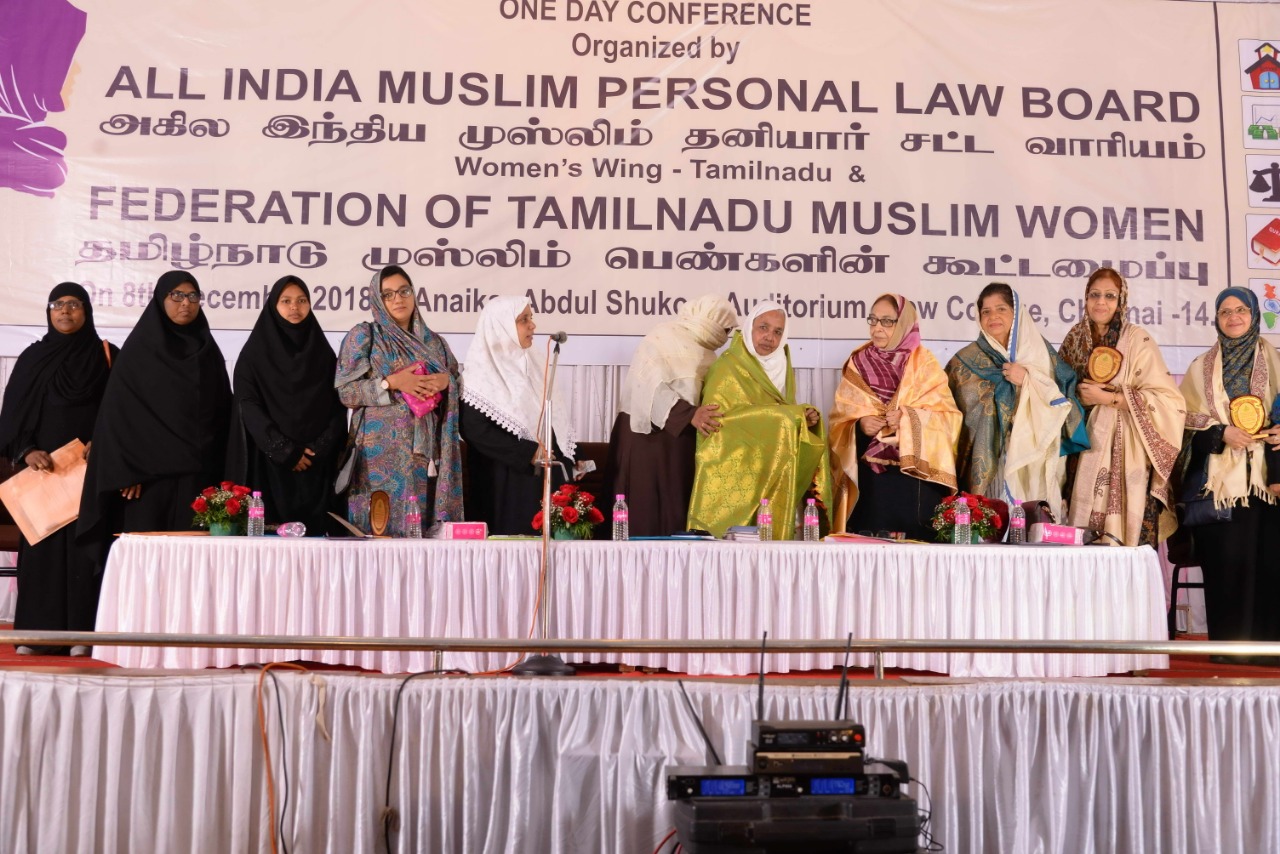 "WOMEN as Builders of Family, Society & Nation"
Press Release: Women's Wing All India Muslim Personal Law Board In Coordination with Federation of Tamilnadu Muslim Women organised Second South India "WOMEN'S CONFERENCE" on 8th Dec 2018 Saturday at Anaikar Abdul Shukoor Auditorium New College Royapeth Chennai.
The Conference addressed important topics – Empowerment through education, Social Justice, Shariah Awareness & Protection, Economic Uplift and Nation Building.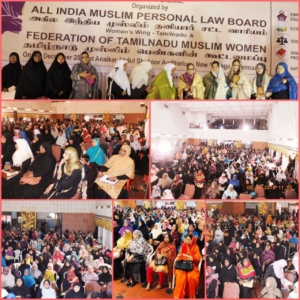 Mrs Parveen Papa Social Reform Society Chennai gave the welcome address and highlighted the objective of the conference and its importance in present day scenario .
Mrs Fatima Muzaffer member ALMPLB and organiser Women's conference introduced the activities of women's wing ALMPLB and federation of TNMW, She said women are the back bone of any Family Society and Nation. It is a sad reality that the 50% of the community were neglected and there was no agenda and proper planning, inclusion of the women in the Education Reform and Development activities of the Community. Progress and success of any community or nation is only possible through the education, empowerment of their girls and women. It is with this aim and objective we have planned this conference to motivate, mobilise our girls and women towards Education Skill Development Awareness of Rights in Shariah, Social justice and Nation building.
Our country today is facing multiple challenges and major one is safety and security of girl child and women.Our girls daughters and sisters have to be empowered with knowledge their rights and they must realise their social responsibilities to form a better society.
First session on Empowerment through Education and Skill was addressed by Dr Shareefa Dr Tashreef Jahan Dr Adeela Abdullah
Second Session on Social Justice was addressed by Dr Mariam TMMK, Mrs Sharmila, Mrs Jarnia Jamal, Mrs Mamduha Majid.
Third Session on Shariah Awareness and Protection was addressed by Mrs Fakhera Ateeq, Dr Asma Zehra, Mrs Fatima Muzaffer.
Fouth Session on Economic uplifment was addressed by Mrs Fatima Jalal, Mrs.Najma Madurai, Mrs Mariam Habib, Mrs Yasmeen Najmuddin, Mrs Zainab Kanchwala, Mrs Kurshid Begum, Hafiza Fazila Fathima.
Fifth Session on Ntaion Building was addressed by Amtul Aatifa, Fakhira Ateeq, Dr.Asma Zehra, Dr.Rehmath Unnisa, Dr.Qudsia Gandhi, Dr.Mrs Habib Hussain.
Dr Asma Zehra chief organiser women's wing AIMPLB said Allah swt has promised in Holy Quraan that "He will not waste the deeds of a worker whether male or female" and it is clearly stated whoever does good deeds whether male or female and he and she is a believe they shall enter the garden . Women in shariah enjoy equal, just, dignified, honourable, respected position with complete freedom and liberty.
They have rights as daughter, sister, wife and mother from birth to death. They have equality for good deeds reward punishment, cvil and criminal matters. What needs to be understood is Islam & Shariah EMPOWERS. "WOMEN AS WOMEN" making them aware conscious educated, literate, trained, skillful, scholarly, talented, intelligent wise Woman. She quoted examples of Hafsa Binte sirin who had memorized the holy Quran at age of 12
Fatima Nayasapuri famous exegete, Abu muhammed haram had blind daughter who had miraculous memory.
Women in Islamic History were into bringing up of children like Mothers of Imam Malik, Imam Shafi , Imam Ahmed bin Hambal , Imam Bukhari, women were into Building Masjid, Building madrasas, Building canals, The famous expamle of Princess Zubeda who built the Canal for welfare of farmers.
At the same time Shariah teaches women to be Chaste, Modest, God Fearing and Fearing Day of Judgement In present day challenges it is important that women utilise the abilities, potential and talent to serve the community and nation. India is facing a high records of Crimes Against Women, Female feticide infanticide, dowry harassment & dowry deaths, Rapes, Murders, Suicides, Sexual Harassment, Eve teasing. All these challenges have to be fought at grass root level by Social Activist who sacrifice their time efficiency for cause of Allah swt.
Dr.Asma Zehra appealed the Women to take Revolutionary steps, give sacrifices, come out of comfort zone, break the barriers of self imposed restrictions, plan for a bright future for future generations.
Mrs. Mamduha Majid member executive committee All India Muslim Personal law Baord addressed on Social Justice . she stated that Islam is First Religion to give Rights to all Human Beings, young & old men &
women, relatives, neighbours, fellow citizens. The Rights of Orphans, Widoes & marginalised section of society are protected. We are living in material time & period where people are selfish and self centred with dominance of greed for wordly pleasures. Allah swt has ordered us to care for other fellow citizens and this is a route to success.
Mrs. Fakhira Ateeq Member All India Muslim Personal Law Board from vaniyambadi Chennai stressed on the importance of family and society. She said upbrining of children & old parents is an important primary duty of women which is largely neglected. Women must build homes by their Service & sacrifice.
Special Meetings & Lectures were addressed by Member of All India Muslim Personal Law Board Dr.Asma Zehra Chief Organiser Women's Wing, Mr's Mamduha Majid Member Executive Committee, Mrs Fakhira Ateeq Member AIMPLB, Mrs Fatima Muzaffer Member AIMPLB & Convenor Women's Conference.
The Lectures were organised at Huma Auditorium, Anjuman e Himayat e Islam Convention Hall, omeiyat Hall, S.I.E.T' JBAS College for women (for College Students), Halai Memon jamath Khana, for Memon Community at Astan-e-Hyderi Hussain nagar.
Conference witness thousands of ladies & girls from different parts of Chennai and Tamilnadu.