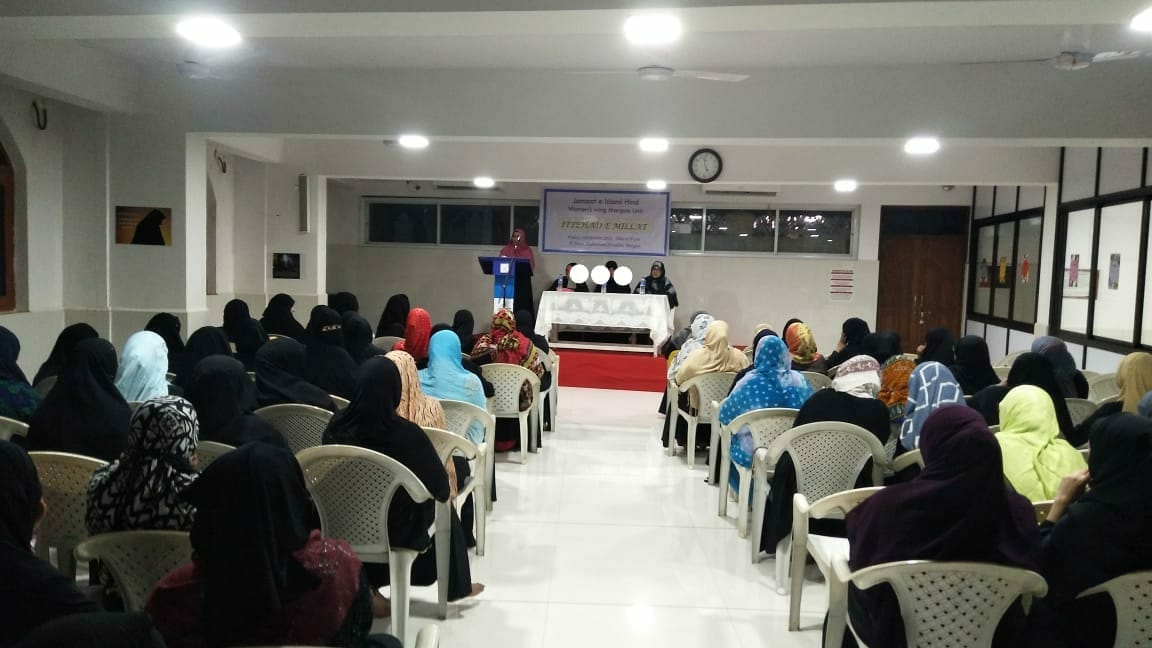 MT NEW NETWORK 
Margao (Goa)
With an aim  to spread unity among Muslims ,women's wing of Jamat-E-Islami Hind had recently organised 'Ittehad e millat'(unity of Muslims) Programme   at Al Aman auditorium ,Sirvodem Margao.
The programme was organised by Margao unit and it had invited eminent scholars of different sections.
While addressing the gathering President of the unit Mrs.Tabassum Haliyal said ' solidarity of Muslim ummah is the need of the hour and only then can we solve the problems and help the society.
She said ,The purpose of the program is to build better understanding between the different Muslim groups by inviting speakers from different jamaat.
The Tableegi jamaat speaker Rizwana Salehati expressed her views that if we analyse the root cause for the deterioration of Muslim Ummah then we will find  that the reason is nothing but the disunity among different sects of Ummah due to ignorance of the basic message of the Quran.
This has been our greatest weakness. To change the situations we need to get united again'. She added further.
The speaker from Ahele Hadith  Shaheen Chowdhri said that 'conflicts do arise on the ground of lack knowledge  among ignorant followers but it should not be the cause of the division of Muslim Ummah . She said that We cannot get divided when our basic foundations are same. Quran and Sunnah of Prophet Muhammad(saw) are the provisions for the success for our Aakhirah'.
During the concluding address the Mrs Saira Banu (state President of Women's Wing of JIH) said that 'if we do not unite on the basis of being the Khair e Ummah and fulfil its responsibility we will face greater challenges in the near future.She said, We need to come together on a single platform ignoring all the deviations and united try to find a solution to our problem.  We have to educate the followers of each maslak and group to avoid arguing over matters under the domain of the scholars,she added.
Women's wing of Jamaat e Islami Hind Goa is an active wing of Muslim women in Goa who work for the total welfare of the society. A good number of women from all across Goa are tirelessly working in this organisation. It has its contribution in almost every aspect of human life since 1980. It undertakes various programmes according to the needs of the society. For more than 15 years it has been successfully taking weekend Islamic classes for children of age group 5 to 15 years for their mmoral and overall development.  It has organised many social programmes like 'role of women in Indian freedom struggle', 'status of women', .
This programme was attended by about 150 women from all over Goa.