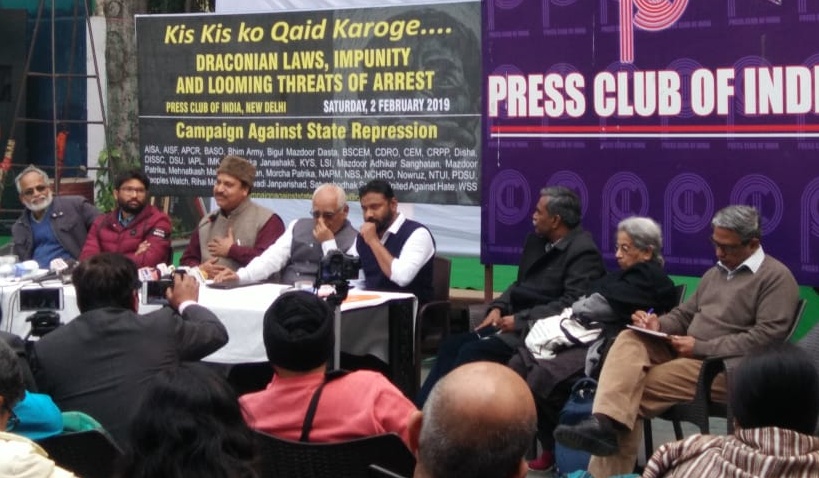 MT News Network,New Delhi: In blatant disregard to the order of the Supreme Court of India allowing Prof. Anand Teltumbde four weeks to approach the court for anticipatory bail, the Pune police arrested him from the Mumbai airport at the wee hours of 2 February 2019. Later in the day the Pune Sessions Court abiding by the SC order released Prof. Teltumbde and directed them to desist any action against him till 11 February 2019. The Campaign Against State Repression organised a press conference to denounce the malicious arrests of workers, lawyers and human rights defenders at the Press Club of India, New Delhi on 2 February 2019.
Taking a position against the communal forces in the country, Justice BG Kolse Patil spoke of uniting against these forces and bringing the real perpetrators of the violence at Bhima-Koregaon Shambhaji Bhide and Milind Ekbote to justice. Adv. Vrinda Grover stated that Anand Teltumbde's name was maliciously added and despite the interim protection till 11 February accorded to him by the SC order, he was picked up at 3:30 am and taken to Pune Sessions Court. She further added that Teltumbde's house was raided when he wasn't at home which in itself is illegal. The disregard for the law by the Pune Police is blatantly clear.
Minal Gadling spoke about the threats faced by her partner, Adv. Surendra Gadling from the local police officers like Ravindra Kadam. She further asked if helping dalits, adivasis and workers was reason for the arrest?
Adv. Jagdeesh Meshram talked about how the 2016 Surjagad case was foisted on Adv. Surendra Gadling and Varavara Rao just days ago. On 31st Jan, the police transferred both from Pune jail to Aheri, Gadchiroli and are now making more efforts to foist other cases and prolong their incarceration.
Himanshu Kumar, human rights activist, declared the arrest of activists after branding them Maoists is incredulous. He spoke how those who have been serving the most marginalised people now find themselves in jail, put there by Narendra Modi and the BJP led government. He added that people must oppose these illegal arrests else the government won't stop arresting whomsoever it wants. He stressed again on the need to struggle against fascist forces.
Ujjwal Kumar Singh, Professor – Delhi University, characterised draconian laws like UAPA as not only archaic but also a colonial method to stifle dissent. The name of these extra-judicial laws is irrelevant, as soon as one is repealed another takes its place as was the case between POTA and UAPA amendments in 2004. There are no fair trails under these Acts and the conviction rate is appallingly low. He rhetorically asked why these draconian laws were needed when there exists a robust IPC? It is to create a sense of fear. He narrated how people spend years between being jailed and acquitted stating how this is in itself a form of punishment. These arrests are politically motivated actions by the state against these people and the organisations and communities they work with. They are political prisoners and the fight for their release must be political and not just legal.
Subhash Gatade drew parallels between the Bhima-Koragaon case and the Khairlanji case where dalit rural workers were lynched and raped by local upper caste landlords for defending their land. They are still seeking justice.
Anil Chamadiya, stated that there is no legal recourse when people are declared guilty without trial. These actions not only spread fear among people but also threaten the judiciary.
Uma Chakravarti, feminist historian and film maker declared that people may be angered and depressed by these events but they must speak out. The current situation is one often repeated in history. Even during the Emergency, when thousands of people were arrested and censorship prevailed, people spoke out in the face of threats. She said the government won't declare an emergency but has already implemented one in Chhattisgarh. The government seeks to divide the people and target workers, lawyers and other human right defenders by accusing them of conspiring against the state. What rule of law, except an emergency would allow for this?
John Dayal, human rights activist condemned prevalent arbitrary use of the law. Arresting people who speak out like suppression of the press are efforts to hide the crimes of the state.
N Sai Balaji, JNUSU, stated that the Modi government is especially vicious against people who fight for jal-jangal-jameen and for the rights of adivasis, dalits, muslims and women. Modi's policy is lies, loot and hatred. Exposing this lands you in jail while Nirav Modi and Mehul Choksi are flown beyond the reach of law.
Vasantha, activist, spoke about the deteriorating health of her partner Prof. GN Saibaba in jail right now, and appealed to everyone to unite and speak up for her husband whose life is under threat.
Sidhharth Varadarajan, editor of the Wire, counselled against deeming this a victory and called it only a temporary relief. Fabricated cases, branding of people as urban naxals, plot to assassinate the PM, these are all just concocted conspiracies. It is no coincidence that just days ago efforts were made to revive cases against Kanhaiya Kumar during whose trial, no effort was spared to brand him anti-national. Fear-mongering is done deliberately to mislead people.
Jignesh Mevani, MLA from Gujarat, stated that nonsensical accusations of being anti-national is the new norm. Bhim Army's Chandrasekhar Azad spent 15 months in jail despite no evidence against him. Government wishes to brand Bhima Koregoan as maoist event even when retired SC and HC judges like PB Sawant and Kolse Patil have openly admitted to being the organisers. This is a BJP election gimmick to suppress dissent. He concluded by stating that Anand Teltumbde is a dalit and if the rule of law prevails the Pune police should be prosecuted under the SC/ST Prevention of Atrocities Act.