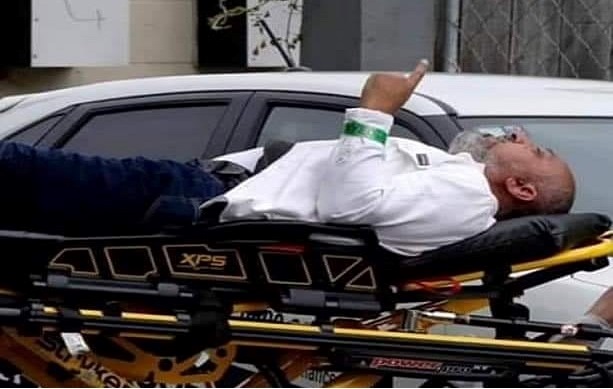 Politicians and the mainstream media should take time out and reflect on the role they may have played which led to the mass killing of Muslim worshippers at two of New Zealand's mosques in Christchurch.
What happened during Friday prayers, as 49 innocents were slaughtered by a crazed gunman, went out on a live stream and the killer was apparently "cheered on" by his virtual reality audience who appeared to watch the pornographic violence with some relish.
He will appear in court on Saturday and no doubt a trial will follow in the coming months in which we will find out what was the trigger for his hatred which spiralled out of control to bring unprecedented murder and carnage to New Zealand's 44,000-strong Muslim population.
However, I believe we can already apportion some blame to politicians and the media. The Trump administration, for instance, made Muslims the enemy from the moment Donald Trump became US President while Islamophobia is reinforced by the resurgence of the far right and rise of fascism across Europe and beyond.
Donald Trump's hateful rhetoric and that of other white politicians and media influencers have become almost normal as has a hatred of refugees caused by horrific wars across the Middle East and Asia.
The constant conflating of these refugees with so-called ISIS or Daesh goes largely unchallenged and some columnists are even questioning if Islamophobia is real.
Within hours of the massacre in New Zealand, an Australian politician issued a statement blaming New Zealand's migration policy for the shooting spree. Senator Fraser Anning of the anti-migrant One Nation party is already well known for his hateful rhetoric but he hit a new low when he issued a statement stating: "I am utterly opposed to any form of violence within our community, and I totally condemn the actions of the gunman.
"However, while this kind of violent vigilantism can never be justified, what it highlights is the growing fear within our community, both in Australia and New Zealand, of the increasing Muslim presence. As always, left-wing politicians and the media will rush to claim that the causes of today's shootings lie with gun laws or those who hold nationalist views but this is all clichéd nonsense".
He then added: "The real cause of bloodshed on New Zealand streets today is the immigration program which allowed Muslim fanatics to migrate to New Zealand in the first place" before concluding that while Muslims had been the victims in the Christchurch attack they were usually "the perpetrators".
Scott Morrison, Australia's prime minister, immediately condemned the comments as did a number of other politicians around the world. But the mainstream media does give oxygen to the likes of Anning and his ilk in terms of airtime and column inches in newspapers.
Last year there was a flood of complaints after the BBC's flagship political show Newsnight gave a large segment to the far-right activist Stephen Yaxley-Lennon, who goes by the moniker Tommy Robinson. Focussing on the movement that has grown around the anti-Muslim activist who was jailed for contempt of court after broadcasting on Facebook from outside Leeds crown court last year, 20 minutes of airtime went on the founder of the now-defunct English Defence League.
Robinson was virtually unknown for more than a decade as he pedalled his hate messages from the far-right fringes of British politics, but just recently that has changed enabling him to exploit recent appearances in the mainstream media to boost his own credibility while continuing to promote Islamophobic parties around the world.
The 35-year old anti-Islam activist, with convictions for violence, has moved from organising incendiary protests in UK towns and cities to becoming a political adviser for the pro-Brexit UK Independence Party. He is even being touted as a significant figure thanks to support from the likes of Steve Bannon, the former adviser to US president Donald Trump and Gerald Batten, UKIP leader.
Robinson has been championed on Trump's TV station of choice – Fox News while the Middle East Forum, a conservative US think-tank that has previously supported Dutch populist Geert Wilders has also given legal support to him. Bannon, the former White House chief strategist who has now positioned himself as a leading voice on the US far right, even went as far as to describe Robinson as the 'backbone' of Britain.
Islamophobia is widespread and it is time the media and politicians stopped promoting it and used their time, instead, for tackling it. YouTube was accused of gross hypocrisy after tweeting "Our hearts are broken over today's terrible tragedy in New Zealand. Please know we are working vigilantly to remove any violent footage." And yet YouTube is known for giving platforms to those from the Far Right including Robinson who has at least been removed from Facebook and Twitter because of his hate-promoting views.
Meanwhile, as more details emerge from the attack the ethnic diversity of the victims and survivors caught up in the New Zealand massacre gives a true reflection of the nature of Islam as a religion which embraces all equally. And perhaps it is this, above everything else, that the white supremacists fear and despise.
Written by: Yvonne Ridley , Journalist and Author. The writer is the author of In the hands of Taliban and The Rise of the Prophet Muhammad: Don't Shoot the Messenger.