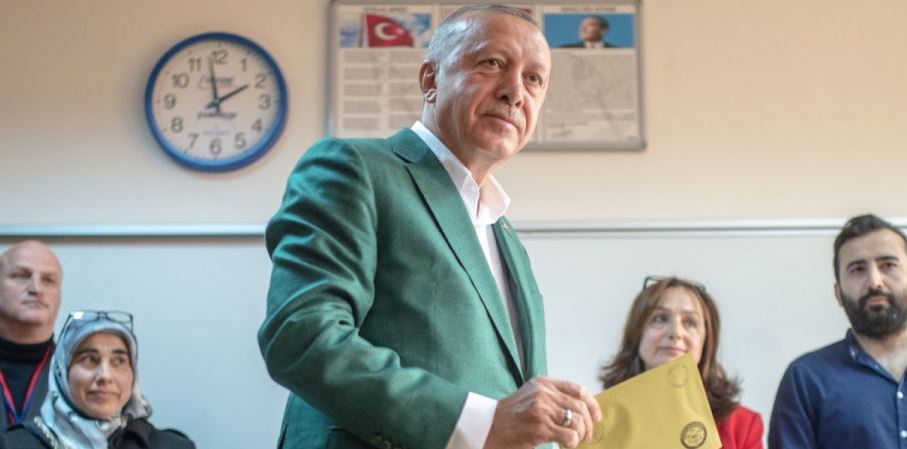 Turkey's main opposition party and its electoral partner pulled off a stunning upset of the governing Justice and Development Party (AKP) and its leader, President Recep Tayyip Erdogan, in local elections on March 31. Voters in Ankara, the capital, and Istanbul, Turkey's industrial and economic center, opted for candidates from the Republican People's Party (CHP) rather than support candidates from the party that has ruled them since 1994. CHP candidates also won in five other large cities, dealing a blow to Erdogan and the AKP on multiple fronts.
Turkey's local elections have not been of international interest in the past, but Erdogan elevated the importance of this year's elections by pitching their outcomes as vital to "Turkey's survival and continuity." In doing so, he essentially asked voters whether they approved of him and his party. In the past, voters chose the AKP to run their cities and neighborhoods because they perceived the party's candidates to be capable local governors first and foremost. But with public resentment against the government rising, driven by high inflation, rising unemployment and a severely weakened economy, Erdogan decided to run a highly polarized campaign to maintain the AKP's power in local governments. It was a mistake. The next Turkish election is not until 2023. That's perhaps the best news for Erdogan and the AKP.
Political Erosion
The CHP's Mansur Yavas won the mayoral race in Ankara by a healthy 4 percentage points. The outcome was much tighter in Istanbul — a mere 18,500 votes — but it appears that the CHP's Ekrem Imamoglu defeated his AKP opponent, former Prime Minister Binali Yildirim. In addition to holding onto Izmir, Turkey's third-largest city, the CHP managed to gain Antalya, Adana and several other metropolitan centers. Losing metropolitan centers is a major problem for the AKP and Erdogan, as running these provincial governments is central to the Erdogan crony-capitalist spoils system. Municipalities issue building permits and business and operating licenses, among other things. Moreover, the AKP has relied on municipal governments to distribute resources and favors to voters, which has allowed the AKP to build a strong electoral base that has blurred the lines between the state and the governing party — so much so, that under the Erdogan government, politicians have scrambled to run for local office because it is far more lucrative to be a district or provincial mayor than a member of parliament. Accepting the loss of Istanbul and Ankara would be a huge blow to Erdogan's patronage networks: Voters and local officials depend on patronage from Erdogan, who in turn depends on their political support to sustain his rule.
Independent of patronage, accepting defeat could also be interpreted that Erdogan has been weakened and will continue to be weakened. Although the AKP won the lion's share of the overall vote on March 31, handing over the city keys of Istanbul and Ankara (in particular) is likely to embolden opposition political parties such as the CHP and the pro-Kurdish Peoples' Democratic Party (HDP) and begin to solidify the notion that Erdogan is not invincible. Not since the 2013 Gezi Park protests has Turkey's political opposition found such an air of hope and optimism. Similarly, if past is prologue, Erdogan is shrewd enough to realize that the road to defeat for Turkey's governing parties began with their initial losses in local elections. This was true for the center-right Motherland Party during the late 1980s and the center-left Social Democratic People's Party in the mid-1990s.
If past is prologue, Erdogan is shrewd enough to realize that the road to defeat for Turkey's governing parties began with their initial losses in local elections.
An unravelling of popular support at the local level confirms the suspicions of many analysts that urban populations increasingly mistrust the AKP. Throughout the campaign, it was clear that Erdogan was considerably out of touch with voter perceptions: The entire AKP strategy was based on the elections being a matter of life and death for the republic and that Erdogan was the best person to safeguard it. As much as Erdogan wanted this to be the defining issue, polls suggested that voters placed economic concerns above other issues. Erdogan and the AKP demonized the CHP and HDP as risky alternatives to the AKP, portraying them as supporters of "terrorism" in league with the separatist Kurdistan Workers Party. Postelection data supports the view that Erdogan's strategy backfired. Many Kurdish voters in Istanbul and Ankara proved pivotal in securing the CHP's victories. By contrast, the CHP ran an inclusive, non-divisive, issues-focused campaign.
Power Transition?
Thus far Turkey's Supreme Board of Elections (YSK) has not rendered the results of this week's election official. What is the likelihood the YSK will confirm the CHP's victories and more importantly, what is the likelihood that Yavas will actually become mayor of Ankara and Imamoglu mayor of Istanbul? The answer to both of these questions likely rests on Erdogan's position — as odd as this is. Erdogan does not have an official say on the outcome of local elections. Various sources have reported that Erdogan himself is torn and angered by the outcome. If he accepts defeat, then he is worried that it will be only a matter of time before his legitimacy and popularity are also called into question. He is also worried about challenges to his base of power due to the possible formation of a new opposition party, led by two former confidants, former Prime Minister Ahmet Davutoglu and former Deputy Prime Minister Ali Babacan.
Erdogan could try to find a way to declare the Istanbul and Ankara results null and void. Already, the pro-AKP media is questioning the validity of the results, referring to the outcomes as a "coup." The political opposition is suspicious that Yavas and Imamoglu will either not be allowed to take office, or if they are declared the winners, the AKP-controlled parliament will pass legislation curtailing mayoral power. Losing patronage revenues likely isn't the only thing worrying the AKP: Once in charge, the opposition will be in a position to open the local books and conduct audits to discover and expose corruption.
Ultimately, however, whether the CHP takes control of Istanbul and Ankara is less relevant than the overall bad news that Erdogan and the AKP face, and the few good options the news leaves them. The international community and public opinion at large have already accepted that the CHP has "won." To overturn this victory by force would put Turkey in more of a negative light than it is already in. Erdogan could use the election results to tell his European and American partners that Turkey is still a resilient democracy, despite widespread skepticism over the past six years. Doing so, however, is likely to speed up the decline of Erdogan's grip on power as he will lose the means to entice supporters. Furthermore, fixating on the elections also detracts Erdogan from pressing problems, such as how to right an economy that is worsening by the day and how to manage key bilateral relationships — especially with the United States, which could impose sanctions as early as this summer if Turkey goes ahead and buys a Russian missile system.
Make no mistake, this week's local election losses represent the most significant political challenge Erdogan has faced since the Gezi Park protests. Although he is weakened, he is still president, with tremendous resources and a state that remains beholden to him. Underestimating Erdogan under duress is a mistake Turkey's political opposition would be wise to avoid.
(Sinan Ciddi is an expert on Turkish domestic politics and foreign policy.)