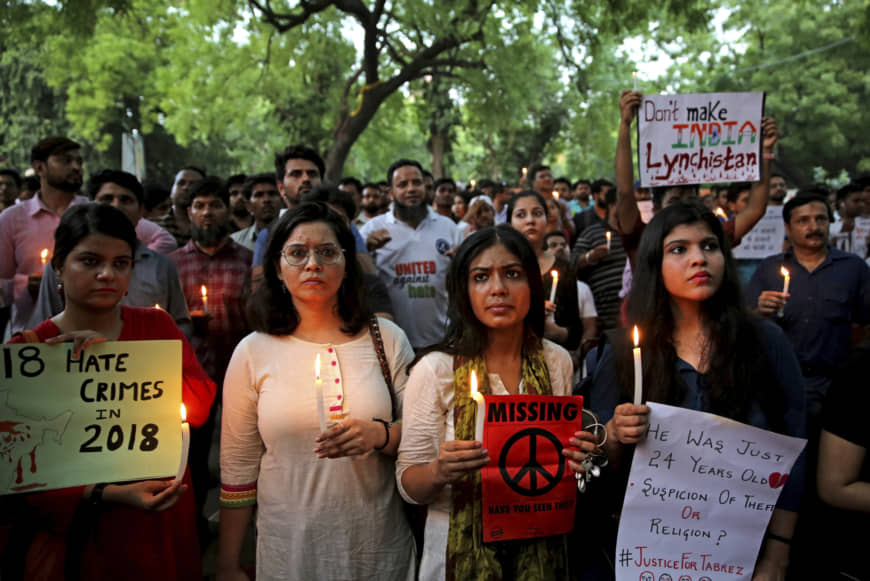 New Delhi:   Alarmed by growing incidents of mob-lynching, the prominent socio-religious organization the Jamiat-i-Ulema Hind (JUH), President , Maulana Syed Arshad Madani  today demanded that the government should enact a special law to deal with this menace. He also said it is the duty of the Prime Minister to make sure that minorities feel safe and secure. He also warned that the hugely diverse and multi-religious country like India cannot be governed by one particular ideology and religion.
'It's PM's responsibility to make Muslims feel safe and secure'
Presiding over the special meeting of Jamiat's Working Committee at its headquarters here, Maulana Arshad Madani expressed   deep concerns over the further deteriorating communal atmosphere, particularly the spurt of mob lynching incidents in the country after the re-election of this government. He said the present situation has been worse than the partition time for Muslims and Dalits and weaker sections of the society.  On the one side attempts are being made to finish the rule of law while on the other side attempts also have been made to undermine the justice delivery system, Maulana Madani added.
In its meeting,  the working committee deliberated upon a range of issues including  social and community issues particularly  mob-lynching, NRC, Babri Masjid case, and law and order situation in the country. The Working committee took the stock of progress in matters related to NRC in Assam and Babri Masjid case and other issues.
Continuing his speech, Maulana  Arshad Madani  said for centuries, India is recognized  all over the world as a very diverse, secular  and tolerant  country which has its unique composite culture and its strength lies in unity in diversity but unfortunately, of late  these  very foundations are being undermined for the sake of votes.
Maulana Madani asserted that in a multi-religious country like India cannot be governed by imposing a particular religion or ideology.  This country only move on the path of progress  if it follows secularism and religious neutrality, he said and alleging that the  minorities especially Muslims are being targeted on the basis of their religious identity resulting  the death of scores of people.
Maulana Madani averred that since its inception Jamiat has been working for unity, harmony and brotherhood among all the communities in the country and in the present circumstances, Jamiat's this mission has assumed much significance because certain political forces with an skewed ideology are attempting to do away with secularism and religious neutrality by spreading hatred and polarizing people on communal lines.
If the supremacy of the Constitution and the rule of law is not upheld, then the country will  pay a heavy price for this blunder, he  warned and added that  everybody needs  to uphold  the Constitution  and its values in true spirit and to preserve the age-old ethos of  religious tolerance and the communal harmony.
He said people belonging to different faiths have been living for centuries with harmony and love while our forefathers also made tremendous sacrifices in building this nation and their sacrifices are guiding light for us.  The biggest question nagging us today is that whether this country would be run on the basis of a particular religion or on the basis of secularism? Maulana Madani said.
It is the duty of the Prime Minister to make Muslims feel sure that they are safe and secure in this country as the PM is belonged to all people, he added.
Without  taking the names of communal  organizations, Jamiat chief  Maulana Madani said  communal forces are trying  to divide the people on communal and caste lines and they are spreading  hatred  for the sake of reaping  political dividends but it will harm immensely to the very  foundations of  the country. He asserted that the hugely diverse and multi-religious country like India cannot be governed by focusing on one particular ideology and religion.
Commenting on the controversial triple talaq bill, Jamiat chief said it is deplorable that the government wants to interfere in one religious freedom and asserting that in the name of social reforms, divine laws ( Sharia) cannot be touched or amended.
Expressing his deep anguish and outrage  over the spurt of mob-lynching incidents particularly the  brutal killing of  Tabrez Ansari in Jharkhand,  Maulana Madani   said  Tabrez' s killing was not  a simple murder but  an extreme level inhuman savagery  and barbarity and it is blot on India's face  which brought disrepute to the country in the world. It seems that Jharkhand has emerged as mob-lynching laboratory where 19 people were killed  in these unfortunate incidents so far and out of this , 11 belongs to Muslim community  and rest from the Dalit and tribal communities, he said. It is also shocking that in spite of the Supreme Court's stringent directives and guidelines, this bestiality did not come under control, he said.
Recalling the Supreme Court judgment on mob lynching incidents delivered on   July 17, 2018, Maulana Madani said the highest court of the land had expressed its deep anguish on mob-lynching incidents and ruled that nobody could take law into his hands   and it also directed the Central government to make a special legislation for checking this menace. However, it is unfortunate that apex court ruling did not have salutary effect on this as mob lynching incidents happening from time to time. After the court's ruling on mob lynching as many as 55 people were lynched and since May 26 after the Modi government was re-elected for the second term, as many as eight people were killed. It seems that these forces have no respect for the Supreme Court.  Maulana Madani also reminded that the after the court verdict, the Union Home Ministry  had also issued directives to state governments to take appropriate and effective  measures for  curbing mob lynching incidents .  Despite  all these steps,  mob lynching is taking place in the country , therefore, we can say that those involved in such incidents have political protection and support, he said and adding that not only such hooligans get protection but also  welcomed  by the ministers after they come out from  jail on bail. In this backdrop, it cannot be said that the government is serious about curbing the mob lynching problem.
Strongly advocating a special legislation for mob-lynching, Maulana Madani argued that mob-lynching has religious underpinning as those who were subjected to violent and brutal attack by the mob after knowing their religious identity.    Therefore, all political parties, in particular   secular parties should openly come forward and make efforts for the special law to curb this menace as the situation has become so grim that only issuing statements of condemnation would not be sufficient.  Neither Central government nor state governments are serious about in checking mob lynching incidents, he lamented.
At the time of partition, so much blood had been shed but the situation was not as bad and grim as of today when our society was not divided on communal and religious lines, Maulana Madani said. Now   attempts are being made to impose a particular ideology on the country and every person is being forced to accept this ideology, he added. However, he said there is no need to be despondent and disheartened by the prevailing bleak atmosphere in the country as love and affection is part of our compatriots' DNA.