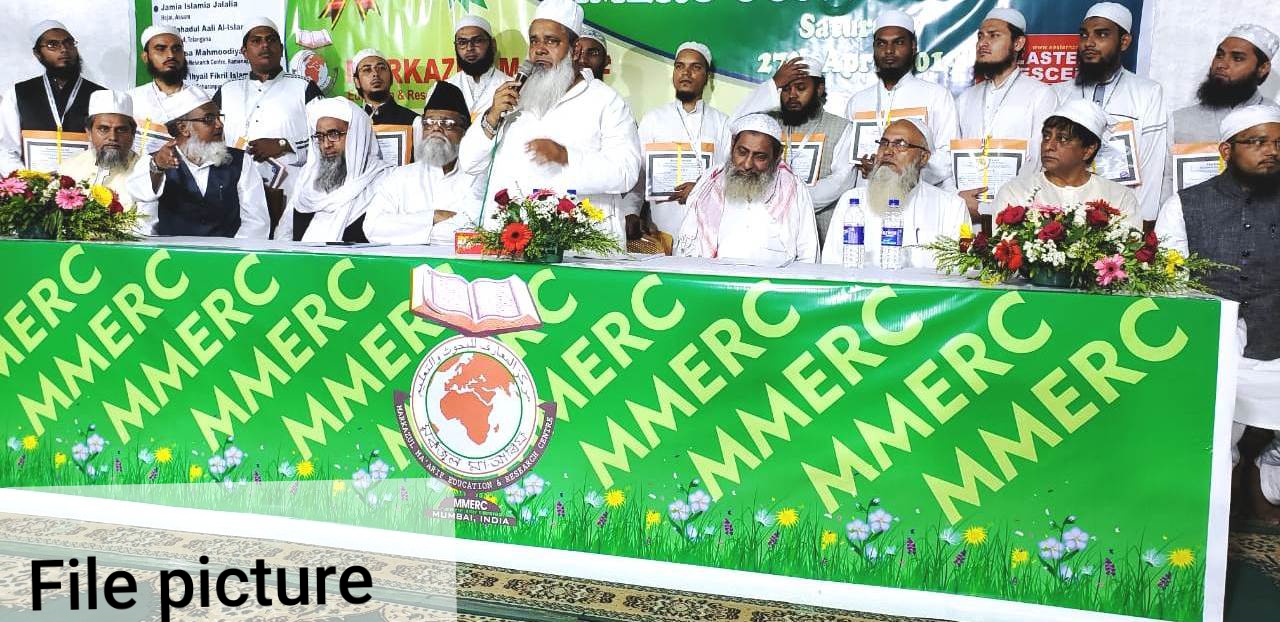 (Delhi: July, 6)
Markazul Ma'arif Education & Research Centre (MMERC) is gearing up for its silver jubilee celebration with great zeal and enthusiasm to mark 25 years of its successful and historic journey. MMERC has been the first institution of its kind in contemporary era, set up back in 1994 with the endearing vision to equip madrasa graduates with English language and literature, modern sciences, computer and communication technology.
In order to make this auspicious occasion fruitful and beneficial for all, the leading lights and the alumni of MMERC have decided to conduct a 3-Day International Seminar on "Ulama, Muslim Youth and Contemporary Challenges with Special Reference to DELL Course and Post-Madrasa Education" on 4th, 5th and 6th October 2019 (Friday, Saturday and Sunday) in New Delhi, the capital of India. MMERC, through this seminar, aims to share and explore its 25 year long journey and achievements, and to discuss future challenges with renowned Islamic scholars and its prominent alumni.
Maulana Muhammad Burhanuddin Qasmi, Director of MMERC, Mumbai said, "MMERC was set up by Maulana Badruddin Ajmal Al-Qasmi, CEO Ajmal CSR and Lok Sabha MP, with a view to teach and equip madrasa graduates with modern sciences and English language. Thus a two-year "Diploma in English Language & Literature" (DELL) course was designed by MMERC. This course is presently followed by more than 15 institutions across the country while eight of them are directly affiliated to MMERC, Mumbai."
Highlighting MMERC's services for the sake of community and Islam, Maulana MB Qasmi further said, "Up to date, more than 500 ulama, having completed MMERC prescribed course successfully, have been absorbed at renowned organizations, institutes and magazines in India and abroad. Our graduates are working in around 20 countries of the world as English preachers, translators, teachers and interpreters. They are rendering relentless services with full Islamic sprit and identity."
"MMERC alumni not only from India but also from abroad will take part in this International Seminar along with many other dignitaries, and will present their research papers and views on various topics," Maulana Qasmi added.
In a press release by the Organizing Committee it is stated that the main themes of the seminar are; (1) Markazul Maarif: A Revolutionary Force For Madrasa Graduates, (2) India as a Composite Society and Responsibilities of Ulama, (3) Muslim Youths in India and the Way Forward, (4) Diploma in English Language & Literature (DELL): Experiences and Future Prospects. In addition to these, the 5th Inter-DELL National Elocution Completion in English language will be an important part of the program in which the selected students of DELL course will participate from across India.
Mr. Mohammad Umar Gautam, one of the conveners of the program explained that 'the first two days' program (4th and 5th October) of this Seminar will be at Madni Hall, Jamiat Ulama-e- Hind, New Delhi, while the third day's program will be held in the Constitution Club of India, New Delhi.'
"In this seminar distinguished ulama of our country, scholars, ambassadors from different countries, ministers, government officials and many other dignitaries and prominent guests including MMERC alumni would be participating," added Mr. Umar Gautam.
In a meeting headed by Maulana Badruddin Ajmal Al-Qasmi, founder and patron of MMERC, at his residence in New Delhi last week, an Organizing Committee for the International Seminar with 10 subcommittees were charted for preparation and smooth functioning of the upcoming program. Mr. Mohammad Umar Gautam, Chairman, Islamic Dawah Centre (IDC) New Delhi and Maulana Mohammad Burhanuddin Qasmi, Director, MMERC and Editor Eastern Crescent, Mumbai will lead the Organizing Committee as Conveners while the Committee members are: Mr. Khalilur Rahman Lasker (General Secretary, Markazul Ma'arif, Hojai Assam), Dr. Obaidullah Mohiuddin Qasmi (Assistant Professor, Zakir Hussain College of Delhi University), Maul. Atiqur Rahman Qasmi (Branch In-charge MMERC, Mumbai), Mufti Abdur Rashid Qasmi (Vice President, Haq Education and Research Centre, Kanpur), Dr. Muhammadullah Khalili Qasmi (Darul Uloom Deoband), Dr. Sayeed Anwar Qasmi (Editor, Islam Aur Asr-e Jadid, Jamia Millia Islamia, New Delhi), Maul. Muddassir Ahmad Qasmi (National Coordinator for DELL, Mumbai), Maul. Manzar Bilal Qasmi (Delhi), Maul. Hifzur Rahman Qasmi (Delhi), Maul. Shams Tabrez Qasmi (Delhi), Maul. Mohammad Akram Qasmi (Surat, Gujarat), Dr. Abdul Malik Qasmi (JUH, Delhi), Mufti Mohammad Sajjad Qasmi (Deoband).