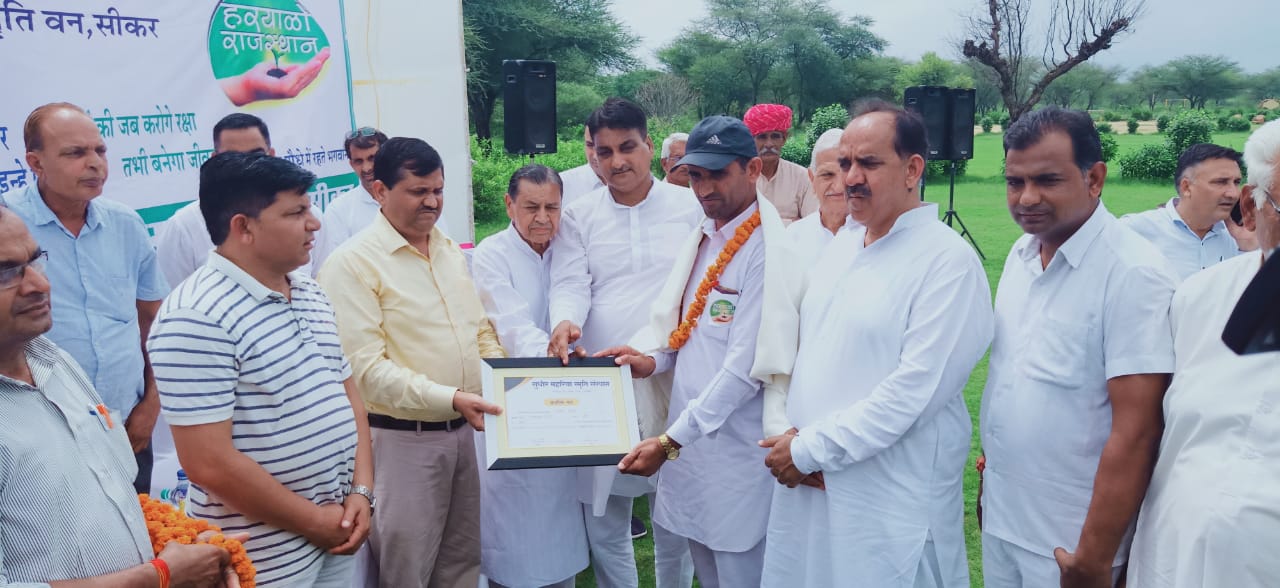 Ashfaque kayamkhani,Jaipur: A prominent political family in Rajasthan's Sikar district has taken up a massive tree plantation drive recently as a "non-political activity" during the monsoon season to make its contribution to environment protection. Over 11,000 saplings were planted in the two-day programme with the participation of local communities in the last week of July.
Three-time MP and former Union Minister Mr. Subhash Maharia and his brother Mr. Nand Kishore Maharia, who is a former Independent MLA from Fatehpur, organised the plantation of fruit bearing trees at public land and in schools, hospitals, crematoriums and graveyards. The drive was undertaken to mark the death anniversary of their parents.
Mr. Nand Kishore said that the family would ensure full growth of trees by making arrangements for drip irrigation and manure specifically in Smriti Van. "Our teams will take regular rounds of villages and hamlets in the district to make sure that the plants are protected and allowed to grow naturally. This is an entirely non-political initiative," he said.
Mr. Subhash Maharia, who joined Congress in 2016, was elected an MP from Sikar thrice on the BJP's ticket and was a Union Minister of State for Rural Development from 1999 to 2004. He contested the 2019 Lok Sabha election as a Congress candidate, but was defeated by BJP's Mr. Sumedhanand Saraswati.
The plantation programme was organised under the aegis of Sudhir Maharia Smriti Sansthan, formed in memory of Mr. Maharia's late brother, who was a police officer. Mr. Nand Kishore Maharia, who was an independent member of the previous State Assembly, said the initiative would not only expand the district's green cover, but also reduce the impact of global warming.
Sikar-based political analyst Mr. Ashfaq Kayamkhani said the local communities had hailed the drive especially because of its non-political nature. People cutting across the party lines joined the programme in large numbers and planted saplings in different areas.