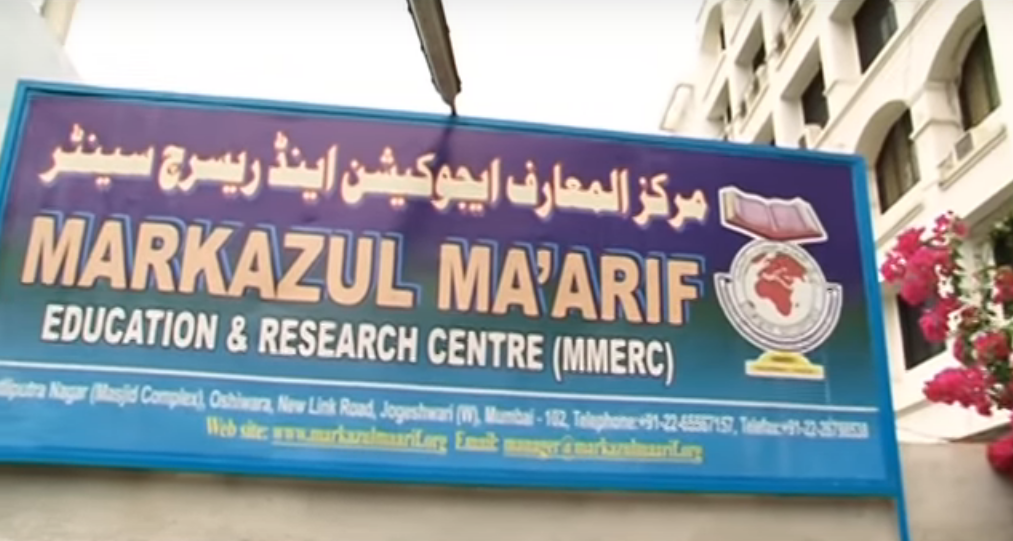 By: Khursheed Alam Dawood Qasmi
Markazul Ma'arif as an NGO:
Inspired by his father's charitable work, then a young graduate of Darul Uloom Deoband, Mualana Badrudding Ajmal Qasmi, founded Markazul Ma'arif (NGO) in 1983 to work for the needy people. It's a social-welfare Non-Government Organization with the sole aim and motto of striving for the upliftment of economically and educationally backward section of the society, with its headquarter located in Hojai town of Assam. From its inception, the NGO laid special emphasis on Education by establishing dozens of schools and colleges. It also works in several important fields by establishing, hospitals, orphanages, providing houses to homeless people, distributing reliefs at the time of natural disasters and extending financial assistance for marriage. The NGO is not only serving in Assam vicinity, but it also works in different parts of India through its branch offices located in Assam, Manipur, New Delhi, Deoband and Mumbai. One of its noteworthy works is to equip fresh Ulama with English language under Markazul Ma'arf Education and Research Center (MMERC).
Need of English Language for Ulama (Islamic Scholar):
No doubt, English language is an international language in our age. If one wants to communicate with international community or just wants to use a commonly understood language to convey his messages at large, he must learn English language. Ulama being the suitable people to represent Islam and convey the peace messages of Islam, throughout the world, were not aware of the ABC of English language. It was difficult for them to present their thoughts at global level to reach international community, where much misunderstanding has been spread against Islam due to biased media houses. The English language has become essential and crying need of the hour; but Ulama were not able to understand, speak and write English language properly. Need of English language for Ulama (Islamic Scholars) was felt by many individuals; but no one knew how to materialize this dream.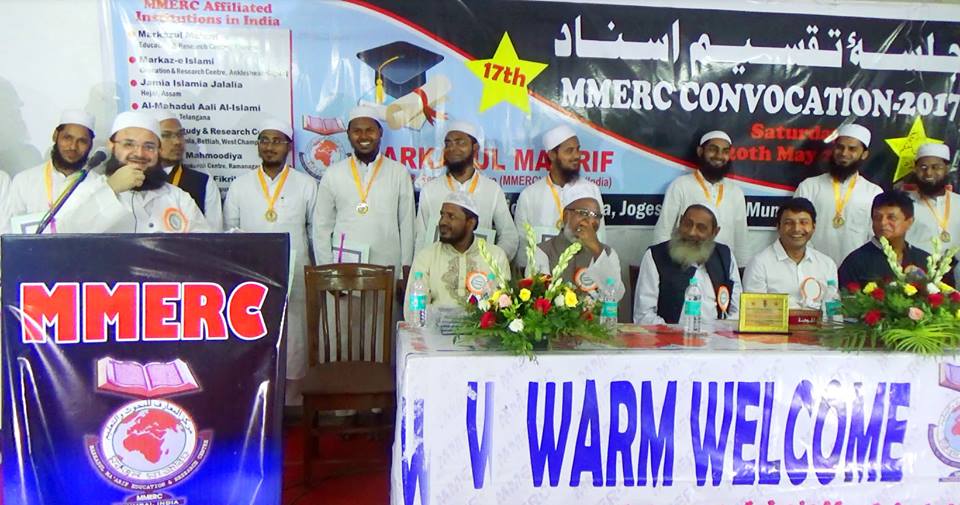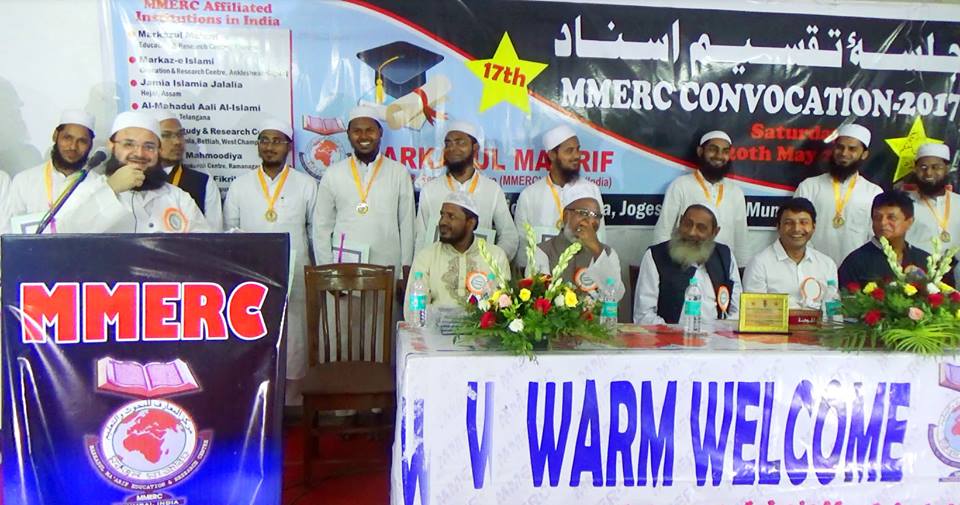 Markazul Ma'arif Education & Research Center Establishment:
Comprehending the importance of English language and apprehending the need of the hour, Markazul Ma'arif Education and Research Center (MMERC) was established in 1994 by a Darul Uloom Deoband graduate and a successful businessman, Muhsin-e-Millat Maulana Badruddin Ajmal Qasmi. Maulana Qasmi is a member of Darul Uloom Deoband's governing body, President of a political party: AIUDF and Lok Sabha MP for Dhubri constituency of Assam. The mission of this institution was to equip the young promising Ulama with English language, computer science etc. so that they can face the current challenges and play a pivotal role in preaching Islam and serve the nation and international community at large. Thus, MMERC became the first institution of its kind in India, which started training Ulama in accordance with the need of hour.
Initially the MMERC was established in New Delhi. Mr. Mohammad Umar Gautam, ex-Lecturer of Jamia Millia Islamia and famous Da'aee was given the charge to work on the MMERC project and to run it as its first director. A two-year course was designed and named, "Diploma in English Language & Literature (DELL)". Under Mr. Gautam stalwart directorship, this course started its journey. The newly graduated Ulama were selected after entrance exams. It was first time in the history that more than a dozen Ulama gathered under one roof to learn English language and computer science. It functioned well. Following some years, it was shifted to Mumbai. Maulana M. Burhanuddin Qasmi, an alumnus of MMERC's first batch, was assigned to take the charge of its daily affairs as its second director. Under the dynamic leadership of Mr. Qasmi, some more activities were added to this programme. Each year, a good number of Ulama are benefiting and graduating since more than two decades and the MMERC is moving ahead.
MMERC Silver Jubilee Celebration:
The MMERC has completed 25 years. Now it's going to celebrate its "Silver Jubilee Celebration and a 3-Day International Seminar on Muslim Youth, Ulama and Contemporary Challenges with Special Reference to DELL Course and Post-Madrasa Education" on 4th-6th October, 2019, in New Delhi. The period of 25 years is not a small one; but to get a tremendous success, this period is not too long as well. Anyway, within 25 years of its commencement, the MMERC got tremendous success and big achievement in its mission of equipping fresh Ulama with English language and computer science. A just and fair historian will surely endorse and record the services of the MMERC for equipping the Ulama with modern tools and removing the hindrance from their paths to face any challenge of this age.
MMERC Products:
MMERC has produced almost 450 graduates armed with modern tools like English language, computer science etc. By completing two-year Diploma in English language & Literature, Ulama, in moving forward, find no obstacles which stop them. They find themselves fully equipped to choose whichever field they intend to serve the Ummah and the nation. The MMERC Alumni chose different fields and have played important role in their chosen fields be it teaching, research, Dawah, social work, journalism or administration, etc. Whichever field they stepped in, their success is remarkable. Due to their talent, quality and outstanding performance, they have been respected and embraced by their administration and colleagues with enthusiasm.
For instance, I mention here few names of the MMERC products. Maulana M. Burhanuddin Qasmi is the present serving director of the MMERC, a freelance writer and Editor of the Eastern Crescent, a Mumbai based monthly English magazine. Maulana Mohammad Atiqur Rahman Qasmi is the Coordinator: DIPR of Markazul Ma'arif and Environmentalist Awardee from UNEP. Maulana Dr. Ansar Azmi Qasmi, professor Malik Saud University, Riyadh, KSA. Maulana Iftikhar Ahmad Qasmi is the bilingual English and Arabic writer and teacher of Hadith at Jamia Akkalkuwa. Maulana Dr. Md. Rafiq Qasmi is a research associate at MANNU, Hyderabad. Mufti Dr. Md. Obaidullah Qasmi is Assistant Professor and Head of Arabic Department in Zakir Husain College, University of Delhi and ex-Head of English Department, Darul Uloom Deoband. Maulana Mohammad Afzal Qasmi is Teacher of Hadith at Aljamiatul Islamiyyah, Bolton, Lecturer at Blackburn College, UK and ex-teacher of Darul Uloom Deoband's English Department. Mufti Abdur Rasheed Qasmi is a teacher of Hadeeth and V-Chairman of Haq Education & Research Foundation, Kanpur. Mufti Dr. Muhammadullah Khalili Qasmi, freelance writer, is Head: Internet Department and Coordinator: Online DarulIfta, Darul Uloom, Deoband. Mualana Shamsul Huda Qasmi is the Head of English Department and Editor of The Light, an English magazine published form Jamia Islamia, Akkalkuwa. Late Maulana Ismail Moosa Makrod (May Allah grant him Jannah!), the founder of Markaze Islami Education & Research Center, Ankleshwar, Gujarat. Maulana Manzar Imam Qasmi (PhD) is a bilingual freelance journalist, research scholar on International Studies, Jamia Millia Islamia, New Delhi and Contending Modernities from University of Notre Dame, USA. Maulana Dr. Rafiqul Islam Qasmi is Assistant Professor at UG, GS: AIUDF and an ex-MLA of Assam. Maulana Dr. Gufran Najeeb (BUMS) is a medical practitioner. Maulana Dr. Abdur Rahman Qasmi is currently on post-doctoral fellowship and had worked as News Reader in All India Radio. Maulana Dr. Rahmat Ali Qasmi is Assist-Editor of Hajj Magazine in Hajj Committee, Gov. of India. Maulana Ghufran Sajid Qasmi is the Founder and Chief Editor of Baseeratonline and Milli Baseerat Weekly. Maulana Mohammad Sajid Qasmi (M Ed. From American College of Education, USA) is administrator of Darul Uloom, Atlanta, USA. Maulana Mohammad Khalid Qasmi is teacher of Hadith at Jamia Abdullah bin Masood and ex-Head-Imam Al-farooq Masjid, Atlanta, USA. Maulana Muddissir Ahmad Qasmi is the Assistant Editor of the Eastern Crescent, a columnist of Urdu leading daily Inquilab and director of Al-Ghazali International School, Araria, Bihar. Maulana Tauqeer Ahmad Qasmi is a gifted speaker and Head of English Department, Darul Uloom Deoband. Maulana Dr. Hifzur Rahman Qasmi is a research scholar at JNU, New Delhi and translator of several books.
These individuals have performed tremendously in different fields as it's understood from their designations. They have also authored and translated several books. It's truth that the English language, which they learned in the MMERC under the patronage of Maulana Badruddin Ajmal Qasmi and the directorship of Mr. Gautam and Mualana M Burhanuddin Qasmi, played a key role in their successes and achievements.
Launching of the Eastern Crescent:
In 2006, MMERC launched its monthly magazine, in English language, with beautiful name "Eastern Crescent" (EC) with the motto of "Alternative Media, People's Choice". The first issue was published in May 2006. It's published under able editorship of MMERC director, Maulana M. Burhanuddin Qasmi from the day one. As it publishes the articles and stories of the MMERC alumni, it gives spaces to the modern educated scholars, without any discrimination, as well. It's a good platform for the MMERC alumni to share their ideas, views and opinions with the English knowing people. Keeping focus on Indian issues and Islamic topics, the magazine covers current affairs and issues related to Indian Muslim community mostly. Because of its opining making articles, stories and beautiful printing, the magazine has been appreciated by several learned people and research scholars. This magazine is being published since last 14 years without fail. It's a big achievement for the MMERC in the field of journalism.
Maktab Markazul Ma'arif:
The importance of Makaatib for Muslim children is acknowledged by one and all. As it imparts basic Islamic teachings to young children, it inculcates moral values in their minds. The pupils who go to the Makaatib in the early age of their lives are able to understand the significance of their faith and religion. They learn how to make Wudhu and how to perform five times daily Salaah etc. Bearing the aforesaid points, it's necessary to establish Makaatib. It must be appreciated that the MMERC authorities are running a successful Maktab namely "Maktab Markazul Ma'arif" for the children under the supervision of the eligible teachers. Currently, about 170 children are enrolled in the Maktab. The success of the children of this Maktab is distinguished. The authorities must be thanked for this service to the community.
Workshop for School Pupils:
It's very necessary to be informed of essentials of Deen. When one is aware of essentials of Deen, it provides spiritual strength and it gives confidence in the life to practice it. Currently our pupils who go to the schools are hardly taught adequately about Islamic teachings and values. Most of them don't know the articles of faith. Markazul Ma'arif Education and Research Center holds workshops on the occasion of school's vacations. It's held completely in an Islamic environment to promote the values of Islamic teachings and inculcate them in the minds of young learners coming from different schools. This workshop assists and encourages the pupils to practice Islamic teachings in their day-to-day lives.
MMERC's DELL Embracement:
In the initial stage, when this MMERC's Diploma in English Language and Literature (DELL) course was introduced, two and a half decades ago, none would have thought that this course would be as successful as it's observed today. But the hard work, sincerity, dedication, devotion, commitment and enthusiasm of the management, teachers and learners bore fruits and paid fully. Today, it's a model successful course to enhance the ability of the newly graduates of Madaaris. Following the success, this course has been widely embraced and introduced not only in the campus of some celebrated Islamic seminary or Madrasas in India, but also in a certain university like Aligarh Muslim University. This programme is known as "Bridge Course" in the university.
Conclusion:
Really the MMERC has played a significant role in shaping the young Madrasa graduates for the service of the nation and the Ummah at national and international levels. As an institution, the MMERC is a role model to be followed. Currently, almost a dozen of such institutions are found in India following the footsteps of the MMERC. For a country like India where thousands of Ulama are produced from several Madaaris, it's need of the time to introduce the DELL programme in a big number as the existing institutions do not seem to be enough comparing to the number of the graduating Ulama annually. In these institutions, along with the DELL programme, one special lecture in a moth, on an important topic, should be also arranged as it will be much beneficial for the learners, in my view. ***