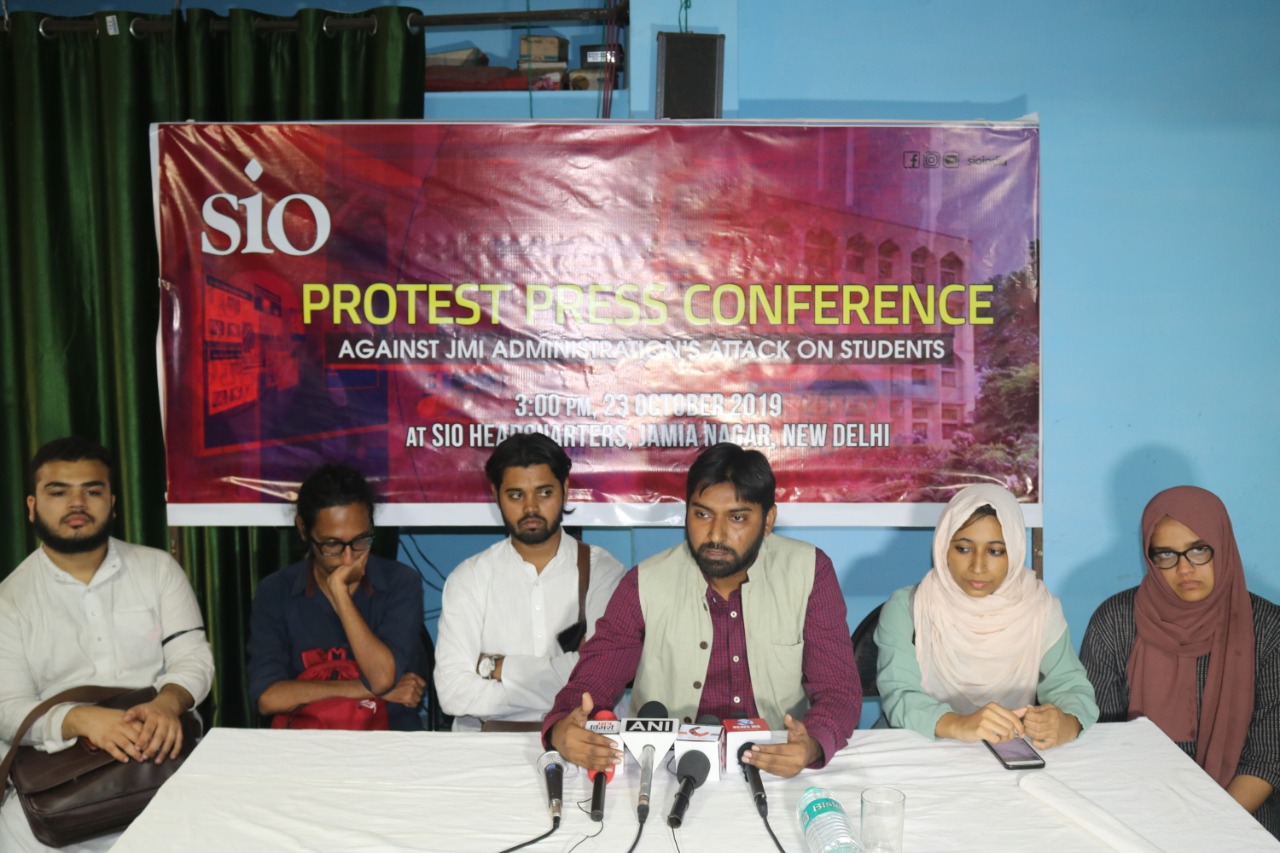 New Delhi: A protest was called in Jamia Millia Islamia on October 5, 2019 (Saturday) against Israeli participation in the international conference titled 'Global Health Zenith Confluence '19' organized by the Faculty of Architecture and Ekistics. A joined statement signed by national cultural and intellectual figures had already expressed discontent over the conduction of the event in this, university which has a strong Muslim heritage and cannot in any way join hands with the state of Israel. The protest was observed peacefully outside the venue of the conference for an hour. After the protestors had dispersed, the proctorial staff abducted some of the protesters – while being beaten and manhandled and were locked inside the proctor's office compound. Later, the university administration issued show-cause notices to five students who led the protest. The student community objected this undemocratic move and started a sit-in protest in front of the Central Canteen on 7th October and it continues with full vigour by the increasing support of Jamia students, said Syed Azharuddin (General Secretary SIO of India) while speaking to media in a press conference at Jamia Nagar along with students of JMI.
Azhar said, today Jamia Millia Islamia students are on their tenth day of protest against frivolous show cause notices issued to 5 students. The student community of Jamia had marched yesterday to VC office in hundreds for a peaceful protest to demand the revoking of these notices. While the sit in in front of VC office was going on a group of goons brutally attacked the students, including female students, with belts, lathis and flower pots. Many female students were also manhandled, and a few students had to be taken to the nearby Holy Family hospital. In a tightly controlled campus where no outsiders are being allowed to enter, these kinds of goons could only have entered and attacked students with the knowledge and encouragement of the university administration.
Students are continuing with the protest in front of VC office, and they have called for campus-wide class boycott today (23 October 2019). They are also demanding the resignation of the officers who are responsible for this assault against students. Assaulted students have tried filed a FIR for a criminal case against the goons in Jamia Nagar police station but police received the complaint but didn't filed the FIR yet (as on 12noon, 23rd October 2019).
SIO along with students demand following concerns:
1. Revoke Show-Cause Notices issued to the five Jamia Students
2. Arrest the Criminals who attacked the protesting students
3. Suspend administrative staffs behind the criminals.
4. Reinstate democratic atmosphere through the establishment of University Students Union in Jamia Millia Islamia.
Syed Azharuddin (General Secretary, SIO of India)
Shabeer Ck (National Secretary, SIO of India)
Ayesha Ranna N (JMI)
Ladeeda Farsana (JMI)
Asif Iqbal (JMI)
Qasim Usmani (JMI)
Ahmed Kasim (JMI)
From,
Media Department, SIO of India.
media@sio-india.org | Www.sio-india.org