Darul Uloom Deoband's Muhtamim (VC) Mufti Abul Qasim Nomani released Maulana Dr. Mohd Sayeed Anwar Qasmi's newly published book: "Al-Tafsir Al-Mazhari: Introduction and Analysis" in the Valedictory Session of Markazul Ma'arif Education & Research Center's Silver Jubilee held in Mavlankar Hall, Constitution Club of India, New Delhi on 6th October 2019. This remarkable book is an analytical study of celebrated Tafsir book: "Al-Tafsir Al-Mazhari" of Qazi Muhammad Sanaullah Uthmani Panipati. Actually, it is a thesis of Dr. Mohd Sayeed Anwar Qasmi, presented in English language, for his Ph. D. Degree from Jamia Millia Islamia, New Delhi. Dr. Qasmi was awarded the Ph. D. Degree in February 2018. The book is a priceless and incomparable gift for the lovers of Al-Tafsir Al-Mazhari.
Dr. Qasmi, the authoer is currently Assistant Editor of two journals: "Islam and the Modern Age" and "Islam Aur Asre Jadeed" published from Zakir Husain Institute of Islamic Studies, Jamia Millia Islamia, New Delhi. Following the completion of his Fazilat, he joined English Department of Darul Uloom Deoband to learn English language and literature. In 2007, he was appointed as a teacher and in 2011 as the head of the English Department of Darul Uloom Deoband. He served in Darul Uloom Deoband approximately for a decade. Then he joined Jamia Millia Islamia as the Assistant Editor of the said two journals.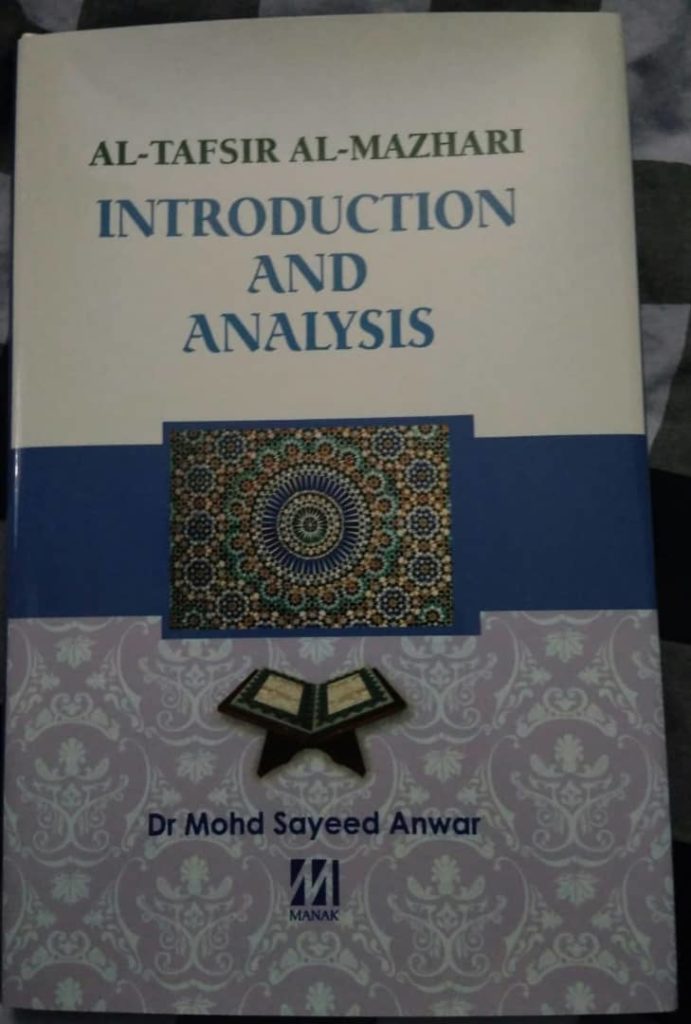 The book release took place in the presence of hundreds of Islamic scholars and intellectuals such as Maulana Badruddin Ajmal Qasmi, Lok Sabha MP and CEO of Ajmal CSR, Mufti Atiq Ahmad Qasmi Bastavi, Senior teacher of Darul Uloom Nadvatul Ulama, Lucknow, Maulana Syed Mustafa Refai Nadvi, Member of AIMPLB, Engineer Salim, Deputy Ameer of Jamate Islami Hind, Mr. Sirajuddin Ajmal, ex-MP, Mr. Mohammad Umar Gautam, President of Islamic Dawah Center, Delhi, Mualana M. Burhanuddin Qasmi, the Director of MMERC and Editor of Eastern Crescent, Mumbai, Maulana Mohammad Atiqur Rahman Qasmi, Environmentalist Awardee from UNEP, Dr. Mufti Mohammad Obaidullah Qasmi, Assistant Professor of Zakir Husain College of Delhi University, Maulana Mohammad Afzal Qasmi, Teacher of Hadeeth at Al-Jamiatul Islamia, Bolton, UK, Dr. Mufti Muhammadullah Qasmi, the Coordinator of Internet Department, Darul Uloom Deoband, Mufti Abdur Rahman Ajmal Qasmi etc.