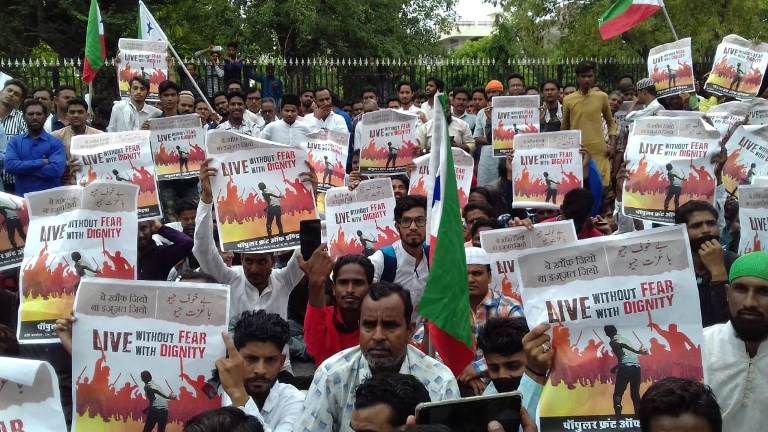 MD IRSHAD AYUB
Popular Front of India, a leading social movement that has pan India presence organized a grand public conference under the title of "People's Rights Conference" on 29 September 2019 at Indira Gandhi Stadium, New Delhi. The theme of the conference was "Live without Fear, Live with Dignity". It was a packed conference attended by the leaders of the various communities and people in a very large number from different parts of Delhi were participated to witness the historic mass declaration of their rights: "We will live without fear; We will live with dignity." It was aimed at highlighting the deteriorating socio-economic and political situation in the country and alert people against the authoritarian tendencies of the Modi regime. The conference, in fact, bolstered the declining morale of minorities and Dalits. The conference was organized by the North Zone of Popular Front of India. It elaborated on the need for collective efforts for providing security to the lives of minorities and weaker sections vulnerable to ongoing Hindutva mob attacks and hate crimes in the country.
Ever since the BJP-led government came to power, they have been hell-bent on destroying institutions and ideas of India that have held together with the country for many decades. Dignity, Autonomy, and Independence of all the institutions of governance are being damaged. Freedom of religion continues to deteriorate. The issues are piling up for religious minorities in India. Personal liberty of the individual has been invaded. Dissenting voices and critical media outlets have been intimidated and curbed. Incidences of Cow vigilante violence and terrorism and mob lynching against Muslims, flogging of Dalits as well as Caste-related slurs and violence, atrocities against Dalits have been increasingly becoming the everydayness of life, reported from various parts of the country. Communal violence and riots are happening frequently. Anti-social elements and communal forces have been emboldened; their acts are patronized and supported by the current incumbent regime. It is aimed at targeting and demonizing religious minorities especially Muslims, oppressed sections of society Dalits.
Many attendees have unequivocally spoken against the abrogation of Article 370, the rise of Hindutva terrorism in the form of cow vigilantes, Babri Masjid, unity between different communities, worsening of the state of the economy, unemployment as well as the NRC. Today Kashmir is one of the most or perhaps the most densely militarized zone in the world. More than a half-million soldiers have been deployed to counter what the army itself admits is now just a handful of "terrorists." What India has done in Kashmir over the last 30 years is unforgivable. An estimated 70,000 people, civilians, militants, and security forces have been killed in the conflict. Thousands have been "disappeared," and tens of thousands have passed through torture chambers that dot the valley like a network of small-scale Abu Ghraib.
On August 5, the Indian state unilaterally and without consultation with the Jammu and Kashmir legislature revoked article 370. Since then Kashmir has been put under an unprecedented media and communications blackout. All mainstream political leaders, many activists have been arrested and many kept under house arrest. The political process has come to a halt. Kashmiris have been denied the basic civil liberties and freedoms of expression, information, assembly, movement and religion. Military forces have detained thousands of people, among them politicians, leaders, lawyers, journalists, teachers, students, and children as young as ten. Civilians, including children, are being tortured and ruthlessly beaten and subjected to electric shocks.
National Register of Citizens (NRC) exercise in Assam has made more than 19 lakhs people stateless in the name of excluding the so-called foreign infiltrators. The moves to expand NRC into other states foretell a worse scenario in the making.
In his inaugural speech E. Abubacker, Chairman of PFI said that hate environment is pervading in the country following the fascist policies of the present government. At present, the Hindutva forces have inculcated hate among caste Hindus against Dalits, and among Hindus against Muslims. He said that ever since Modi Government came to power we have been hearing big slogans. At one time it was "Congress Mukt Bharat". Now it is "One country, one party". Later on it will turn out to be "One party, One Ruler".
Abubacker also came down heavily on the slogans of "one nation and one language" and "one nation and one law". We are witnessing the dire consequence of such slogans, in what is happening in Kashmir after the abrogation of Article 370, he pointed out.
Nowadays our country has been immensely threatened by fascist agendas of the Modi government. It is horrific and undemocratic for a nation to be putting the onus on citizens to prove their Indianness. The ideals upon which India got independence from the British Empire are under constant and immediate threat. It will be a grave dereliction of duty on the part of the citizens of this country if they do not speak about the failures of the government, raise genuine questions with respect to rising hate crime, economic slowdown, increasing unemployment, and deteriorating law and order and so on. The government must make stringent laws to protect the citizens so that they can live their life with dignity & without fear. Every single person on earth is entitled to be treated with dignity and to live without fear.
Meanwhile, others who spoke on the occasion included: Anis Ansari, Zonal Secretary (Welcome speech)  A.S Ismail, Zonal President (Presidential Speech); Ms Lubna Minhaj Siraj (Vice President, National Women's Front); Adv. Sharafuddin Ahmed (National Vice President, SDPI); S.M. Anwar Hussain (Ex. President, AMU Students Union); M S Sajid (National President, Campus Front of India); Ashok Bharti (Principal Advisor, NACDAOR); Ms Mehrunnisa Khan (National President, Women India Movement); Mufti Hanif Ahrar Qasmi (N. Gen. Secretary, All India Imams Council); Mohammad Ilyas, Programme Convener, (Vote of thanks), while Maulana Khalilur Rahman Sajjad Nomani (Spokesperson, AIMPLB) spoke through video conferencing.