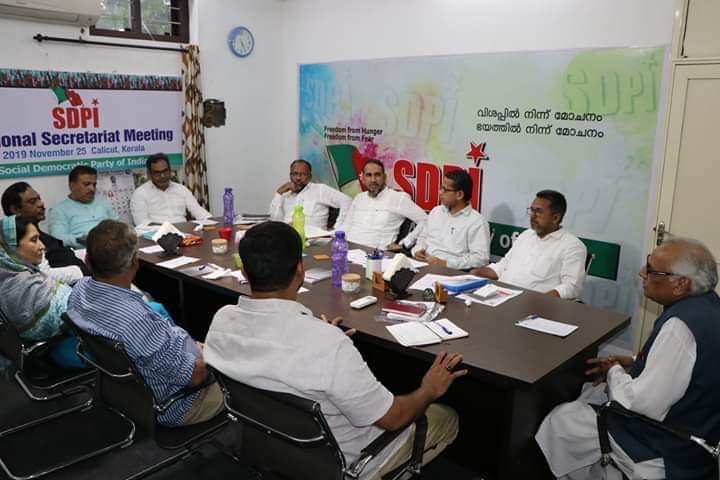 Calicut: Nov,25: National Secretariat meeting of Social Democratic Party of India (SDPI) was held at Calicut on 25th November 2019. Babri Masjid Verdict was the main issue discussed in the meeting and the following decisions were taken in the meeting:
1. The Supreme Court verdict itself says as there was proof that Babri Masjid had stood there since 1528 and Namaz offered in the Masjid. There is no proof that a Mandir existed there e and no any proof of the demolition of Mandir before construction of Babri Masjid. The verdict underlines the fact that the idols were illegally placed inside the Babri Masjid in 1949 and the demolition of Babri Masjid in 1992 was illegal. But the same court has given the land for Ram Mandir denying justice due to the Muslims.
2. SDPI will explore the possibilities with legal experts for filing review petition in Supreme Court for reversal of the judgment assuring justice to Babri Masjid.
3. SDPI demands that the culprits of Babri Masjid demolition must be given exemplary punishment for the destruction of an historic mosque.
4. Seeking justice to Babri Masjid, SDPI will conduct protests, dharnas, seminars, human chains, etc. all over the country on Dec 6 this year.
5. SDPI cadres will collect the signatures from the public on the letter to be sent to The President of India demanding justice to Babri Masjid and punishment of the culprits involved in the demolition.
6. This year has witnessed an increase in number of violation of democratic rights by the regime. There have been many arrests of social and human rights activists across the country in the name of 'Urban Naxals', 'Islamic fundamentalists'. There is rampant misuse of UAPA, misuse of Governors, usage of black money to buy of legislators etc. SDPI will organize various programmes under the banner 'Save Constitution Day' on Jan 26, 2020.
National President M.K. Faizy presided over the meeting. National Vice President Adv. Sharfuddeen and Dhehlan Baqavi, General Secretaries Abdul Majeed Mysore and Mohammad Shafi, Secretary Dr.Taslim Ahmad Rehmani and Secretariat members P.Koya, Abdul Majeed Faizy, Muhammad Mubarak, Elyas Muhammad Thumbe, Abdul Sathar and Yasmin Farooqui were present in the meeting.