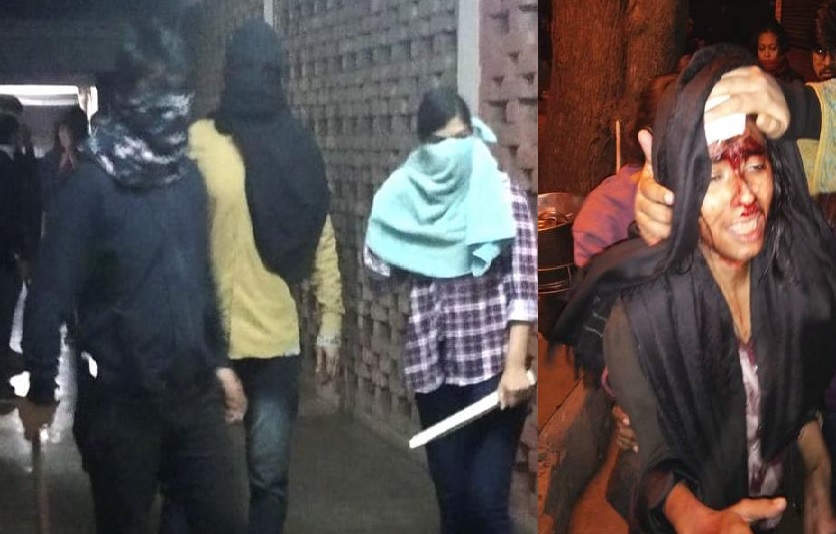 Shabnam Kalim
Hundreds of people have gathered outside the Delhi Police headquarters in central Delhi late Sunday night to protest against the violence which was allegedly led by Akhil Bhartiye Vidhyarthi Parishad. ABVP which is the student wing of Bhartiy Janta Party. Around thousands of people were also gathered outside the JNU main gate, asking to open the gate, to assure that the students who were still inside are yet in safe condition or could be saved by the masked goons, who were easily, fearlessly roaming around the whole campus, just to terrifying the students and teachers.
About more than 20 of Eyewitnesses said that the 50-odd goons entered the campus in evening around 6.30 pm on Sunday. The students' union of JNU tweeted that the attackers were "unknown ABVP goons" and were even started beating up professors who were trying to protect students. The JNUSU vice-president Saket Moon had said, "The police have been in the campus since afternoon, but they have done nothing". Where Others were pointed to the delay of calling police inside the campus and their failure to make any arrest.
The other side a flag march was carried out by the delhi police late at night inside the 1,000-acre campus to make it sure that there are no members of the mob remaining. The students and the protesters who were standing to protest against this violence were shouting on Delhi police "Delhi police, go back," angry voices from the crowd chanting and asking the police to leave to leave the campus.
Home Minister Amit Shah has spoken to the Delhi police chief yesterday night and sought a report but the Delhi police are yet to make a single arrest . Amit Shah also has spoken to Anil Baijal, the Lieutenant Governor on Delhi this morning and he asked him to get in touch with the university representatives to get the exact report and to get early solution over the whole issue. Students and faculty members of JNU alleged that police was also joined hands with those masked goons and private security guards on the campus because they all were remained "mute spectators" as the masked attackers went on the rampage inside the campus. The Police have also been accused of letting the attackers slip out even having a large number of police standing outside the JNU gates.
Many students have been shown to leave the campus with their bags, they were saying that they would return when it would be safer to live inside the campus. Same scenes was seen when the another Central University Jamia Milia Islamia was attacked by the and it's students were brutally beaten up by the Delhi Police.
Writer is a freelance journalist.