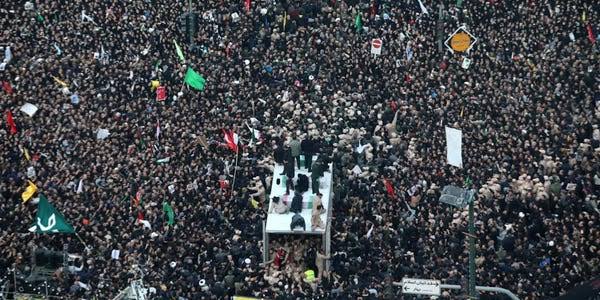 A stampede at the funeral procession of an Iranian general killed in Iraq in a US drone strike last week has killed 35 mourners, according to reports. Qasem Soleimani was blown to bits by an American drone as he arrived in Baghdad last Friday. Some 35 people have so far been killed and another 48 injured in the horror crush, Iran state TV reports.
Tens of thousands of people have packed the streets for Soleimani's funeral. Some bodies are seen on the ground covered with sheets or blankets.The crowds were the largest since those that turned out for the 1989 funeral of Ayatollah Ruhollah Khomeini. A Guardian correspondent in Tehran on Monday had reported being pressed on all sides by people for more than an hour during the funeral procession there and being overwhelmed by noise from the crowd and loudspeakers.
His funeral back in Iran has drawn huge crowds with thousands of mourners packing into the streets in scenes which can be seen from space.
But the crowds have now sparked a deadly crush with dozens of people dead his home town of Kerman, according to local media.
Pirhossein Koulivand, the head of Iran's emergency medical services, earlier spoke by telephone to state TV and confirmed the stampede took place.
He said: "Unfortunately as a result of the stampede, some of our compatriots have been injured and some have been killed during the funeral processions."
Dozens of people have been killed in a stampede in the south-eastern Iranian city of Kerman, where hundreds of thousands of mourners have gathered for the burial of the military commander Qassem Suleimani, according to state media.
"The martyr Qassem Suleimani is more powerful … now that he is dead," the Revolutionary Guards' commander, Maj Gen Hossein Salami, told the sea of black-clad mourners before the stampede. "The enemy killed him unjustly."
Mirroring fierce threats of retaliation from across Iran's leadership since Friday's assassination, Salami threatened to "set ablaze" American interests in the region, drawing cries of "death to Israel" from the crowd.