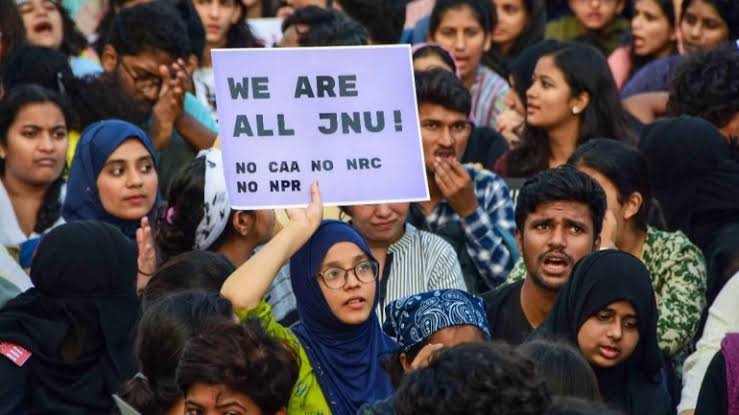 First, it was Jamia MilIia Islamia (JMI), then Aligarh Muslim University (AMU), and now Jawaharlal Nehru University (JNU), all three premier academic institutions are facing the brunt of violence for speaking truth to power. It is very telling when academic institutions begin facing assaults from every direction- the government, the law enforcement, and criminals- a pattern representative of an intolerant society. With great pain and anguish we, the academics of Indian origin, residing in the United States, strongly condemn the brutal attack on JNU students and teachers today, January 5, 2020, on the JNU campus.
It is reported that masked goons allegedly from a political party created mayhem, injuring 30 individuals including JNU students' Union President. Many have suffered serious injuries and the role of law enforcement is highly questionable. We urge everyone in India to not let violent forces ruin the beauty of India which lies in its freedom, liberty, and diversity. We must hold accountable the people who are obliterating the Indian secular fabric.
May we remind ourselves that our support to oppressors is dangerous, but our silence can be fatal. We believe that the Indian tradition of tolerance, compassion, forbearance and forgiveness will prevail. Intolerance will be defeated, and justice will be served. STOP hate politics. "Our lives begin to end the day we become silent about things that matter" Dr. Martin Luther King, Jr.
1. Prof. Mustafa Lokhandwala, University of Houston, Houston, TX, USA
2. Prof. Naseem Ansari, University of Texas Medical Branch, Galveston, TX, USA
3. Prof. G. A Shakeel Ansari, University of Texas Medical Branch, Galveston, TX, USA
4. Prof. Tahir Hussain, University of Houston, Houston, TX, USA
5. Prof. Raj Kumar, University of Houston, Houston, TX, USA
6. Prof. Mashkoor Chowdhary, Loyola Medical center, Chicago, IL, USA
7. Prof. M. Affan Badar, Indiana State University, IN, USA
8. Prof. Dr. Mohammad Ahmadullah Siddiqi, Northwest Suburban College, IL, USA
9. Prof. Asim Ansari, Fullerton College, California, USA
10. Prof. Sarfaraz Ahmad, advent Health Cancer Institute, FL, USA
11. Dr. Farrukh Afaq, University of Alabama at Birmingham, AL, USA
12. Dr. Krishna Boini, University of Houston, Houston, TX, USA
13. Dr. Sai S Koka, University of Houston, Houston, TX, USA
14. Dr. Jalal Khundmiri, Howard University, Washington, DC, USA
15. Dr. Asrar Ahmad, Howard University, Washington, DC, USA
16. Dr. Sarfarz Ahmad, Wake Forest University, NC, USA
17. Dr. Arshad Rehman, University of Rochester, NY, USA
18. Dr. Fabeha Fazal, University of Rochester, NY, USA
19. Dr. Samina Salim, University of Houston, Houston, TX, USA
20. Dr. Romi Ghose, University of Houston, Houston, TX, USA
21. Dr. Aditi Marwaha, University of Houston, Houston, TX, USA
22. Dr. Maroof Alam, University of Michigan, MI, USA
23. Dr. Naureen Fatima, University of Houston, TX, USA
24. Dr. Zeba Farooqui, University of Houston, Houston, TX, USA
25. Dr. Arshia Parveen, University of Houston, Houston, TX, USA
26. Dr. Anees A Bandaay, University of Houston, Houston, TX, USA
27. Dr. Humra Athar, Harvard University, MA, USA
28. Dr. Shahid Hussain, Medical University of South Carolina, Charleston, SC, USA
29. Dr. Farahdiba Jafri, College of Charleston, SC, USA
30. Dr. Shama Ahmad, University of Alabama at Birmingham, AL, USA
31. Dr. Aftab Ahmad, University of Alabama at Birmingham, AL, USA
32. Dr. Aamir Ahmad, University of Alabama at Birmingham, AL, USA
33. Dr. Hina Kausar, University of Alabama at Birmingham, AL, USA
34. Dr. Mudassir Salim, University of Alabama at Birmingham, AL, USA
35. Dr. Amna Siddiqui, University of Alabama at Birmingham, AL, USA
36. Dr. Iram Zafar, University of Alabama at Birmingham, AL, USA
37. Mr. Amit Bhardawaj Bunduvala (PhD student), Arizona State University, AZ, USA
38. Mr. Phani Raj Dandamudi (PhD student), Arizona State University, AZ, USA
39. Mr. Ehtesham Sharif (PhD student), New Mexico State University, NM, USA
40. Mr. Teja Kodali (MS student), New Mexico State University, NM, USA
41. Ms. Anusha Thiruvaipati (PhD student), New Mexico State University, NM, USA
42. Ms. Juwairia Laleen, (MS student) New Mexico State University, NM, USA
43. Mr. Mahendar Manda (MS student), New Mexico State University, NM, USA
44. Mr. Harsha Gadde (PhD student), New Mexico State University, NM, USA
45. Ms Kalyani Kulkarni (PhD student), University of Houston, TX, USA
46. Dr. Asif Zaman, University of Houston, TX, USA
47. Ms Razia Mohammad (PhD student), University of Houston, TX, USA
48. Dr. Nida Ahmed, New York Academy of Sciences, NY, USA
49. Dr. Sidra Islam, Case Western Reserve University, OH, USA
50. Dr. Ahmar Rauf, Wayne State University, MI, USA
51. Dr. Mohd. Saeed, University of California, San Francisco, USA
52. Dr. Salman Shahid, University of Maryland, MD, USA
53. Dr. Afzal Nadeem, Florida International University, FL, USA
54. Mr. Saad Ahmad (BS student), Temple University, PA, USA
55. Dr. Najma Ali, Tufts University, MA, USA
56. Dr. Sania Zainuddin, Michigan State University, MI, USA
57. Dr. Shabana Islam, Corning Life Sciences, MA, USA
58. Dr. Farhan Rizvi, Aurora Research Institute, Wisconsin, USA
59. Dr. Rizwan F, University of Texas HSC, Houston, TX, USA
60. Dr. Syed Mohd Fasial, University of Michigan, MI, USA
61. Dr. Zeeshan Ahmad, Wayne State University, MI, USA
62. Dr. Anees Ahmad, Weil Cornell University, NY, USA
63. Dr. Merajuddin Lone, University of Virginia, VA, USA
64. Dr. Gul Ahmad, Peru State College, NE, USA
65. Dr. Khwaja Aftab Rashid, Boston University, MA, USA
66. Dr. Aftab Ansari, National Institute of Health, Baltimore, MD, USA
67. Mrs. Nazneen Khan, Montgomery County Public Schools, MA, USA
68. Dr. Sohaib Khan, University of Cincinnati, OH, USA
69. Dr. Shakil Khan, University of Chicago, IL, USA
70. Dr. Abida Haque, Houston Methodist, Houston, TX, USA
71. Dr. Ameen Ismahil, University of Alabama at Birmingham, AL, USA
72. Dr. Asif Sherwani, University of Alabama at Birmingham, AL, USA
73. Dr. Mohammad Khursheed Siddiqi, Case Western Reserve University, OH, USA
74. Dr. Syed Adeel H Zaidi, Medical University of South Carolina, SC, USA.
75. Dr. Zulfiqar Ahmad, Kirksville College of Osteopathic Medicine, MO, USA
76. Dr. Suhail Akhtar, Kirksville College of Osteopathic Medicine, MO, USA
77. Dr. Mohammad Minhajuddin, University of Colorado, Denver, USA
78. Dr. Nabila Khan, University of Colorado, Denver, USA
79. Dr. Kaiser M. Bijli, Centers of Disease Control and Prevention, Atlanta, USA
80. Dr. Moammir Hasan Aziz, East Tennesse State University, USA
81. Dr. Israr Ansari, University of Wisconsin, WI, USA
82. Dr. Syed Shiraz Mujtaba, City Colleges of New York, NY, USA
83. Dr. Mohammad Saleem, Vanderbilt University, TN, USA
84. Mr. Abdus Saeed (Doctoral student), Cleveland State University, OH, USA
85. Dr. Shagufta Khan, University of Scranton, PA, USA
86. Dr. Mohammad Sarwar Jamal, Wayne State University, Detroit, MI, USA
87. Dr. Ejaz Ahmad, University of Michigan, Ann Arbor, MI, USA
88. Dr. Mohd Parvez Khan, University of Michigan, Ann Arbor, MI, USA
89. Dr. Hamid Suhail, Henry Ford Hospital, Detroit, MI, USA
90. Dr. Mohammad Yunus Ansari, Northeast Ohio Medical University, Rootstown, OH, U.S.A.
91. Dr. Zainuddin Quadri, University of Kentucky, Lexington, KY, USA
92. Mr. Mohammad Usman Obaid, Wayne State University, Detroit, MI, USA
93. Dr. Shabirul Haque, Feinstein Institute, NY, USA