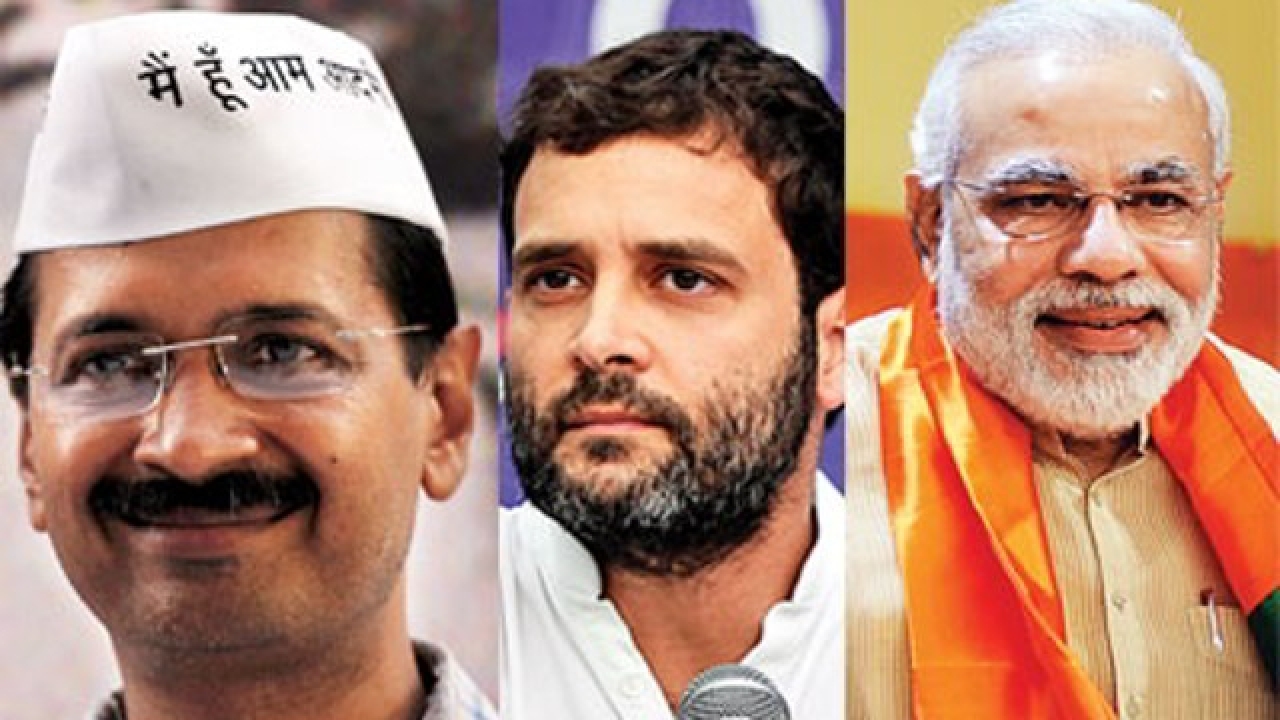 Here we would like to tell you the entire battle which has been started between the political parties which are going to fight in Delhi Election. Voting for the 70 seats of Delhi assembly elections are scheduled for February 8 and the results will be announced on 11. So this will be the triangular competition between the three largest political parties Aam Aadmi Party (AAP), Bhartiya Janata Party (BJP) and Congress. Then we will let you know that where are these parties stand and how they have planned to win the elections. The recent events of JNU, Jamia University campus violence and protests against CAA-NRC in different parts of Delhi are still going on and these have been become a hot topic for parties in slugfest.
AAP
Aam Aadmi Party has already announced it's candidates for all the 70 legislative seats of Delhi, The current Cheif Minister Arvind Kejriwal is contesting from New Delhi, Deputy CM Manish Sisodia from Patparganj and Atishi Marlena from Kalkaji seat.  AAP is relying on the face of incumbent CM- Kejriwal and has openly asked to BJP and Congress that Kejriwal Vs who, means who will be the face of other two parties for the run of Delhi upcoming Chief Minister.
From the past several months AAP has announced several pro-people facilities as Free electricity bill upto 200 units, Water bill free and Bus fare has reduced for Women. AAP is also taking credit for legalising the unauthorised colonies as it has been done by the party. AAP has roped Prashant Kishore's I-PAC for its election campaign. With its campaign slogan as Acche beete 5 saal, Lage raho Kejriwal, AAP is riding on election campaign set by I-PAC.  Its social media handles are regularly teasing BJP and Congress with its witty videos and memes. AAP is handling protests and campus violence with caution.
BJP
BJP is desperataly wants to form the Govt in the Capital since 1998. Two years of constantly winning the states and now faced defeat in recently concluded Jharkhand assembly elections, the morale of BJP cadre and leaders seems a bit gloomy now.Party has not yet announced any CM candidate fearing infighing within the party and contesting elections on the name of PM Modi. On December The Prime Minister held a rally at Ramlila ground and focused on how Modi govt helped Delhi's unauthorised colonies to become legal. Party is going among the voters with issues like- CAA,NRC, Abrogation of Art 370 and Ram Mandir and the party members have also now started Pro CAA marches.
Congress
Indian National Congress had also run Delhi for two consecutive terms (before Kejriwal Govt) under the late CM Sheila Dixit, as the whole country knows that Congress is facing existential crisis in upcoming elections that's why without any reliable face and a decided agenda, it would be really hard for the party to get into the race of Delhi Election, Congress party's role in this triangular fight would not left its sign, Congress is struggling to make way in this election. A little while ago congress leader- Mani Shankar Aiyar, Shashi Tharoor had addressed Anti CAA-NRC protests at Shaheen Bagh. It is still to be seen how party will utilise his capabilities and capacities.