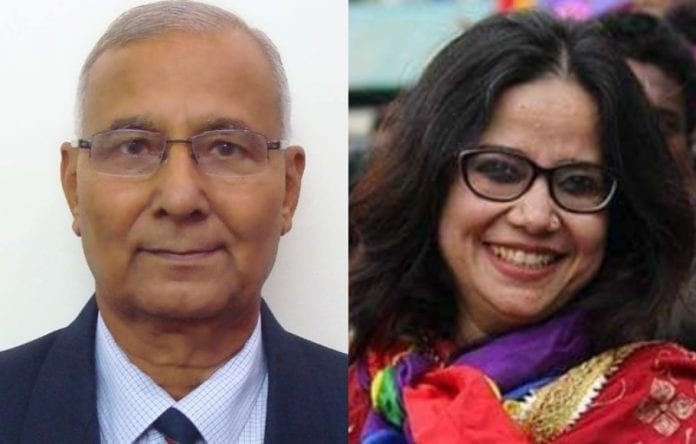 All four Lucknow-based activists who falsely accused and were arrested by UP police for protesting against the newly amended Citizenship Act and National Register of Citizens said that the cops under the Yogi government has been only targeting Muslims, Dalits and OBCs. A press briefing was published on Wednesday it says that how brutally they were treated at the police stations and prisons where they spent nearly 20 days before coming out on Bail. 
Sadaf Jafar, 
(actor, former professor and Congress spokesperson told)
"UP chief minister Adityanath had said that he wants revenge. The way activists of Lucknow were tortured brutally and slapped with serious charges for peacefully protesting against CAA-NRC, it seems he is actually taking revenge.  But we want to tell him that our struggle will continue, our civil disobedience movement will continue. During the nationalist movement against the British, if Gandhi ji would have buckled down, then Yogi ji and his masters would have been still writing mercy petitions to the British. 
S.R. Darapuri,
(former IPS officer and human rights activist)
"When I was in police custody, I saw the police personnel using communal abuses against Muslims. The way some of the Muslim detainees were beaten has convinced me that the BJP state government in UP has communalised UP police. There have always been accusations against UP police for being casteist and communal but in current times I feel that it has been totally communalised. I saw the police segregating Muslims and non-Muslims into different cells. Some of the non-Muslim detainees told me that they were from the RSS and BJP. Only a few minutes before the police were claiming that they had indulged in arson and violence at the protest site. But when they claimed they were from RSS/BJP, the police contacted the BJP office and let them go."
Deepak Kabir,
(social activist and organiser of Kabir Festival and Dastak Youth Festival in Lucknow)
"On December 19, I organised a peaceful rally where people sang the national anthem and other songs. Many of them were detained and later freed. In fact, I assisted many of the injured to the hospitals. I wrote all of this on Facebook. But since so many of my friends were missing, I kept looking for them in various places. When I went to Hazratganj P.S on December 20, the policemen there suddenly thought I was the mastermind of the protest. I kept telling them that I had come there to look for my friends. But many policemen, even IPS officers, came and abused me. I had hoped that at least IPS officers would have read the Constitution. They arrested me at the police station but the FIR says that I was arrested from a locality called Murga Mandi. I don't even know where this area is. Except IPC section 307 (attempt to murder), they have slapped all grave charges against me. They did not give me food and water in the police station. They did not even produce me in front of the magistrate."
Pawan Rao Ambedkar,
(social activist and former mathematics professor)
"The CAA is targeting Muslims but I am also concerned for those who would be given citizenship. I want to ask the government whether refugees belonging to SC/ST/OBC communities will be given respect in this country; whether they will be given land and good education here. Ever since the BJP government has come to power, most police stations in all districts are being run by police officers with a casteist mindset. They are targeting not just Muslims but also Dalits and OBCs."