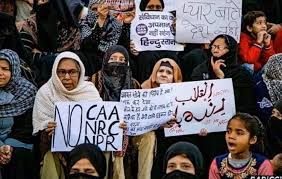 We the people of ShahiEidgah, Delhi solemnly decided on 21 March 2020 to continue our protest against CAA-NPR-NRC without gathering in public places as a safety measure to arrest the spread of the Covid-19 pandemic.
We are extremely concerned about the Covid-19 pandemic and fully recognise the unique challenges it poses for our country in particular. We care deeply about our neighbours, residents of our city, and the people of our country, as they, no doubt, care about us and our concerns about the serious consequences of CAA-NPR-NRC for marginalised groups and communitiesof India.
We are responsible citizens who have arisen in an unprecedented manner to uphold the core constitutional values of our republic and to safeguard the basic structure of our constitution of which secularism is an inalienable part.
Our protests have never jeopardised anyone's safety, and despite continued provocation, intimidation and motivated aggression we have never wavered from our path of truth and non-violence. All we ever wanted, at any point during our long protest, was to be heard by the government.
Despite our constant attempts at outreach, we have been routinely vilified by the media, attacked by the police, and humiliated by people in the highest positions of influence and power. But we always responded in the only way we know: resolve, reason, and creativity.
We sat together and read to better understand the world around us. We sat together and heard artists and intellectuals who opened up different ways of thinking for us. We sat together and raised slogans. We sat together and wrote poems. We sat together and made art. We sat together and ate, sharing whatever we had with everyone.We sat together through bitter winter nights. We sat together as our city was irresponsibly thrown into a spiral of violence. We sat together through the rain. And we made promises to each other to sit together till we were truly heard, until very recently when we began to learn and discuss the serious threats to public health posed by the Covid-19 pandemic.
While the pandemic means that we will not be able to assemble in public spaces, we have decided to take our opposition to CAA-NPR-NRC online and mark our resistance with other means (posters and hashtags on social media). We are not calling off our protest. We appeal to other Anti-CAA-NPR-NRC protests across the country to change to the mode of resistance that do not require public assembly. We will continue to talk about equality, liberty, solidarity and justice as the principles basic to the existence of entire humanity.
We wish to assert that the world is standing at this horrendous moment of history because of the uncaring attitudes of those who govern us, those who have power, whether the power of money or the power of narrative.
We pray and hope that humanity and the values of humane co-existence will prevail once the disruption of Covid-19 pandemic is over.
We also pray that our political rulers and the economic elite would have the humanity to favour and protect the poorest and most powerless persons amongst us. We wish that they would not disappoint us now as they have repeatedly in the past.
We pray that the losses are minimised and pledge that as citizens of India we will play our part in the emergence of a better, more equal and more just world.
Jai Hind! InquilabZindabad!