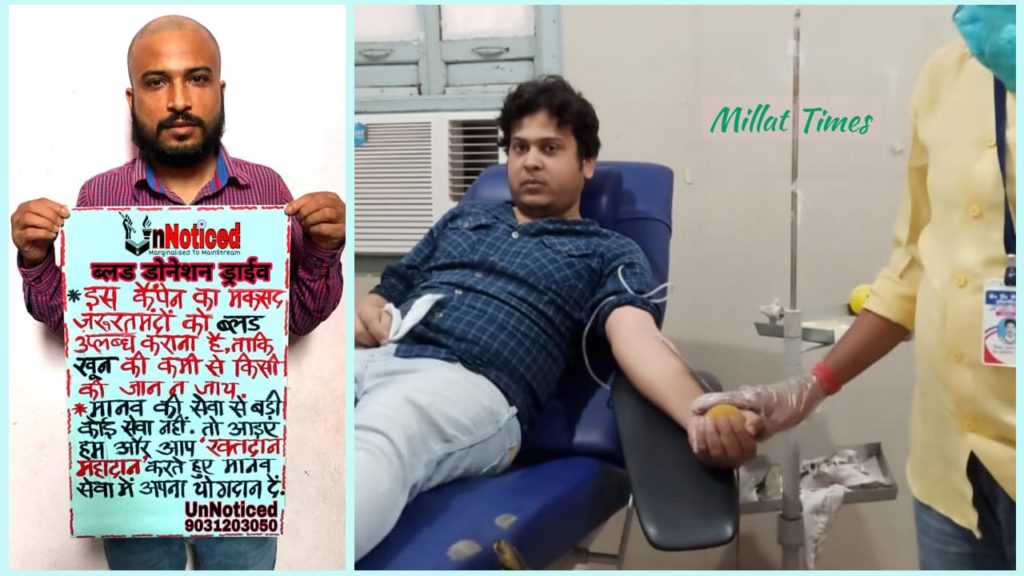 When the world is facing a historically unprecedented and catastrophic situation, everything from healthcare, economy to social life have been turned upside down due to the COVID-19 lockdown, there are so many people who are working tirelessly, leaving no stone unturned to fight coronavirus.
Proving ration to needy person, showing compassion to corona warriors, helping vulnerable and poor people and strictly following coronavirus related guidelines are of utmost significance in the midst of crisis. The holy Quran that says if you have killed one human being you have killed the entire humanity, and if you save one human being you have saved the whole humanity, views are expressed by Imteyaz Ahmed, assistant professor at LS College Muzaffarpur and founder at UnNoticed while talking to Millat Times.
As Muslims around the world observe the holy month of Ramadan, Engineer Yasir in Bihar broke his fast to donate blood in a bid to save the life of 82 year-old Rajendra Prasad who admitted to a private hospital for the operation. "Service to the humanity is the greatest religion," Yasir said. Prasad said he had no words to express his gratitude. As per the report, 83 year-old Prasad who hails from Balughat Dam Road, Muzaffarpur called #Teach_The_UnNoticed_Campaign and spoke to its founder for the need for O Negative Blood required for his operation. Imteyaz assured him of help.
"I wrote a post on my facebook for the urgent need of blood. After that i got a message from Er. Yasir who lives at Chandwara mehta campus expessing desire to donate his blood," Imteyaz told Millat Times. Yasir undoubtedly sets the best example of humanity, he said.
Md Irshad Ayub, Founding english editor at Millat Times.